Days and Clouds
directed by Silvio Soldini
starring Margherita Buy, Antonio Albanese
Film Movement
Michele (Albanese) lost his job a few months ago, but neglected to mention it to his wife Elsa (Buy) until after her art history degree graduation party. As their high-flying lifestyle of sailboats and world travel and live-in maid collapses, so does their marriage. It's already survived an affair or two, but this couple is held together more by good taste than fidelity. Elsa's new degree qualifies her for an unpaid job restoring the ceiling of a medieval chapel. It's high on cool factor, but low on ready cash. Michele turns down successively worse jobs until he's a part time handyman and scooter courier. Elsa eventually takes up telemarketing and a job as a receptionist in a shipping company, but the worse is yet to come – their daughter Alice (Albe Rohrwacher) finds out. This is nearly more shame than either can handle, and things hit rock bottom when Michele moves in with Alice and her boyfriend, whom Michele discovers isn't a complete bastard after all. Then they all reconcile.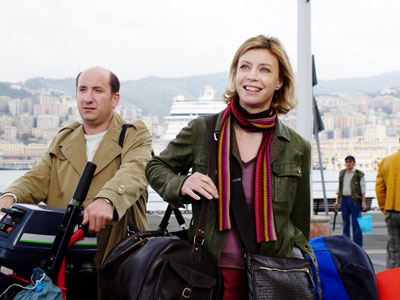 Both Albanese and Buy seem like they've been married for years. He's gracefully lost his hair and looks like the nice uncle you always wanted, while she's kept herself up and has the sort of smoldering sexuality middle-aged Italian woman are famous for. The whole family fights like Italians – screaming profanity at one another and threatening bodily harm only to turn to tears and kisses two minutes later. Director Soldini applies the same care and grace to these people's psyches as he did in his landmark Bread and Tulips – you may not like the individuals, but you agree they have an intrinsic right to whatever weirdness they bring upon themselves.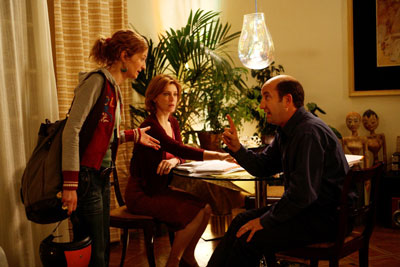 While the movie runs nearly two hours and there are times when precious little is happening on screen, Soldini uses the Genovese skyline and its mix of modern and ancient structures to create a sense of a dynamic city full of dynamic change, yet timeless in both the detail and grander scope. Sure, there's some sort of meaning in life, but what if… Enjoy the moment, it will not last.
Film Movement: http://www.filmmovement.com