Gospel According to Al Green
directed by Robert Mugge
Acorn Media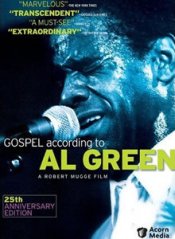 By 1984 the greater pop music world had little reason to think about soul superstar Al Green. Following a personal tragedy a decade earlier, Green had voluntarily retired at the top of his game, abandoning pop music to begin a career as a reverend. Director Robert Mugge's documentary, Gospel According to Al Green, is a candid, fascinating glimpse of a man finally at peace with himself and his religion after years of almost agonizing struggle.
Mugge's format is simple, yet effective and compelling. The bulk of the documentary is taken up with Green in a studio reminiscing and playing a guitar. Green is charismatic and open about his conflict between the secular world and the spiritual. According to Mugge's interview on the disc extras, this was also the first time Green publicly discussed the occasion most credited with Green's turn to the church, the 1974 incident when his girlfriend doused him with boiling grits, then shot herself.
Actually, the incident was the final sign to Green. He had been struggling with his faith for a year after a conversion experience one morning in a motel room, a story Green tells first in an interview with Mugge, which is then used as a compelling sermon, half-sung, half spoken at the end of the documentary.
In-between Green's interview and sermons, Mugge includes clips from Hi Records producer Willie Mitchell, whose silence after discussing Green's decision to record only gospel material, thus turning his back on a lucrative career, demonstrates the confusion many felt over Green's retirement.
The rest of the documentary shows clips from two of Green's sermons, one at an Air Force base and one at his home church. Green mentions that he used everything he learned in pop music to help him with his preaching, which is evident in these clips, as is the debt soul and R&B music owes to gospel music.
For the movie's 25th anniversary, there are a number of extras on the disc, including the complete interview between Mugge and Green, presented as an alternate audio track throughout the entire movie and well worth listening to.
A fascinating, candid look at a performer who willingly walked away from fame and fortune, Gospel According to Al Green is a compelling view and highly recommended.
Acorn Media: http://www.acornmedia.com