These Arms Are Snakes
Young Widows, The Coathangers
The Social, Orlando, Fl • March 15, 2009
Jen Cray
These Arms Are Snakes, with Young Widows and The Coathangers, was a show that flew under the radar for much of Orlando's show-goers – leaving The Social with more elbow room than it otherwise should have had. Though the audience was sparse, each band gave a set worthy of bragging rights to anyone who had been there to see it. It's shows like this – where I go into with few expectations – that keep me continuing to take chances on bands I know little about before hand.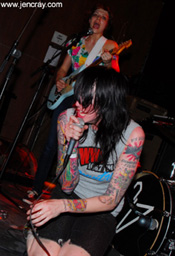 Take, for example, The Coathangers. From their MySpace I gathered that they were an all girl band from Atlanta that pulled influence from the riot grrrl bands of the '90's. What I was even more pleased to discover, once seeing these ladies live, was that they had a fiesty, no-bullshit attitude that reminded me of The Runaways. Stephanie Luke, the drummer, came from the grittier side of the girl group tracks, and when she took lead vocals – from guitarist Julia Kugel – it was to add a grittier edge to this particular strain of punk rock that was more L7 than Bratmobile. Dig it, I did.
Their infectious set ended with a charming and goofy song about an ex-boyfriend called "Don't Touch My Shit," after which the drummer kicked over her cymbal and declared, "I hate that song."
After such a sweet piece of candy set as that, everyone pulled up tight to the stage and settled in for the enigmatic onslaught of Young Widows. This Kentucky trio are an odd entity for they do little more onstage than stand and play, yet manage to be an undeniable, jaw dropping live act for the way their sound fills up a room and alters the mood.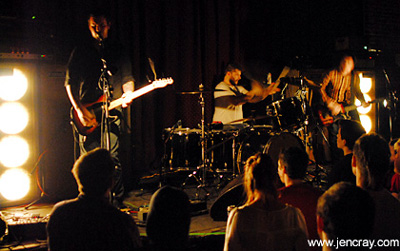 Performing in darkness, save for a pair of lights positioned behind them, these quiet young men made a monster of a sound that summoned both Jesus Lizard and Nirvana – without sounding much like either one. It's somewhere beneath the noise rock/post-grunge songs where these influences lie. On the surface of it all is just sheer ball breaking brilliance.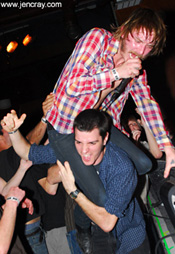 The crazed drumming of Jeremy McMonigle causes him to pant between songs; the spoken-then-growled vocals of Evan Patterson recalls Ian MacKaye; and the pulsing bass thump of co-vocalist Nick Thieneman will shake your brain loose. After a few beers, it all begins to swim around beautifully in your headbanging head.
Seattle's These Arms Are Snakes have sprouted wings since last I saw them – in 2007 opening for Against Me! and Mastodon. What piqued my interest back then has since grabbed hold of my skull and shaken it around a few times. Skinny, mustachioed front man Steve Snere could be post-hardcore's Jim Morrison – slinky, unpredictable, half naked onstage, and seeming to rest on a razor's edge. The success of the band's live performance rests on his frail shoulders, and he seems to ask for this burden.
Snere, who ran the show this Sunday night before SXSW, was a tornado of motion. In between singing and playing the synth parts, he crawled across the stage floor, flailed about as if electrified, posed erotically against the back wall, and made a production of spitting all over his bare chest. He also climbed up into the metalwork that held the stage lights and hung as if from a jungle gym – after tying his belt around his neck as a noose, that is.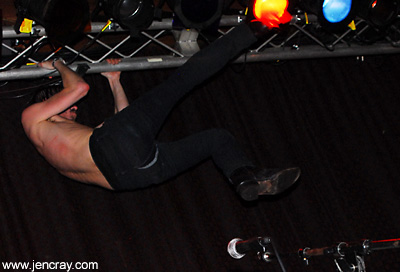 While Snere was giving us all plenty to ooh and ahh at, the remaining band members were keeping the music grounded. Sometimes described as math metal (I hate that term), these post hardcore experimentalists could be the worthy successors to At the Drive-In – at least that seems to be what they're going for. As live songs, "Angela's Secret" and "Horse Girl" were both strong enough to put them in the ballpark of the pre-Mars Volta band – though I would have hoped they'd have included "Big News," off 2004's Oxeneers or The Lion Sleeps When Its Antelope Go Home, into the set. It's the best song in their catalog, and could have used a little skin, sweat, and spit to really bring it to life. Though after the body-abusing set this band delivered, neither I nor any other member of the audience should have cause for complaints. Not even faulty microphones could hinder the band's show.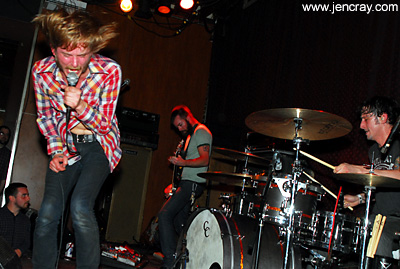 The exhausted foursome closed out the set with "Riding the Grape Dragon," from their 2003 debut EP This Is Meant to Hurt You. These are the shows that are well worth the loss of sleep, hangovers, and random bruises that plague my days after.
To see more photos of this show, and others, go to [www.jencray.com](http://www.jencray.com/bands_live.htm).
These Arms Are Snakes: http://www.thesearmsaresnakes.org •Young Widows: http://www.youngwidows.net/ • The Coathangers: http://www.thecoathangers.com/ ◼
---