Valient Thorr
Junior Bruce
Backbooth, Orlando, Fl • March 8, 2009
Jen Cray
Not content to close out this hectic March weekend of live music with just one more concert, I ran out of the Less Than Jake show at House of Blues and raced downtown to catch the mighty Valient Thorr at Backbooth. The word is not yet out about what a do-no-miss-them band these guys are, but let me emphasize this once more: DO NOT MISS THEM!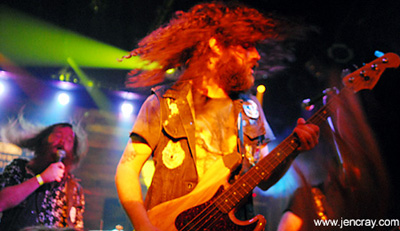 What's more, they always have amazing opening acts. Every time I've seen this bearded bundle of fun I've been blown away by their bill mates – this night was no exception.
The tasty treat for this evening was Orlando's own Junior Bruce. A relatively new band comprised of members of Bloodlet and Hope & Suicide, these sludge metal masters hearken back to the days of Alice in Chains and are easily the most exciting new local act I've stumbled upon in months. Vocalist Scott Angelacos wields a monster growl and subtle but dramatic stage manner that keeps the audience gripped inside of the band's melodic doom. Even Valient Thorr stood enthralled, banging their heads during the glorious set.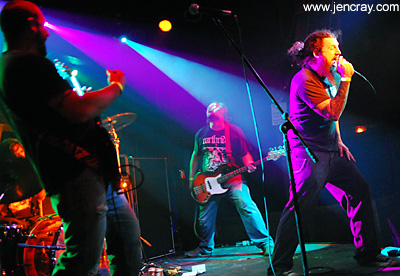 Once the headliners stormed the stage, the room wasn't nearly as packed as it should have been – not that the road warriors seemed to notice. Playing as if to a rowdy room of Thorriors, the quintet slays even the most casual listener with seemingly little effort. It's not that the band doesn't try to own the room, because it most definitely does, it's that their efforts are so genuine and easy that they make being a live band look simple as pie.
It's in the conversational way in which front man Valient Himself holds court onstage – rattling through the myriad thoughts in his head, pulling out sound bytes about the Watchmen movie, the sad state of unemployment, President Obama, and topless scenes in '80s films. It's in the way a lit cigarette hangs from the lips of guitarist Eidan Thorr while he leans into the crowd of hands during a particularly righteous riff. It's bass player Dr. Professor Nitewolf Strangees' wolf-man mane of hair and the way it engulfs his bearded face while he plays. It's the maniacal grin that forever rests on the face of guitarist Voiden Thorr, as much as it is the quiet animal that sits behind the drum kit (Lucian Thorr).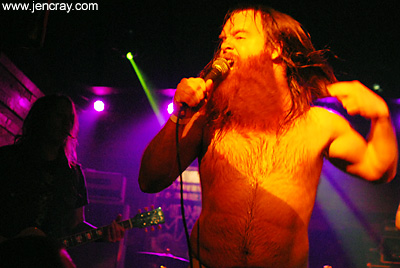 Valient Thorr take over whatever stage they stand upon in a way that drives home the already successful metal/punk hybrid songs like "Tomorrow Police." The set list doesn't even matter so much as the way the songs are delivered. When our beloved hero of a front man peels off his shirt and flexes his muscles, he does so not just to let his hairy torso breathe, but to shed any remaining barrier between artist and audience. Such is the way these men from the planet Venus connect with the fans at their feet.
To see more photos of this show, and others, go to [www.jencray.com](http://www.jencray.com/bands_live.htm).
Valient Thorr: http://www.valientthorr.com ◼
---