The Sounds
The Dark Romantics
The Club at Firestone, Orlando, Fl • June 4, 2009
Jen Cray
Taking advantage of a night off from their opening spot on No Doubt's big summer tour, The Sounds graced Orlando with their beautiful presence just days after the release of their third full length album, Crossing the Rubicon.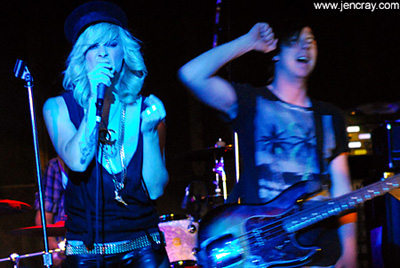 Despite a decent turn-out at The Club at Firestone, this Swedish band has yet to hit upon the break that will elevate them out of the indie underground. That's perhaps a good thing for the fans, because it's keeping their shows crowded enough to be energetic, but just under the radar enough to still be cozy.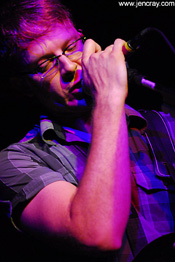 Like a car stuck in third gear, The Dark Romantics eased us into the night, but never really got the blood flowing. The Central Florida act is still lacking that indescribable thing that could pull them out of being just slightly above average. Their musicianship is spot on, they play some easy pop tunes that have just enough moodiness to be deemed hip, and yet their performance left me only lukewarm. With the exception of "Another Song for Another Night," which they played early in their set, their music just isn't that memorable.
The Sounds, on the other hand, are not only hard to forget, but hard to look away from while they're onstage. The Swedes, throughout history, have been blessed with good genes, and vocalist Maja Ivarsson has been blessed with more than her share.
All dressed up in cut up leather pants, a loose fitting tank top and a hat that she took off and put back on throughout the night, the blonde firecracker of a front woman melted the hearts of men and women alike as she effortlessly flaunted her sex appeal like a 21st Century Debbie Harry. Kicking up her million dollar legs, flexing her muscles, growling into the air like a cat in heat – all while keeping in key – she easily embodied all the elements that make a captivating lead singer, and one hell of a sex symbol.
She and the four skinny but pretty boys who round out the rest of the band led the eager crowd into a high spirited dance party that focused heavily on the newer material, while sneaking in old favorites here and there. Lead off single "No One Sleeps When I'm Awake," and the new wave kissed "Dorchester Hotel" stand head and shoulders above some of the newer, more experimental cuts off of the new record – some which find Ivarsson adopting a pseudo rapping technique in her vocals – though still don't pack quite the same punch as "Living in America," or "Seven Days a Week" off of their underrated 2003 debut. It's these older, beloved songs that get everyone's panties in a bunch.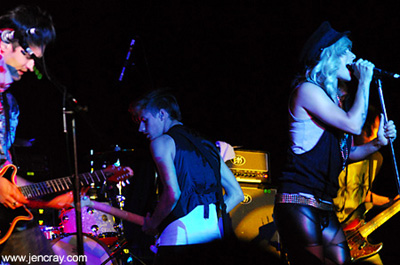 That's not to say that the night was all about the dancing. A sultry "Night After Night" found Ivarsson sitting at the edge of the stage with a cigarette, backed solely by guitarist Felix Rodriguez on keyboard. After this intimate segment the band joined the pair back onstage to finish out the night with several more songs performed with ever increasing heat. By the show's end, we all could have used a cigarette.
The band will continue to spread its Nordic love across the States throughout the summer, albeit in 30 minute segments in amphitheaters and arenas. A headlining tour in the fall is in the works, Ivarsson revealed to the Orlando crowd.
To see more photos of this show, and others, go to [www.jencray.com](http://www.jencray.com/bands_live.htm).
The Sounds: http://www.the-sounds.com ◼
---