The Gaslight Anthem
Heartless Bastards, A Death in the Family
The Social, Orlando, Fl • May 3, 2009
Jen Cray
The Gaslight Anthem shoots for the nosebleed seats with their arena-ready rock songs even though the farthest they need to reach at The Social is only about twenty feet back. Nevertheless, their big sound and passionate performance is good practice for them, because after this current tour ends, I'm guessing that they won't be seeing the insides of tiny clubs anymore – at least not from onstage. These Jersey boys are headed for the big time.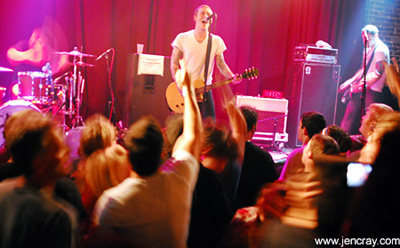 Sunday night is not usually a good night for a show, but on this particular May evening Orlando's most free-spirited music fans came out to rub shoulders with strangers, get near-vomiting drunk, and to show the Gaslight boys – and the pair of bands they had brought with them – that Central Florida can party like no other!
Australia's grunge revivalists, A Death in the Family, finish out their run on this high flying tour with 30 minutes of nod-worthy rock forceful enough to keep their drummer reaching for sticks to replace those he repeatedly shreds. This guy plays with the determination of a woodpecker. Singer, and lefty guitarist, Jamie Hay puts an equal amount of face-reddening effort into his vocals – at times tapping the well that Ian Mackaye drank from. Joining the band on their last song of the set, and of the tour, is Gaslight Anthem guitarist Alex Rosamilia.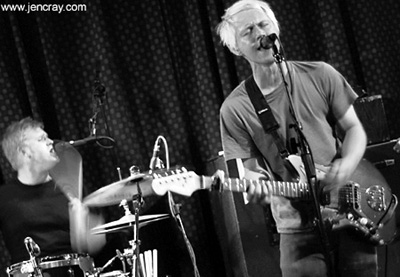 Heartless Bastards' smaller-than-she-sounds vocalist/guitarist Erika Wennerstrom chugs the remains of the beer in her left hand before setting a second beer down near her impeccable Gibson Les Paul. A nod to the sound man, another to her band mates, and the room is filled with the kind of soul-drenched, classic rock-fueled melodies that are rarely done right anymore. It's enough to make even the barflies stop sipping, take notice, and applaud.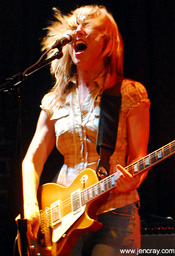 With no disrespect intended to the Ohio band's previous efforts, the songs off of 2008's The Mountain positively explode once Wennerstrom gets her mouth around them, and drummer Dave Colvin swings his mighty arms into them. "Out to Sea" and "Nothing Seems the Same" are set highlights, especially the way the latter takes its time ending with quiet interludes that unexpectedly ignite into fiery fury. This polite bunch of Midwesterners pack a punch that isn't expected upon first listen. What appears, on its surface, to be sweet and tender folk rock boosts a whole lot of muscle and grit. The crowd showers them with accolades as they smile and leave the stage… Wennerstrom quickly returning to grab her purse and the last remnants of her beer.
In less than two short years The Gaslight Anthem has gone from complete unknown touring with bands that most people have never heard of to selling out their own headlining shows much to the confusion of the greater public. A stroll past the packed and thumping downtown venue may spark questions of "Who the hell is The Gaslight Anthem?" to passers-by who spy the marquee and wonder what sort of party they're missing out on inside.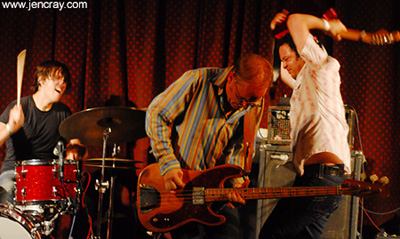 Here's what you need to know: they're five young dudes with old souls from New Brunswick, New Jersey who wear their Boss-colored influence proudly, they've opened for everyone from Rise Against to Bruce Springsteen, and their sophomore full length, The '59 Sound, was one of the most exciting things to happen in the world of rock music in 2008. It came as no shock that their Orlando show was packed, but the level of devotion on the part of the unusually eclectic audience was a happy surprise, even to the band. Front man Brian Fallon couldn't wipe the sweet little grin of disbelief off of his face all night.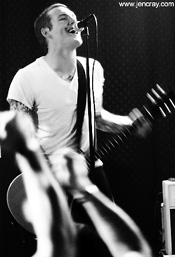 "Thank you so much for coming out," he says. "We're gonna play a song that we haven't played all tour – we kind of retired it – but I'm just feeling so good tonight." With that heartfelt intro, he surprises both the fans and his band mates by playing "I Coulda Been a Contender." This fan fave was just one more song to throw fuel on the fire of ecstatically singing, drinking, and pogoing crowd. From the show-opening "Great Expectations" a healthy pit had opened up on the floor – a pit inspired not by anger-inducing aggression, but pure, uncontainable excitement. Fans of all ages are dancing themselves sick and dizzy, and when a bit of friendly vomit splashes onto my back in the middle of the show, I shrug it off and kept on groovin'.
Fallon was feeding off of the crowd's energy and giving it back tenfold. The colorfully decorated singer/guitarist, who was once a bit reserved onstage, is assimilating beautifully into the role of charismatic front man. He tells stories, takes requests from audience members, playfully inserts the theme song to The Jeffersons into their performance of "Say I Won't (Recognize)," and generally holds a commanding, easy presence as the center of this Sunday night party.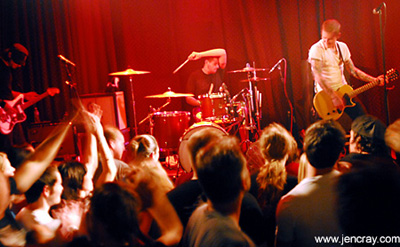 After closing out with "The Backseat," the band soon returns for a five-song encore that includes "Blue Jeans and White T-Shirts," and fan tribute to The Clash, "I'da Called You Woody, Joe."
Every once in a while, if you're lucky, you get to witness the moment when a band realizes that they're about to be huge. It's a beautiful thing to see – a bunch of dreamers watching their hearts' desires come true – and this night was one of those moments for all in attendance.
To see more photos from this show, and others, go to [www.jencray.com](http://www.jencray.com/bands_live.htm).
The Gaslight Anthem: http://www.gaslightanthem.com • Heartless Bastards: http://www.theheartlessbastards.com ◼
---