Animal Collective
with Black Dice
The Club @ Firestone, Orlando, FL • Wednesday, June 10, 2009
S.D. Green
Not to play the old fart, but time sure does fly. Standing in a three-block line for 30 minutes just to get ID'd ain't what I expected from an up-and-coming band. Animal Collective are still newbies, aren't they? Not really. Turns out it's been about 10 years since these guys started putting the hip-pie in hip-ster. Wait, Merriweather Post Pavillion is their ninth album? Unbelievable. It's been a decade since they started playing shows, mostly for their friends in NYC, and are now playing sold-out gigs with 30-minute lines at one of Orlando's bigger venues.
Ironically, I didn't even come to see AC do their neo-primitive-Beach-Boy deconstructionism, or whatever. I came to roll the Black Dice. The trio took the stage as unassuming as guitar techs. I wasn't even sure it was them until the bludgeoning began. Each member had a piece of electronic equipment – with guitar pedals, mixers, and synths laying about – in front of them, while guitarist Bjorn Copeland wore his guitar so casually I didn't realize sound was emitting from it until halfway into their set. Black Dice's set seemed to reflect evolution out of a musical primordial ooze: First noise, then rhythm, and – finally – melody. Sparse melody. All three gazed down, hard, as the speakers drenched the crowd in grinding, industrial skronk; screens on either side of the stage promised to induce seizures with their eyeball vomit. Trying to snap pictures, I stupidly stood next to the stage-left speakers and paid the price with what can only be described as a root canal as heard by a mosquito leaning against your ear drum. Well, there are other ways: kinda like industrial pioneers Einstürzende Neubauten and Throbbing Gristle. This pummeling didn't stop some spritely young girls from gyrating against their companions. Little nymph-like aliens jamming to their intergalactic booty music. Cool. The room loosened up when the sound shifted to their more recent, more harmonious material. Funny how termination of a group root canal can relax an audience.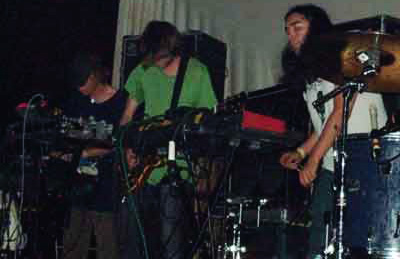 Animal Collective should have been more soothing. Their unique blend of aural bliss with experimental burps and gurgles has expanded the "freak folk" mold, as each of their albums has shown a new and even more progressive side to the band. Yet, the music is very instinctual, almost anti-intellectual, to the point that it feels silly analyzing it – but hey, that's the gig.
Although they've recently shown a greater affinity for samplers (largely through the evolution of Panda Bear and some influence from his entrancing solo album, Perfect Pitch), the music has a very warm, acoustic aesthetic – partly due to the layered vocal chatter, yips, and chants. But my expectations of a hippie-dippy love-in were dashed for a couple reasons: 1) The band took the stage among an arrangement of tables with white cloths that made them look like busboys at a wedding, and they stood crammed in between the tables instead of spreading out across the stage. While the music swerved and careened around the room, the band stayed relatively still. I'd heard about their visceral, highly kinetic live shows, but this performance was rudimentary; dudes were statuesque. Their Laser Tag light show lent some dimension but couldn't make up for the lack of movement from the band. 2) Any group with members named "Geologist" and "Panda Bear" must have the most huggable, loveable, Strawberry Shortcake fans in the world. En route to the show, their most recent buzz tune, "My Girls," rattled my head the entire way: "I don't mean to seem like I care about material things…I just want four walls and adobe slabs for my girls…"
How can fans of this music be anything but pacifist, free-love vegetarians? Well, somebody put HGH in the hummus because the crowd was ornery, mean, and aggressive. One particularly irate clubber tapped my shoulder to warn me to stop leaning on his girlfriend while I was trying to snap a few photos from way in the back of the venue (the anti-anti mosh pit made it hard to get up to the front for some quick shots). Complaints like that at a sold out show are baffling. Thankfully, there was a phalanx of docile kids back by the bar who just wanted to hear the music and not fight for position like the Tampa Bay Buccaneers' offensive line.
After their set ended, Animal Collective returned to the stage for a single encore song. Yep, "My Girls." As Panda Bear sang that irrepressible chorus over their circus rumble, the band's presence failed to overcome the ambivalence polluting the room. While I can't blame them for the minor annoyances, it was disappointing that they couldn't fully project their free-spirited and playful music deeper into that ugly void.
Animal Collective: http://www.dominorecordco.com/artists/animal-collective/ • Black Dice: http://www.blackdice.net ◼
---