British Mysteries from Acorn Media
Running the Gamut from silly to serious
Joe Frietze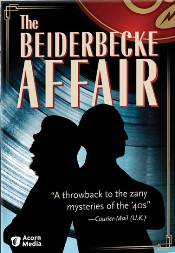 Whether you are a fan of quirky detectives and wacky coincidences, or in-depth investigations with detailed forensic analysis, Acorn Media probably has a British mystery set that will appeal to you. Here is a look at four of their newest releases.
Take a jazz-loving wood shop teacher romantically involved with a politically aspiring English teacher, and throw in a bunch of wacky coincidences, and you have The Beiderbecke Affair. Easily the quirkiest of this lot, this is also the only set that does not feature murder as the object of mystery. Instead, a striking platinum blond selling records door-to-door kicks off a long and convoluted series of seemingly unconnected events, eventually leading our teachers to uncover corruption in the local police force and government. One large story is told over the six episodes contained here, and for quite a bit of it, you may be wondering what exactly is going on. Our teachers are not professional detectives, nor do they bill themselves as "amateur sleuths" as in most such shows. Instead, they are simply trying to get some answers to nagging questions, and then get caught up in a bunch of small town intrigue.
While the plot can be a bit annoying, at times confusing, and at other times eye-roll inducing, it's the performances that keep you coming back for more. James Bolam as "Trevor Chapman" has the perfect balance of befuddled everyman and romantic lead down pat, while Barbara Flynn really brings crusading "Jill Swinburne" to life. It was a real treat to see Flynn before she became "Judith" on Cracker. Series creator Alan Plater has said that he wanted to create a Nick and Nora Charles, but in Yorkshire. While I do not know much about Yorkshire, I think he was on the right track. Their banter isn't quite up to Nick and Nora level, but it is quite enjoyable. Special features are limited to a text mini-bio of Bix Beiderbecke, the jazz musician whose music inspired the score and whose records instigated the mystery. If you are a fan of quirky detectives like Adrian Monk (Monk), or quirky British humor in general, I say give The Beiderbecke Affair a chance. I am going to seek out the sequels myself.
Next we have a quirky detective show that does involve a professional detective – "Detective Constable 'Dangerous' Davies, Willesden CID" – and more often than not, murder. I covered The Last Detective – Series 4already. In it I opined that, if the central conceit of the show is that "Dangerous" is seen as a boring bumbler who is the "last detective [his boss will] ever think of for a job," then it must get old after a while when he continues to solve these unsolvable crimes, but never gets regarded as worthy by his boss, colleagues, or family. Upon viewing The Last Detective – The Complete Collection, I learned that I was right. While the individual episodes are wonderful – intriguing mysteries, compelling supporting characters, and top-notch performances by the regular cast – they do not hold together well when viewed as a complete series. That is not to say that there isn't character growth. On the contrary, "Julie" (Emma Amos) develops over time from simply being an ex-wife who only calls on Davies when she needs help, to being a conflicted woman who wants to try to make it work with a decent but boring guy. And "Detective Inspector Aspinall" (Rob Spendlove) battles with his own demons, with a little help from Davies, throughout the series. Dangerous' mate "Mod" (Sean Hughes) remains his comic sidekick and sounding board throughout.
The best advice here is to buy and enjoy the set, but only a few episodes at a time. Do not sit down and try to watch all of them in a row. The special features include the interview with Peter Davison that was already included in the Series Four set, and the original film of The Last Detective from 1981 starring Bernard Crimmins (Doctor Who). The original is definitely a different take on the character, and I'm glad the series went the way it did.
Well, they can't all be winners. At first I was lost. And then I didn't care anymore. Here I was watching Taggart: Set 1, and it turns out to be the Nineteenth Series from 2002. I don't know why Acorn Media chose this as their starting point for Taggart DVDs, but I am sure they had a good reason. Whatever the reason, it hasn't been communicated to the viewers. Needless to say, I was a bit behind on the characters' lives and histories. I kept wondering where the titular Taggart was. (A quick web search informed me that he was dead.) But then, after the third or fourth episode, I no longer cared. Very little time was given to the characters' personal lives, so I didn't feel as if I had missed much. This can be fine, and has worked wonderfully in some shows. Law & Order has famously stayed away from character development most seasons, in exchange for compelling self-contained plotlines each week. Well, Taggart delivers neither. The mysteries were not compelling, the supporting characters were not interesting, and I frankly didn't care about the victims, suspects, or police officers. Our detectives are boring and stereotypical – grizzled boss, reliable second-in-command, hothead, and tech-geek. Special features are limited to short pieces on Glasgow where the show is set and shot. Despite all of this, it is the longest running police drama in the world, and it continues to draw high ratings. Perhaps the locals glean some comfort from the formulaic plotlines and uninspired performances. I, however, have to caution you to try a few episodes before you buy this set.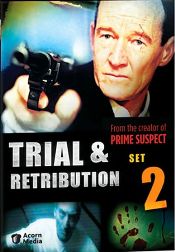 Along the continuum, Trial & Retribution is the least quirky show in this lot. Solid, straightforward police procedural dramas, from the creator of the Prime Suspect series, Linda LaPlante, Trial & Retribution: Set 2 delivers four gritty feature-length mysteries in this set. Starting with "Volume V," I was definitely behind on the lives of these characters. The difference between here and Taggart was that I cared about being behind. These characters interested me, especially "Detective Superintendent Mike Walker" (David Hayman) and "Detective Inspector Pat North" (Kate Buffery) and their quickly deteriorating relationship. Thankfully, good writing brought me up to speed fairly quickly on what had happened to them over the past several episodes; but it was nothing compared to what happened to them in the first two episodes of this set. The level of character change shown here is rarely seen in American procedurals. I was taken by surprise several times. The downside to the focus on their relationship was that the mysteries, both interesting at the outset, ended up taking a back seat to the personal stories. This is fixed in the final two episodes, which mostly take place "on the job." Another note of criticism is evident in the title. With a name like Trial & Retribution , you would expect to see some courtroom action. We get a little in the first episode, but it quickly trails off until it becomes almost completely about the police investigation. I look forward to catching the earlier volumes as I hear there was more of the "trial" part of Trial & Retribution . Still, these are minor quibbles for an exceptional series. Special features include a useful primer on the British police force to bring us foreigners up to speed on their structure and terminology, along with cast interviews. Any fans of Prime Suspect or Cracker should watch these as soon as possible.
So there you go, from middle-school teachers to grizzled cops, from two-disc sets to seven-disc collections, Acorn Media has wide range of British mysteries recently released for your enjoyment. Check out some or all of them and encourage more imports from across the pond.
---