Sonic Boom: The History of Northwest Rock from "Louie Louie" to "Smells Like Teen Spirit"
by Pete Blecha
Backbeat Books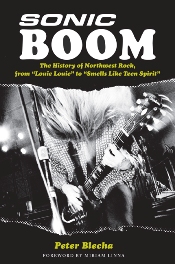 Although not really recognized as such until the heyday of Sub Pop, the Pacific Northwest was always a musical hotbed. Overshadowed by California to the South, the region produced or nurtured a number of diverse musicians, including Jimi Hendrix, Ray Charles, Loretta Lynn, and the Sonics.
Pete Blecha lays out a fascinating, highly readable account of the Northwest's popular musical history in Sonic Boom: The History of Northwest Rock from "Louie Louie" to "Smells Like Teen Spirit," making a convincing case that the song "Louie Louie" is a fundamental building block of the area's music. As Blecha states, "What the kids of the Northwest reacted to best was a song that rocked hard and had no time for rhythmic subtlety." Sloppy, raucous and simple, the song would influence countless area artists, and the sometimes complicated history of the song makes for some of the most interesting sections of the book.
The repression against rock and roll is also very interesting. For such a laid-back region, the amount of hurdles aspiring rockers had to overcome was fairly daunting – teen dance ordinances, anti-flyering laws, to say nothing of J. Edgar Hoover's FBI investigating the phantom dirty words in "Louie Louie."
Blecha writes with a local historian's love of his subject, and Sonic Boom traces the Northwest's music scene from Ray Charles' heavy influence on the region in the late '40s to right after Sub Pop hit. While the teen dance battles and the region's love of simplified, heavy, horn-driven R&B make for the most interesting aspects of the book, Blecha has written a definitive musical history of the region.
Backbeat: http://www.backbeatbooks.com
---