District 9
directed by Neill Blomkamp
starring Sharlto Copley
Sony Pictures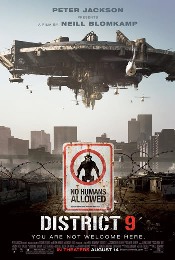 A defective spaceship hovers over Johannesburg, containing thousands of malnourished and generally unthreatening aliens. What to do, what to do?
If you're writer-director Neill Blomkamp, you sequester said aliens in an area located mere kilometers outside the city, cutting them off from interactions with citizens by barbed wire and armed guards. Essentially, you create an alien slum.
Despite Peter Jackson's helming as producer, District 9 is not just another visually spectacular action adventure – Independence Day this surely is not. Told through the experience of dweebish everyman Wikus Van De Merwe (played exceptionally by South African unknown, Sharlto Copley), District 9 weaves a disturbing and fascinating cinematic experience, offering an engrossing amalgamation of styles – documentary, science fiction, horror, psychological thriller, and moving drama. Blomkamp's super-imaginative and clear-cut direction doesn't let you catch your breath for two hours: the aliens, cruelly treated as social pariahs, desperately attempt to get their ship back to working order; all the while, Wikus's ignorance and disregard for them, as he evicts and forces them into even more horrifying living conditions, slowly morphs into a more sympathetic and even realistic camaraderie. This change is smartly depicted, both physically and intellectually, in one of the most visually horrifying sequences. (While I won't spoil the film for others, the payoff is indeed great: The final shot of Wikus, and of the film itself, is both overwhelmingly moving and harrowing.)
The point of the film is clear: The shrimp-like aliens are derogatorily referred to as "prawns," and the whole of Johannesburg violently demands their banishment from the city. The aliens are assumed to lack any kind of sensitivity or intelligence, as shown when an adroit alien calmly demands – in his own language of glottal clicks and pops – the mandatory 24-hour notice of eviction, the government agents disregard him, pretending they do not hear or understand (when they are clearly fluent in his language).
It would be a mistake to dismiss this layer of social commentary as ineffectual or flawed, though it is. While the science of the racial commentary is off – the idea that "Hey, aliens aren't any different from us!" – if aliens and humans do not, in fact, share any DNA (though I'm not sure the film ever states that), District 9 is clearly not interested in exploring such specifics of science and racial engineering; rather, the film is about heightening our expectations for the alien-movie genre in general. It does so spectacularly by visually stimulating our senses and emotions simultaneously. While we're offered yet another cinematic commentary on the far-reaching and crippling consequences of racism, classism, and government corruption, this time it's under the guise of a kick-ass alien-invasion flick that just about anyone with a strong stomach – whether a cinephile, sci-fi junkie, or something in between – can enjoy. It just so happens to also be one of the year's most intense and gripping films.
District 9: http://www.district9movie.com
---