Strike Anywhere
with Polar Bear Club, Crime in Stereo, Ruiner
The Social, Orlando, Fl • October 29, 2009
Jen Cray
If you're a fan of modern day punk and hardcore, but can't quite stomach the thought of elbowing your way through crowds to try to catch 300 bands in three days time – and you live in Orlando – then the days surrounding Halloween weekend can be wonderfully exhausting in the way of live music and late nights. Every year Central Florida gets crashed by bands on their way to and from The Fest, Gainesville's punk rock bonanza. If I made it to every show that caught my ear I wouldn't get any sleep, so this year's winning choice was the Bridge Nine Tour headlined by Strike Anywhere, but also offering a triplet of other explosive up and coming bands who all call the hardcore label home.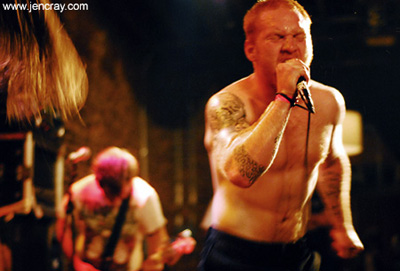 Ruiner is fronted by Rob Sullivan, a red-haired, bare-chested monster of a man who stalks the stage with a Henry Rollins stomp, and even shares a similarly pumped-up physique. His stare is intense, his tendency to float on the edge of the stage keeps fans in front on their toes, and his scream/speak/growl approach to vocals brings a bit of Black Flag and Minor Threat to the young band's sound, which otherwise has a lot in common with modern metal/hardcore acts like Converge or Bane. The whole concept of merging the metal and hardcore cultures, which once stood defiantly on opposite sides of the street, has been horribly overplayed in recent years but Ruiner sells the sound better than most – especially live. By set's end an enthusiastic few were trying desperately to get a pit going, but it was too early in the night for much action. Beer first, body slamming after was the mantra for most, it seemed.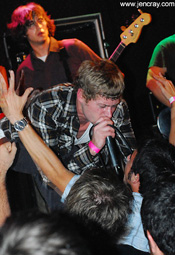 Long Island's Crime in Stereo is a band transitioning from their relentless hardcore roots into something with a bit more depth, and they wasted no time in letting the audience see this new side of their personality. Vocalist Kristian Hallbert quietly cradled the mic hidden beneath his hooded jacket and, with eyes closed, eased the anxious crowd into their soon to be volatile set. Soon to be, being the operative phrase. The opening song was slow and contemplative and had the fury not kicked in quickly, it could have turned ugly. While the band's time on stage was mostly spent spewing out the sort of sweat-inducing songs that allowed their fans to vent their troubles out on the hard concrete floor, and affectionately on one another, they didn't shy away from taking the mood down and allowing the room a moment to breathe.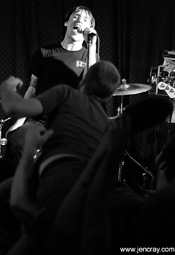 Not that this crowd wanted a breather. Crime in Stereo was a good, strong primer for the flesh pile-up that commenced within seconds of Polar Bear Club's set. With just two albums worth of material with which to annihilate a crowd, this young upstate NY bunch is poised to be the next big thing. Combining hardcore energy with melodic hooks and elements of the poppier side of punk (please don't make me say "emo"), they've got all of their bases covered and, understandably, attract quite an eclectic group of fans – from the young kids with the choppy haircuts to the skinhead, muscle-bound sect. They all come together to bash their heads together in celebration of modern day post-hardcore fun.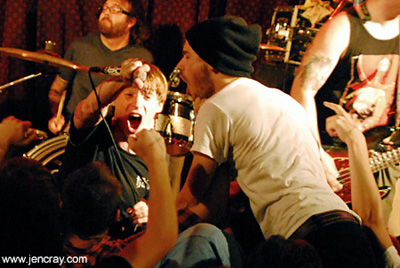 The star of PBC is front man Jimmy Stadt whose sincere smile, which may be less than traditionally "hardcore," endears him as a kid on top of the world as he looks out on a room full of kids climbing atop each other for the chance to sing along with him. When not giving face time to every single fan who requests a fist bump or a slap on the back, he dances around the stage with a snakey move that was all but trademarked by Axl Rose. In fact, there's a certain element of G 'n' R in the guitar parts of "See The Wind" – one of the dozen songs that turn The Social into a beautiful mess of bodies. Polar Bear Club sounds good on record, as evidenced on their latest release Chasing Hamburg, but at their root they are a band that needs a stage and a rowdy crowd. Sign me up any time they come through town!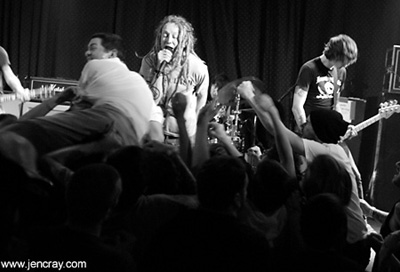 What happens when a veteran band like Strike Anywhere tours is that no matter how good the opening bands are, their crowd is their crowd, first and foremost. Theirs is a loyal fanbase and one that, until now, I couldn't really call myself a part of. They never fail to impress as a band that can turn a room full of strangers into a family and their music is a well-measured mix of melodic punk and angry politics, but each previous show I had attended I did so as an observer. This time around, with their latest album Iron Front fresh in my head, I finally found myself on the same page as the those around me – especially when they played the brand new "Invisible Colony" and "I'm Your Opposite Number."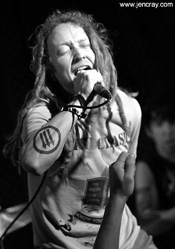 Wearing his ever present Clash T-shirt and with his blond dreadlocks strewn about his ageless face, the petite but commanding presence of Thomas Barnett was once more the heart of this band's success. His boundless energy found him pouncing across the stage and, like his tour mates, sharing mic time with the eager crowd-surfing singers in the audience. Few bands can get the tide of bodies riding high like Strike Anywhere can.
Shows like this one are a success, in part, because of their breaking down of the artist/audience wall. There is no Star ego, no separation between the kids in the crowd and the kids on the stage. The bands play and then jump into the crowd to play the role of fan for the next band in line. And so the cycle continues, and music plays on.
To see more photos from this show, and others, go to [www.jencray.com](http://www.jencray.com/bands_live.htm).
Strike Anywhere: http://www.strikeanywhere.org/ ◼
---