Grunge: Photographs by Michael Lavine
by Micheal Lavine
Abrams Image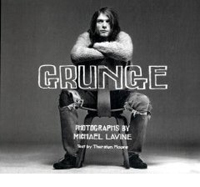 Seattle's "grunge" non-movement, despite the slapdash and wondrously messy nature of the music (and personalities) involved in it, somehow had a degree of image discipline unparalleled in few other musical subgenres (save for perhaps Mick Rock's visual documentation of Bowie, Stooges, Lou Reed, Roxy) – we're talking Soviet-worker-poster-level iconic here. The primary lensman who crafted this aesthetic was Charles Peterson, whose sweaty, kinetic, just the right side of blurry action shots defined the sweaty, kinetic music most directly. Michael Lavine's portraits were more studio-based and somewhat more considered, yet still visceral and immediate. He captured perfect images of the major players of Pacific Northwest music – you've seen his pictures everywhere from fashion mags to fanzines to press releases to all the right record sleeves. Lavine cut his teeth with years of snapping street/punk kids in Olympia and Seattle in the early '80s, sharpening his skills, and introducing him to many of the future stars of the underground.
The first half of the book consists of portraits of young punks hanging out on various urban thoroughfares, the styles are fascinating to consider in a pre-internet and pre-irony subculture – I'll wear this Iron Maiden t-shirt because I like Iron Maiden, what a radical concept. Cool/creepy stills of Seattle street punks and skaters and shots of Olympia's arty punk rockers abound. Awkwardness, earnestness, and cool menace pervade the photos. And his portfolio is downright prescient of all of present-day websites like lastnightsparty and The Cobrasnake, dedicated to capturing every detail of young hipsters.
Thurston Moore further cements his position as artist/historian of '80s/'90s American Underground music by providing the text accompaniment; an essay at the beginning trying to sum up the music of the Pacific Northwest, and a score of capsule band bios at the end. Poor ol' Kurt Cobain, coverboy yet again, will bring many a casual reader to the table, what with a clutch of unseen photos on offer. And to be frank, the shots of a heavily-junked out Cobain and Courtney Love are absolutely mesmerizing. As far as rock iconography goes, these are unimpeachable. Taken during the infamous Saturday Night Live weekend in 1991, Kurt was so out of it that he was nodding off during the actual shoots, much to the dismay and frustration of his bandmates. But my god, to see him with his badly dyed hair and ratty grandpa sweaters and homemade Flippers shirts, hollow-cheeked and scabby, hanging on to Courtney clad in matching granny sweater, kinda still makes you just pause and say, "maybe it was love." Just don't think about the human cost too much.
Elsewhere you'll find all manner of visual treasure: Beat Happening (they always look like innocents abroad), an elegantly wrecked Urge Overkill, Pussy Galore looking beyond degenerate, almost ridiculously so (who's that caveman who snuck into the photo?), L7 doing a Guns N' Roses imitation, Harry Crews (with Lydia Lunch) perched on a wrecked car, oozing girlgang danger, Mudhoney in their teenage caveman non-poses, Surgery looking like downcast kids (man, I used to think they were dangerous when I was young), and all sorts of lesser known highlights like Honeymoon Killers, Redd Kross, Velvet Monkeys, and Foetus.
Abrams Image: http://www.abramsbooks.com/abramsimage.html
---