Bon Jovi: When We Were Beautiful
by Phil Griffin
Collins Design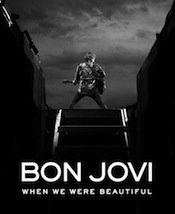 If it's true that a picture paints a thousand words, then this book screams volumes.
Light on text, yet heavy on photos, When We Were Beautiful is an authorized, behind-the-scenes account of one of rock's all-time biggest and best-loved bands.
Although most of the fabulous photographs featured within the book's 184 pages come courtesy of author Phil Griffin, who shot them during Bon Jovi's record-setting 2008 Lost Highway world tour, When We Were Beautiful also includes amazing, never-before-seen pics spanning the multi-platinum group's entire twenty-five year career.
Offering more than a collection of candid photos, the pages of When We Were Beautiful also tell the complete Bon Jovi story as told to Griffin by the band members themselves.
This is an authorized presentation. It's very warm and fuzzy. So, despite it being an extremely well-done "must-have" for all diehard BJ fans, don't expect to find any pictures of band members in drug-induced comas, banging groupies, or berating personal assistants for placing brown M&Ms in the backstage green room. Oh, damn!
Harper Collins: http://www.harpercollins.com
---