Polysics
with Evil Beaver
Chicago, IL • 2/10/10
Chris Catania
Japanese new-wave quartet Polysics is clearly powered by a mad love for Devo. But their surges of thousand-gigawatt melodies and onslaught of sequenced vibrations jolts and re-calibrates my synapses in ways that Devo never has.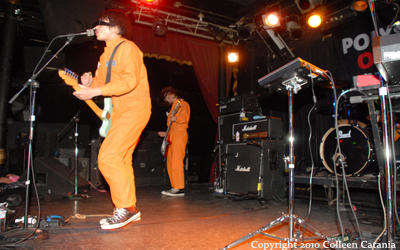 In 1998, front man Hiro Hayashi (voice/ guitar/ programming), 30, formed Polysics. After constant lineup changes and nonstop touring for nearly a decade, the band caught the eye of Tom Anderson, who signed them to MySpace Records after seeing them at a U.S. show. Since then, the band has issued a state-side compilation of its previous foreign-release album, Polysics or Die!, and embarked on the first-ever MySpace tour in 2008.
Now, in 2010, Polysics are again making their way across the U.S., touring in support of their ninth album, Absolute Polysics. For the most part, the new tracks stick to what's worked over the last ten years and pull few surprises. It's not the same Polysics necessarily, but more of a refined version of an already sleek and super-frenetic new-wave formula. But as the title suggests, Absolute is vintage Polysics: ultra-fast electronic tempos and mind-numbing chord changes and 2 to 3-minute songs packed with Japanese pop, metal, rock, and punk. If anything is "new," it's that there are a few more accessible pop melodies and hooks thrown in.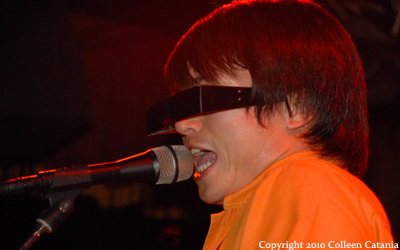 Listening to Polysics feels like you're strapped to the hood of Speed Racer's car while he blazes along at top speed. It's a fun and crazy ride that only gets better when the band is raging, pulsing, and exploding in front of you during a live show.
First, the L.A. rock duo Evil Beaver primed the night by ripping its way through a raucous set of snarling punk, garage, metal, and blistering hard rock. Squeezing growls, squeals, and sneers from her guitar and foot pedals, Chicago-native Evie Evil – who had the set list scrawled on her forearms – mashed melody with virtuosity making her axe sound like three guitars instead of one, while drummer Johnny Beaver thumped out a river of bashing and clashing rhythms and beats.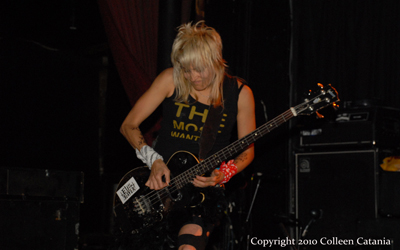 Then, in-between sets, the crowd got its new-wave pop pre-show fix, singing in harmony to A-Ha's "Take on Me" and B-52's "Rock Lobster" playing on the PA. The switched was flipped and the intensity in the Double Door climaxed as Polysics's tour manager introduced the band, exclaiming into a stage-side mic that Polysics is the "only band to take on Godzilla and win!" At that point the crowd roared, boiled over, and began to rumble and rock.
Clad in bright orange jumpsuits with shiny silver P's pinned to their chests and sporting black long bar sunglasses, Polysics assumed their spots on stage and took us on a wild ride, soaring high on the crest of a sonic tsunami of punk rock, pop, techno new-wave.
Wasting not even a second, Hiro blew hard into a whistle and quickly clamped on the jumper cables to our brains firing up the percolating electronic beats of "P!," the lead track on Absolute Polysics. From there he led the charge through more new numbers and others from 2008's We Ate the Machine and past albums.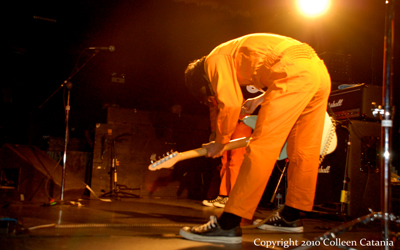 As I remember it, the show felt like an electro-blur with all the songs merging into one frenetic anthem. But then again all the sequenced speed and riotous guitar rhythms and drum beats stood apart and alone, as if each beat and note was a unique micro-moment of pleasure feeding the one-on-one connection frenzy between my brain's neurons and synapses. At one moment during the show, everything slowed down in my mind as I figured out what it is about Polysics that moves my body and pulls my mind in. I closed my eyes and felt the intense and beautiful union with the crowd that was bursting with hand claps, yelps, shouts, and head-bobbing. This was a complete surprise because I've always felt that Polysics is a secretly cerebral band that knows how to get people dancing outwardly or internally. But after seeing them live, it was clear that they are pros at kick-starting and stimulating our brains without us even knowing it – thus completing their mission and giving our bodies no choice but to obey and instantly go goofy.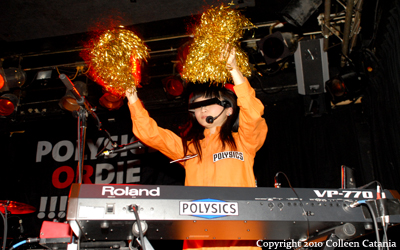 As powerful and exhilarating as it was (as most Polysics show are), I assumed the reason for the extra bursts of encore-power they exuded was because long-time member Kayo (keyboard/voice/guitar/vocoder) will be leaving the band after the final show in March in Budokan. That considered, you would have never guessed that this Chicago show had a bittersweet undertone.
I stood tired and in awe at Polysics's endless energy and ability to play with such intensity for over an hour. I didn't always completely understand Hiro as he flew through his self-professed "space-language" lyrics that are a playful, mystical mix of Japanese and English. But it was his triumphant battle calls and the feeling Polysics injected into my heart that obliterated the language barrier. If Polysics has really taken on Godzilla and won, like their manager insists, I feel sorry for the other ancient sea monsters because they're going to get crushed.
Polysics: http://www.polysics.com/en/ ◼
---