The Terror Pigeon Dance Revolt
with The Shakes
Golden West Café, Baltimore MD • 3/1/2010
Chris Mullen
I would be lying if I said that The Terror Pigeon Dance Revolt was exactly what I had expected. In fact, prior to the photo shoot, I had never worn a green M&M costume before. I consider myself to be lucky, because for a half-hour I got to let loose and photograph one of the most interesting groups of people I had ever met.
Normally, I (the photographer) would be confined to a pit for three songs while a band performed for copious amounts of fans. Unfortunately for the establishment, Golden West Café, and The Terror Pigeon Dance Revolt, I was the only person there. That did not stop the band that also utilizes members from their opening act. In fact, it did not stop the band from involving me, which made the show that much better. While the colorful front man, Neil Fridd, was setting up what appeared to be a homemade master control of electricity and light, he mentioned to me that in the past he had once performed a show for three people. So performing for me and the staff of Golden West Café was not all that bad – we made four.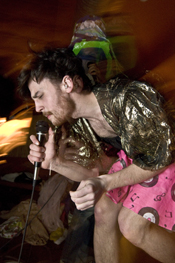 What began as a "concert" in theory quickly turned into more of a practice session where set-up for The Terror Pigeon Dance Revolt's current tour was the focus. Once the costumes were dispersed, we all huddled under a tarp of some sort and communally thought to ourselves what the hell?! Tossing all adult reservations to the wind, we settled in like children at story hour, and waited for the magic and technicolor mayhem of The Terror Pigeon Dance Revolt to commence. With the background music being produced by musicians mostly from The Shakes, the group began to do what they do best. Enjoy themselves.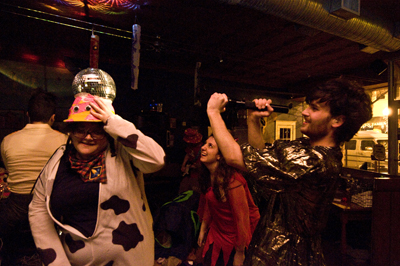 The music – which is as psychedelically whimsical as it is childlike and weird – was great, but for me, the lights and the show itself were what made this performance so good. When you see The Terror Pigeon Dance Revolt, you are not just listening to a band, you become part of the performance itself. Like fellow traveling troupe of characters Gogol Bordello, the music almost becomes secondary, and having fun and forgetting about life for a while becomes the primary focus. In fact, the music kind of blended into the background, with each tune sounding like the next, but with different lyrics. The experience of the show was what it was all about. This experience would have been much stronger with an audience, but for the precious few who were in attendance, it was still a party worth remembering.
The Terror Pigeon Dance Revolt: http://www.myspace.com/theterrorpigeondancerevolt ◼
---