Tegan and Sara
with Holly Miranda, Steel Train
Tampa Theatre, Tampa, Fl • February 20, 2010
Jen Cray
Pushing the indoor estrogen levels to a dangerous degree, Tegan & Sara brought their current tour to a sold-out crowd at the Tampa Theatre. It may come as a surprise to some, but these cute-as-buttons Canadian, guitar playin', indie folk song singin' twins have got one hell of a rabid fan base. So much so that the venue brought in added security, just in case the ladies in the audience got a little too raving fan on the pixies onstage.
You know how pre-teen girls go absolutely NUTS for whatever teenybopper heartthrob is gracing the magazine covers at the moment? Tegan & Sara are like the Twilight hunks for lesbians. It can be intense. Luckily, the night passed without incident, other than a few breaking hearts and happy tears, and the twins made it through with their clothes intact.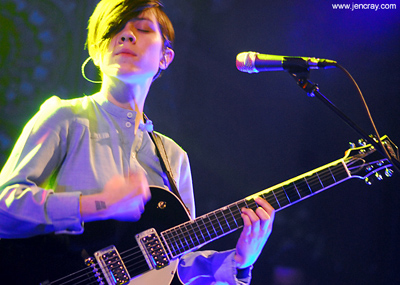 Before the night's guests of honor stepped into the light, early sets by Steel Train and Holly Miranda went over reasonably well. The lobby remained crowded with the mingling masses and beer drinkers lined up for their chosen poisons, but enough stayed in their seats to give the two openers a fair listen.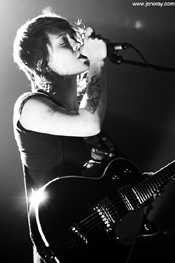 Both the lobby, the bars, and the seats were soon to be emptied. "You guys look like a crowd that would rather be standing up. Please, feel free," Tegan Quin announced before strumming her first note. Bottoms peeled off of the cushy chairs and fans rushed to the front of the stage and down the aisles, throwing all pretense of assigned seats to the wind. Faster than you could say "I'm sure glad I didn't buy a front row ticket off of eBay for $1,000," the room took on the free-for-all feel of a general admission show.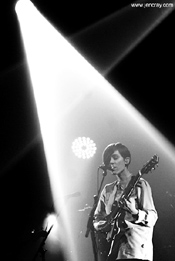 With an arsenal of perfect pop songs to pull from – think early Ani DiFranco mixed with The Butchies and smoothed out with a little Rilo Kiley – Tegan & Sara had little trouble putting together a mouthwatering setlist. Starting with a trio of songs off of their latest – and best thus far – release, Sainthood, the pair casually played through a nearly two-hour set of music mixed with dear diary worthy anecdotes – told mostly by the chattier twin, Tegan. Fans were let in on the details of everything from the girls' karate tournament past, Monopoly games taken way too seriously, and failed attempts at surf lessons.
Also confessed was Tegan's obsession with the cult classic '90s TV series, My So-Called Life. "That's (my) barometer that (I) compare everything in my life to… when I think back to high school, I get confused because I think about my experiences and then I think about Jordan and Angela." Though entirely off point and unrelated, not only to the following song ("Red Belt") but to this review, its worth noting for two reasons: 1. a Tegan & Sara show involves a lot of rambling, and 2. this little '90s refugee can FULLY relate to Tegan's My So-Called Life addiction! Thank you, Tegan, it needed to be said!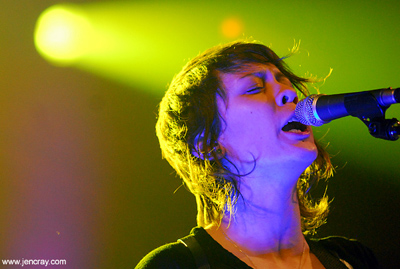 Between tales from the Quin household, the duo played the new album pretty much in its entirety as well as choice tracks from their most popular past records – only delving deeper than 2004's So Jealous for the encore, "Living Room," which dates back to 2002. "The Con," "Back in Your Head," and "Walking With a Ghost" elicited extra special applause, even though these older hits pale in comparison to the likes of the newer material like "The Cure," "Hell," and "The Ocean" which show a maturity both in songwriting and voice.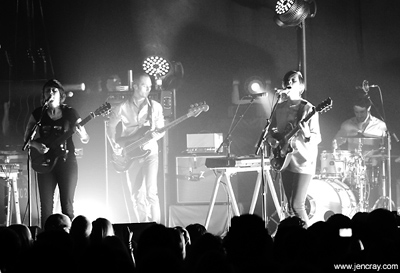 Dramatic spotlights, songs that rip at the heart strings with a world-weary sense of humor, teary-eyed faces staring adoringly at the stage, and the impossibly complementary harmonies that came from the stage helped make this one well spent Saturday night.
To see more photos from this show, and others, go to [www.jencray.com](http://www.jencray.com/bands_live.htm).
Tegan and Sara: http://www.teganandsara.com ◼
---