Jonathan Richman
The Social – Orlando, FL • February 2, 2010
Christopher Long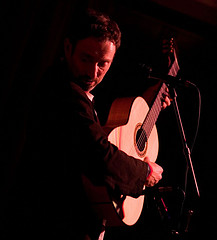 Hundreds of enthusiastic twenty-something hipsters packed The Social nightclub in Orlando to experience an intimate performance from underground acoustic guru and part-time actor Jonathan Richman.
Richman garnered his first national props in the early 1970s as a member of the New England-based act The Modern Lovers, along with Talking Heads' Jerry Harrison and The Cars' David Robinson. Over the years his unique and eclectic style has been placed in random categories ranging from "protopunk" to "folk-rock." Although he's managed to remain off pop music's mainstream radar throughout his career, his work is probably well-known to most. As a songwriter his material has been covered by the likes of David Bowie, Iggy Pop, and Joan Jett. And as an actor, Richman has appeared in several Farrelly Brothers films such as Something About Mary, Kingpin, and Fever Pitch.
Dressed in a striped T-shirt and a dark green sweater with black slacks and sporting a goatee, Richman's onstage appearance could best be described as "Mr. Rogers-goes-beatnik." Relying on nothing more than his guitar and a drummer (playing a junior-size kit) for accompaniment, the quiet, barely-mic'd, acoustic performance felt more like a poetry reading than The Social's typical rock show. In fact, whispers in the crowd were often louder than the "band."
Richman successfully connected with his flock throughout what appeared to be an entirely improvisational set. Fans laughed out loud at Richman's lyrics about lesbian bars and cell phone frustrations. During one song, Richman informed the audience, "The song is over. Now I'm just screwing around." At another point in the show, a glass was heard breaking in the back of the club. "That's okay," Richman commented as he played through the distraction. "You can do that during a sensitive guitar solo."
Simply put – he sang, danced (often literally with bells on), told stories, and delighted all.
Jonathan Richman: [www.vaporrecords.com](http://www.vaporrecords.com/catalog/a_jon_richman.html) ◼
Photo: Brian Birzer Photography / CC BY-NC-ND 2.0
---