Imelda May
An interview with the "Golden Girl" of the 52nd Grammy Awards
Steve Stav
During the 2010 Grammys – and in the span of about two minutes – an Irish siren and a British axeman did more to spark interest in American music history than any domestic artist has in quite some time.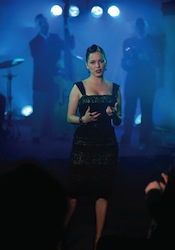 Imelda May and Jeff Beck's heartfelt essence-channeling of the late, unbelievably great Les Paul and Mary Ford's "How High The Moon" not only dispelled any fears of a Joe Satriani-Yngwie Malmsteen hard rock interpretation of perhaps, "Vaya con Dios," it brought the house down. Among all the modern trappings found at the Grammys, the duo's completely "old school" presentation must have had the most veteran of roots-rockers shedding tears of joy.
While Beck's spot-on nod to Les was amazing, it was May who owned the stage that night. With a voice and presence that shone even more brightly than her fabulous gold dress, this seasoned, yet relatively unknown singer paid Iris Summers (aka "Mary Ford") a glorious, long-overdue tribute.
It was the most sensational U.S. television debut imaginable for May, whose overseas popularity jumped month-to-month in 2008-09 as her rockabilly/jazz/blues album, Love Tattoo, caught on like wildfire in the UK and Europe.
After years of honing her craft in Dublin nightclubs, London burlesque theaters and every venue in between, Imelda May is more than ready. She'll be opening for British jazz-pop artist Jamie Cullum on an American tour in March, and she is going to make a big, big splash. Gene Vincent, Big Maybelle, Howlin' Wolf, Eddie Cochran, and Peggy Lee are coming back to the States – and all crammed into one pair of stiletto heels.
Imelda May has it all, and then some. In a glamorous gown or Mamie Van Doren capris, May exhibits a sultry sexiness and style, countered – or perhaps enhanced – by a grounded, girl-next-door personality. She has a white-hot band of hepcats behind her, including ace guitarist-husband Darrel Higham. Most of all, May has the pipes. Boy, does she have the pipes. But you don't have to take my word for any of this; check out her video for "Johnny Got A Boom Boom" or the live clip of her and Jeff Beck performing the Shangri-la's "Walking in the Sand."
Taking a break from mixing her next record, Ms. May recently spoke to me from London. Somewhere between my incessant flattery and her chuckling at my incessant flattery, we managed to ask and answer some questions about her big night, and about her impending U.S. invasion.
• •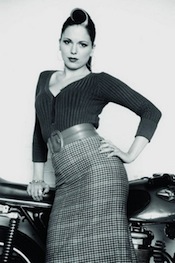 This tribute to Les and Mary was so honest, it was simply awesome.
Thank you! Both myself and Jeff were thinking in dress rehearsals, "We don't have any dancers or acrobats or anything like that"… we thought it might be a nice contrast to everything else at the Grammys – which has evolved into something huge. We thought it might be nice to bring it back to something simple. Though it wasn't too simple – obviously, Les Paul wasn't simple. I pre-recorded some vocal tracks, and sang on top of 'em, like Les did with Mary Ford. Although I think they did a hell of a lot more multi-tracking than we did.
To be honest, without Les Paul doing what he did, they wouldn't be able to have these big shows. So it was a great honor to be able to sing a song that (Les and Mary) made so popular – and do it with Jeff Beck at the Grammys. It was a triple whammy for me, you know?
How long was this duet in the works?
Not long… I think I heard around Christmastime that it might be happening. But then I heard it might not happen, that they might want Jeff to play with some other guitarists or something – like, "Let's get all these famous guitarists together to do it." But Jeff, he fought tooth and nail for it, to get that song on the program, and to have me sing it, as well. He definitely wanted to do a Les Paul tribute in "the Les Paul way," if that makes sense.
So, we only had definite confirmation a week or so beforehand. And I'd only performed "High High The Moon" once before with Jeff, at The Indigo in London. We'd been in his kitchen one night, jamming around… I can't remember who started playing it first. And then we did it at The Indigo. So we hadn't had a lot of rehearsal, but we knew it because we loved it.
You looked fabulous. When I asked some friends if they'd seen you and Jeff on TV, they replied, "Are you talking about the girl in the gold dress?"
My friend made that for me! My bass player's wife is a great dressmaker; I'd described to her what I wanted, and had that made for my band's 20O2 gig in Dublin at Christmastime. When the Grammys came along, I had to wear something good! I was rooting through me wardrobe and said, "This will do."
Did you run into any interesting people at the Grammys?
To be honest, I didn't get to meet very many people. Backstage at the Grammys is mayhem, absolute bedlam. Jeff and I sat down to watch the show for a while; Quentin Tarantino was sitting nearby, I thought that was pretty cool because I'm a big fan of his.
I got in the queue to have my picture taken; obviously no one was going to know who I was. There was a girl carrying a placard with my name written on it, walking in front of me like I was in a boxing match or something. I was in the queue between Pink and Mary J. Blige. At one point I was squished between somebody and Alice Cooper doing an interview, I thought that was pretty cool. Everybody was very nice, but I didn't meet as many people as you would think. But of course I was with the best, I was with Jeff Beck!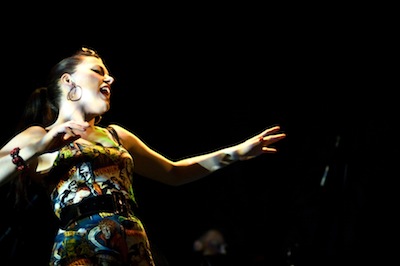 I imagine your performance sparked some interest?
Oh, yes. When we flew home the next day, my manager had hundreds of emails and calls. It was really crazy, in a good way.
Your family must be really proud.
Oh, everyone – my family, Darrel's family – everybody's so proud of me. We were on the news in Ireland for being on the Grammys! I'm so delighted… where I'm from in Ireland – I'm getting calls from people I know there, "I know you're doing this for all of us." And I am. It's a nice feeling. People have said they're proud to say they're from the same area as me – The Liberties (section of Dublin). That's so nice of them.
How long has this association with Jeff Beck gone on?
It's been about two years ago, now. We were doin' a gig with Jools Holland, and Jeff was there to see Jools. We met backstage, and he asked us back to his house. We jammed all night, and then he said, "God, I've got to get you to sing for me." It was quite nice of him. Bit by bit, we just worked together.
You've recorded some songs for Jeff, I understand?
There are two projects: he worked on an album for Darrel, and I sang a couple of songs on that. That's not released yet, though. I sang some songs for Jeff's new record (Emotion & Commotion), which I think is coming out soon. I sang three numbers, and I think he picked "Lilac Wine" – it's beautiful, with a fantastic orchestra. It sounds absolutely gorgeous. And I think he added an extra track, "Poor Boy," which we recorded at his house. It was a "live" take. It's a favorite song of mine that I've wanted to do for a long time. I'm a big Howlin' Wolf fan. We were just jamming around, and he pressed "Record."
I read that you played a handful of shows in the U.S., what, about a year ago?
Not even a year ago – New York, Chicago, L.A., some little rock clubs. I love to do that sort of thing. I've been gigging a long time – 19 years now – and it's all gone wild now. Especially in Ireland and England, the gigs get bigger and bigger all the time. So when we went to America… it was like starting from scratch, playing little clubs again. It was great.
How many times have you been to the States?
Not many, three or four times is all. I went to New Orleans and got to hang out with Dr. John for a little bit, which was fantastic. I got to open for him in a great club. I love New Orleans… a fantastic place, very inspirational.
It may seem ironic to some that an Irish singer and an English band can play authentic American roots music so well. But Eddie Cochran, Gene Vincent, old blues, old country has always been in fashion over there, hasn't it?
Absolutely. My husband's a huge Eddie Cochran fan, actually. A few years ago, he got invited to tour America with Eddie Cochran's band. He got a lot of insight into Cochran's life and such.
It's quite weird, the relationship that Ireland and England have with American roots music. Of course, there was the big revival of blues in England in the '60s – the Rolling Stones and all that. And American rock 'n' roll has always been popular there.
In Ireland, we lean more towards the bluesy, country side of it, I think… traditional Irish folk music obviously influenced country music over in America – similar rhythms and patterns, similar instruments, too. And the blues – it's similar to old Irish singing, as well; close your eyes, toss your head back, and throw your heart and soul into it, you know?
Perhaps it's a good thing to have your "big break" occur at this point in your life, rather than when you were just starting out.
Absolutely. I'm delighted that it's happened this way. For me to have been singing for many, many years in tiny clubs in Ireland and England – it's given me a huge amount of experience. Fantastic memories, brilliant nights… I've learned from some of the best, guys playing for years – traditional Irish, country, blues, rock 'n' roll, all kinds of music. I've been able to sit and watch these people, who have been playing for a long, long time.
I think that's the best way you can learn music, the best music education you can get. Some kids think about going to a college to learn music… that's not a bad way, but it's not the only way. I'm glad I learned the way I did – sitting in on gigs since I was 16 years old. You can't top experiences like that.
And it gives me a lot of fodder for writing new material; I've lived a bit.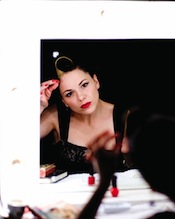 Is there anyone you're fond of that you'd like to meet on your upcoming tour?
Oh yeah, quite a few. I'd love to meet Etta James and B.B. King. When we went to Chicago, we went to Buddy Guy's place. He was sitting at the bar; I got so excited, I wanted to go say hello to him… but I decided to leave him be. He didn't seem to be having a good night, and I didn't want to ruin the rest of it by being a big fan and all. But I talked to someone who knew him, later, and she said I should have gone and said hello, that he would have liked that.
So hopefully, we'll get back to Buddy Guy's place, and hopefully he'll be at the bar, and hopefully I can work up the courage to say hello.
Imelda May: http://www.imeldamay.com ◼
---