Crown of Love: Volume 1
Story and Art by Yun Kouga
Shojo Beat and Viz Media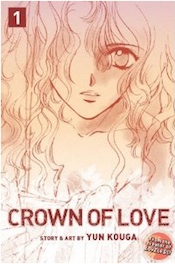 I found this teen-oriented love story very hard to follow, but I'll summarize as best I can. Hisayoshi is a talented piano player in a prestigious Tokyo high school. His father wants him to play classical piano, but his romance with popstar Rima drives him mad. Ikeshiba, a slick producer, promises to make him a star, thus giving him better access to Rima. His career takes off but Rima is jealous of Hisayoshi because Ikeshiba is interested in Hisayoshi, then Hisayoshi's dad beats him up because Pop Star isn't as honorable as Piano Player. Then the story sort of stops. Abruptly. With no clear resolution. Maybe I should find Volume 2.
Originally issued 12 years ago, this enigmatic volume has reappeared and draws high marks on the fansites, but it leaves me cold. Sure, it took me a few pages to figure out the book is laid out left to right, and the honorific name suffix chart took a while to master, but still, the story seems laden with half-finished questions and a cast of pre-teen fans, an oddly motivated romance, and hard-to-differentiate characters. Rima is moderately engaging as the pop star who abandons high school to look good on MTV and Hisayoshi makes little sense as a man pursuing fame just to hook up with a woman who despises him. It's Ikeshiba who really annoys; he exudes a moral and sexual ambiguity that made me slightly uncomfortable, and he's just a cartoon.
On the plus side, the innovative panel layout made the story interesting without clarification, almost as if it was lifted from The Cabinet of Dr. Caligari. Just as Ikeshiba's pasted-on smirk is creepy, Rima is sexy in a Lolita-inappropriate manner, and there's a layering of odd sensuality and high school politics that is just alien enough to keep you off guard. Aimed at the T+ (Older Teen) market, I would leave this for the dedicated Manga fan/ collector, and start my journey through Japanese panel art somewhere else.
---