Dance of Days: Two Decades of Punk in the Nation's Capitol
by Mark Anderson and Mark Jenkins
Akashic Press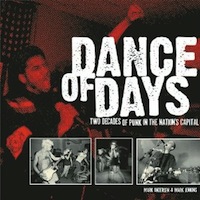 For another writing gig, I was recently bemoaning the fact that this tome had fallen out of print. As a learning tool for those interested in independent/DIY culture and an oral history of a musical subculture, it was invaluable. Courtesy of Akashic Press, we now have an expanded and redesigned version of this book. Great news. Even better, it's just as energizing as the first read. It's fascinating to see how young the key players were when they did their most important work. What were YOU up to when you were 16?
What a group of youngsters in Washington DC did at that age was kickstart the next iteration of punk rock (hardcore, straight edge, etc), and play a major role in the birth of the American musical underground – a loose network of clubs, radio shows, fanzines, and bands that existed completely outside of the major label system and provided a breeding ground for the most exciting and cutting-edge music of the day. Dance of Days covers the years 1979 to 1994 (in the aftermath of the Nirvana "alternative" feeding frenzy), from Teen Idles to Minor Threat to Fugazi, to put it glibly. But Ian McKaye, Jeff Nelson, Brian Baker, and Lyle Preslear of Minor Threat were only a part of a fiercely independent and energetic music scene. Dance of Days is the story of bands/labels as disparate as Lungfish, Bad Brains, Positive Force, Riot Grrrl, Simple Machines Records, Henry Rollins, Rites of Spring, Iron Cross, Fire Party, and Holy Rollers. This is just one fucking city!
The organizing principle for this book, and I didn't even catch this the first time I read it, is the parallel rise of Minor Threat/Fugazi and the fall of Bad Brains. It's a classic case of pupil outstripping the master (Bad Brains were mentors to a young Minor Threat), made all the more tragic by Bad Brains' inspirational frontman HR's slow decline into drugs and, quite possibly, madness. Bad Brains were never able to capitalize on their initial flashpoint of brilliance and inspiration, while Ian MacKaye went from strength to strength, Minor Threat to Dischord Records to the fiery Fugazi.
There were downsides to this subculture/movement. There was elitism and cliqueishness both unconscious and conscious. Artsy acts like Fire Party and Black Market Baby felt that they were snubbed and robbed their rightful place in the DC Scene by the Dischord faction (a criticism, incidentally, that could be leveled at this very book). The gang mentality of early acts like Minor Threat-SOA came back to bite them in the ass later on when hardcore descended into a mindless violence and thuggery that they could never quite shake. And it was bleakly funny to read about the sniping that Fugazi were subjected to by former comrades as they got more successful, even though they still held themselves to almost ludicrously high standards. Whether it was Riot Grrrls questioning their commitment to feminism, "fans" excoriating them as sellouts when a Ticketmaster service fee raised their ticket price from $5 to $6.25, or the members of a political group that Fugazi donated money to turning around and blasting them for putting a UPC sticker on their album. As idealistic as punk can be, it can just as easily descend into a Mean Girls-esque high school cafeteria. Of course, that doesn't mean you shouldn't get out there and do it anyway.
Akashic: http://www.akashicbooks.com
---