Wanee Festival
with The Allman Brothers Band, Widespread Panic, North Mississippi Allstars and more
Live Oak, FL • 4/15-17/2010
Phillip Haire
Ahhh… Spring is upon us. As the pollen finally settles, the dust of thousands dancing in a field begins to churn, kicking up the start of the festival season that will delight fans from now until summer's end. It seems as though the compilation of bands at most weekend fests is getting better every year, allowing a fan to soak in quality bands and lots of 'em – just take a look at recent lineups for Coachella, Bonnaroo, etc. However, one would be hard-pressed to eclipse the line-up at Wanee Festival 2010, where most bands would stand alone as headliners anywhere.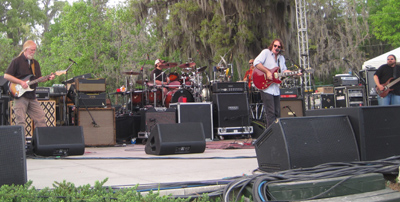 I heard multiple comments stating Wanee will be the "next Bonnaroo." Not too far of a stretch, considering 50,000-plus tickets were sold for the event, held in the gorgeous North Florida live oak hammocks of Spirit of the Suwanee Music Park (SMP), for nearly a decade. Set amid natural surroundings, SMP features two stages. The main (Peach) stage is in a huge open field with oaks and spanish moss as a back-drop. The smaller (Mushroom) stage is immersed in woods and tiered, amphitheater-style – a great setting, especially at night. Torches and lights strung throughout the trees give a wonderful, yet natural effect. Certainly this year's Wanee was by far its biggest and most extensive musically. Featuring over thirty bands, the event even started a day early with a Thursday "extended party" to accommodate all the acts. As I reflect on all the talent, I notice a few characteristics unique to Wanee – sure, it featured many of today's A-list jam-bands, but there was the brotherhood of Southern-based rock/blues/funk artists who were able to assemble and jam almost in their backyards. Mississippi, New Orleans, Florida, and Georgia led the way.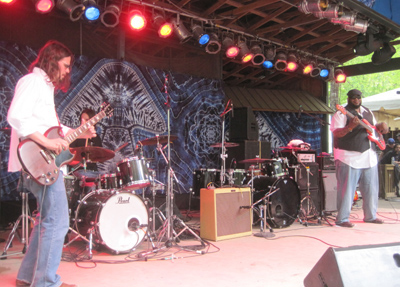 In addition to the pride and camaraderie, there were family roots binding many of the musicians as seen in the legendary Trucks family (Butch Trucks, the Allman's drummer, his nephew and guitar virtuoso Derek, and Butch's son Vaylor of Bonobo's Convergence), the genius of the Nevilles (Art of Funky Meters, Ivan heading Dumpstafunk), and Gregg Allman's son Devon, whose band Honeytribe opened the weekend, plus several other "kin-folk". I also appreciated the time allotted to each band – 90 minute sets were standard, allowing for the bands to get comfortable and not be rushed. The "turn & burn" approach may allow for more bands, but the quality factor suffers. Headliners The Allman Brothers Band (ABB) and Widespread Panic (WSP) were given two hours or more, making them earn those top billing spots.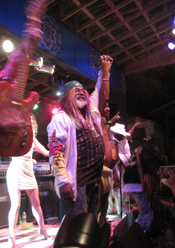 The band schedule was announced only a few days prior, leaving me scrambling to arrive by Thursday evening to catch a couple veterans, Col. Bruce Hampton and funk overlord George Clinton and Parliament Funkadelic. All of the night's music was performed in the woodsy confines of the Mushroom stage. The Colonel kicked in some standards with a country-flair and effortlessly transitioned to some bluesy numbers. Hailed as one of the true "OG" jam-gurus, several Wanee artists stopped by to check him out. No flair or "show," Hampton lets his guitar do the talking. Prior to Clinton & Co., Particle injected the crowd with an electro-jam they call "livetronica." Playing rock over electronic effects was interesting and worked well on a few songs. Particle added a bit of needed energy to prep us for our late show. Clinton continues to tour with several long-time band-mates, most of whom came out early to warm up the crowd. With no less than ten people on the stage at any give time and any given outfit, I will simply let pictures describe the spectacle. As Clinton arrived, the band tightened up for two hours of in-the-woods funk! While they hit most of their highlights ("Flashlight", "Atomic Dog", etc), I was ecstatic to experience a spaced-out version of "Maggot Brain." Around 1am, the Mothership took off and left us funked-up as the party raged on at the campsites.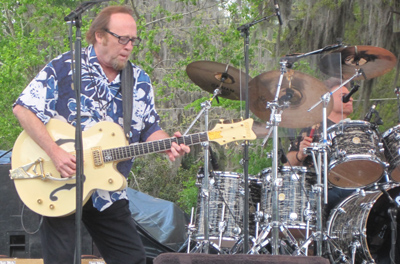 Friday and Saturday nights featured the late-jams beginning at midnight. Leading us into the wee hours was Government Mule and The Derek Trucks Band with Susan Tedeschi respectively. Both Derek and Warren (Haynes) were challenged with a two-hour set after playing nearly three with the Allman Brothers just before. Neither disappointed, and held out longer than much of the crowd. The weekend line-ups were so extensive, the stages far enough apart, and with any overlap, it would be impossible to see all the acts and their full sets… as hard as I tried!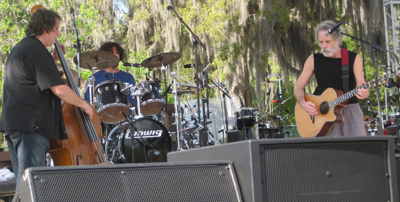 My Friday began with two Grateful Dead members, each offering a different flavor. Drummer Bill Kreutzmann teamed up with Papa Mali for swamp-infused fun. Known as 7 Walkers, Mali laid down the vocals and played a killer funk/soul style using lyrics from Dead lyricist Robert Hunter. Bob Weir led a trio that strayed from the Ratdog experience. Jay Lane and Rob Wasserman joined in for an acoustic, stripped-down experience not often seen from Weir. Wasserman stayed right in the pocket with his stand-up bass working through the classic Buddy Holly tune "Not Fade Away" to Dead faves "Friend of the Devil" and "Loose Lucy." The Wailers also showed up and provided a no-frills set of Marley standards, putting an irie twist on the normal proceedings. Stephen Stills followed, holding court as a solo act. While his voice is showing signs of age, Still's guitar work can hold its own anywhere. Starting out slow, he kicked up the tempo later in the set and hit some Buffalo Springfield classics ("Bluebird"), and a few covers.
Two acts that had eluded me until now – North Mississippi Allstars and JJ Grey & Mofro – did not disappoint. The Allstars' Dickinson brothers hit hard right out of the gates and had the crowd frenzied by the time they got to "Shake 'Em on Down". Grey eased into his set and picked up steam throughout. Singing about his grandma's cooking and highlighting some new material, including one dedicated to his daughter, "So Sweet," explains why Grey and Mofro are one of the hottest groups around. Hot Tuna took on the evening set between WSP and the Allman's, bringing some real old school rockin' with an all-electric performance.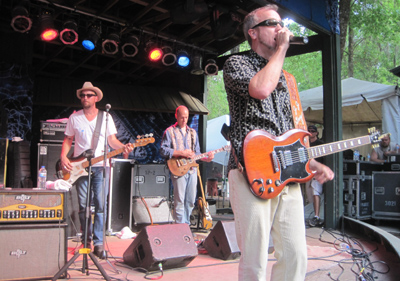 Saturday's line-up proved equally impressive, as the morning began with visits from the Bobby Lee Rodgers Trio, Hill Country Review, Atlanta prog group Bonobos Convergence, and legend Dr John. Dumpstafunk packed the Mushroom with a set of Sly & the Family Stone covers – brilliant! Dumpsta' expertly interpreted Sly's songs and Ivan gave commentary as to Sly's vision, diversity (having a white drummer was quite unique in those days), and lasting impact of his music. Another Wanee highlight was the collective known as The Word. Comprised of John Medeski, Robert Randolph, and the North Mississippi Allstars, there is NO way to go wrong. Randolph played both steel and standard guitar while NMA set the rhythm and Medeski did the rest on keys. Randolph stated The Word is "for real" and they were recording new material. Definitely stay tuned!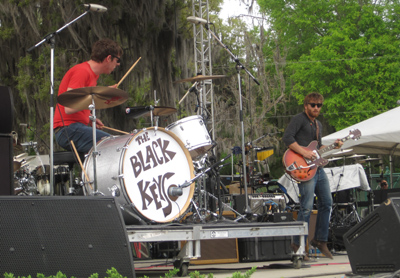 Another highly anticipated act, The Black Keys, came onstage and proceeded to rock our asses off. Representing Ohio and rock and roll, the duo's minimalist presence is no indication of their distortion-driven blues-rock sound. Certainly Wanee's hardest rockers. Check out tunes like "Thickfreakness" and "Grown So Ugly" to see what the buzz is about. Sharon Jones and the Dap Kings, another jewel in the line-up, were grounded due to volcanic ash and could not make the trip. Fortunately, the Funky Meters filled the void with their genre-setting New Orleans funk, y'all. After their scheduled set there was time to fill – what do you do? All-star jam, of course! Ivan Neville came out for a couple and Cody Dickinson wowed us with an electric washboard hooked to a wah-wah pedal. Later in the evening, Texas blues/rock legend Johnny Winter took center stage. Looking quite frail for his sixty-six years, Winter seemed in good spirits. After a couple warm-up licks, he launched into some straight-forward blues. "Red House", Highway 61 Revisited", "Black Cat Bone" and "All Tore Down". Warren Haynes joined in for a number, as did Susan Tedeschi on steel guitar.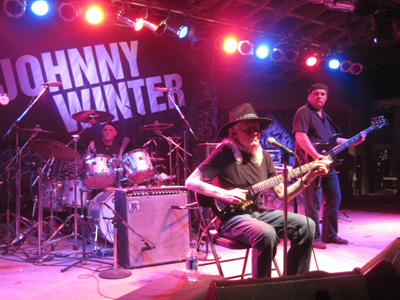 As stated earlier, Widespread Panic and The Allman Brothers took on full-length sets both nights. WSP, known for never repeating songs in a set, lit up Friday with "Ribs & Whiskey", "Bow-Legged Woman", and "Party at Your Mama's House", to name a few. And what is a festival without guest musicians joining the boys for some down-home cookin'? The Allmans, as headliners, brought on numerous friends both nights. Friday night's set saw several members of WSP sitting in for jams including "That's What Love Will Make You Do," (JoJo Hermann and Jimmy Herring) and "You Don't Love Me" (Dave Schools). Gregg and the boys handled their own classics too. The songs "Melissa," "No Way Out," and "Statesboro Blues," with help from Luther Dickinson and Government Mule keyboardist, were all represented this night. Saturday night saw more spirited sets from both groups. WSP struck first with "Ain't Life Grand". "Love Tractor." and "Bust it Big," among others. Guests featured Luther Dickinson on the War cover "Slippin Into Darkness" and Warren Haynes also closed out the set with "North".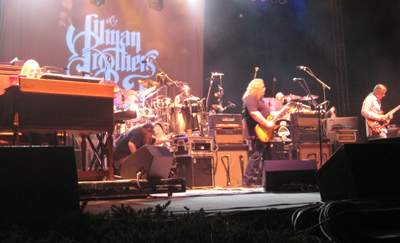 The Allman Brothers Band had several highlights during Saturday's set, including one of my favorites, Van Morrison's "And it Stoned Me" (with WSP's John Bell), delivered distinctively Allman style. Widespread's Dave Schools helped out on "Dreams" and Johnny Winter made an appearance for "The Sky is Cryin." Having just come off their 40th anniversary tour, there was still a bit of nostalgia present when archival video footage of Duane Allman and other band members was shown on the screen while Warren and Derek were superimposed to seemingly jam with them. As the evening came to a close, with "Mountain Jam," it dawned on me they also opened with it Friday night. Since it's an instrumental, it flowed well in both shows. My "Wanee Iron-man" award goes to Luther Dickinson, with Warren Haynes a close second. These guys jammed, jived, and wailed with just about everyone. What a treat to hear them every time they hit the stage!
I was amazed at the level of musicianship exhibited at Wanee and can only hope next year's affair will be half the show 2010 proved to be.
Wanee Festival: http://www.waneefestival.com ◼
---