Local H
with Kinch
The Social, Orlando, Fl • April 14, 2010
Jen Cray
Having ridden into the music scene on the same grunge wave that Nirvana and Pearl Jam dominated, being in a band like Local H in the Clinton years was probably both a blessing and a curse. Their songs and videos got played, scoring them a few radio hits ("Bound For the Floor," and "Eddie Vedder" among them), but then and now they were doomed to be compared to the big guns of their genre. Such pitfalls would have caused a lesser band to crack, but like their peers in The Toadies or Silverchair they've never stopped making albums, and that's why their recent Orlando show brought out so many bodies.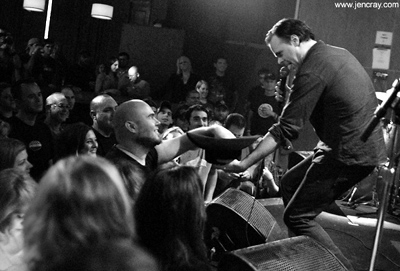 Warming up for the duo was Pheonix, Arizona's Kinch, who didn't really hit their stride until the last few songs of their set. Starting off with keyboard-driven numbers that felt like Ben Folds Five with a rock band, the unmoved audience stared back blankly at the shoegazing unknowns. It wasn't until their set was drawing swiftly to a close and the beer was starting to cloud our judgment that the songs started inspiring some reaction. Though still unremarkable, the Strokes-ian drumming of Jake Malone had a bright personality that elevated the otherwise mediocre state of the band's music. I wanted to pluck him out of the band and stick him in one better suited to his spirited garage rock style – like, say, when he sat in with Local H on "White Belt Boys" during their encore.
[[kinch_apr10]]"
Keeping things spontaneous and interesting on this tour, Local H starts out every show by allowing an audience member to choose the setlist. Called The Six Angry Records Tour, there are six different setlists, each one containing an entire album played front to back followed by a mixed bag of other songs thrown in as the encore. Orlando drew 1996's As Good As Dead – the album with their two biggest hits – to which vocalist/guitarist Scott Lucas commented, "a lot of people don't like this album."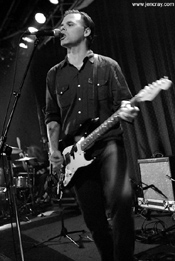 What's not to like?! Fuzz-filled guitar riffs, glass-half-empty lyrics sung with bite, chest thumping drum beats, and the chance to hear an entire room scream the lyric "That's it! I quit! I don't give a shit!" (from "Eddie Vedder")! If ever there was a line that sums up what it was like to be a teenager in the '90s, that's it, and the nostalgic feelings it brought back were as bittersweet as a middle-of-the-night Jolt cola and a clove cigarette. Smelled like teen spirit, indeed.
Running through the album from the short and depressing "Manifest Destiny, Pt. 1" to the long, repetitive, and explosive "Manifest Destiny, Pt. 2," Lucas and feral drummer Brian St. Clair proved to any doubters in the crowd that they are much more than a side-note in the story of grunge, and As Good As Dead is a sorely underrated album.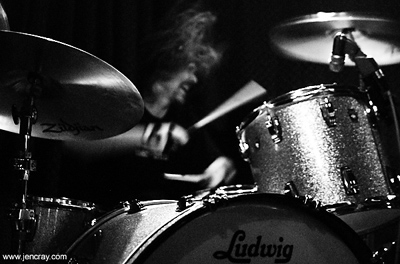 A rafter-splitting performance of "Deep Cuts" off of 1998's Pack Up the Cats during the second half of their set further drove the point of their unrecognized abilities and their skills at blowing ear drums, home.
To see more photos from this show, and others, go to [www.jencray.com](http://www.jencray.com/bands_live.htm).
Local H: http://www.localh.com ◼
---