Damon and Naomi: 1001 Nights
Factory 25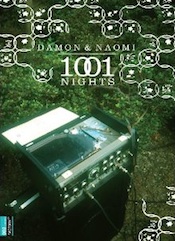 Ah to be Damon and Naomi. The couple of Damon Krukowski (guitars, vocals) and Naomi Yang (vocals, keyboards, bass) came to fame in the early '80s as rhythm section with the turbulent, Velvets-influenced indie trio Galaxie 500. Since that unit's stormy breakup has carefully shunned whatever spotlight Galaxie 500 was on the verge of – and which Dean Wareham then soaked up in Luna and with a tell-all book – the duo are instead tending their own aesthetic gardens in carefully cultivated obscurity. They embrace the role of cult heroes with incredible panache. Everything they do is cool. Their albums of lush longing and regret are cool. Their small press Exact Change is really cool. They look goddamn cool, all excellent haircuts, carefully lined faces and slim-fitting dark clothing, growing into the role of elder statesmen of hip with ease. Lord, even the music playing in their van in-between gigs is ridiculously cool. It's easy to be jealous, but it's probably better to follow their example of growing up and growing awesome in a musical genre overcrowded with manchildren, the ins and outs of which can be glimpsed on the 1001 Nights DVD, actually an anthology of several short films and already-released concert footage combined onto one disc and beautifully packaged, covering the time when Yang and Krukowski expanded their tightly knit duo with members of Japanese psych-rock legends Ghost, particularly guitarist Michio Kurihara.
First up is "Song to the Siren," a tour film shot by Naomi Yang herself after she got a DV camera for a D&N tour of Europe. She proceeds to turn the conventions of the genre (either empty debauchery à la Mötley Crüe or endless whining à la Radiohead) on their head. She's interviewing fans and journalists (who good naturedly squirm), filming the opening acts (including Richard Youngs and the Clientele), showing us one gig's dressing room – a converted van, dedicating songs to obscure authors, filming the actual road between gigs, walking around sightseeing, and getting a haircut. This is intercut with breathtaking performance footage of the augmented D&N trio. It's that tricky mix of mythmaking and mythbusting. Well played.
"Japanese Scrapbook" is like a compilation of deleted scenes from a Japanese tourfilm that was never made, full snatches of the technicolor surreality and natural stillness that are both emblematic of everyday life in Japan. You've got Ghost playing live and fooling around, Damon and Naomi playing an intimate outdoor set in a garden, lots of setting up and getting ready for shows, waiting to play. "Three Films" are three glorified music videos, atmospheric shorts from filmmaker Cedrick Eymenier, mated to Damon and Naomi's most ethereal and heartbreaking numbers. "Live at O-Nest" is a full set at a Japanese club from 2005 with the Damon and Naomi/Ghost collective in full flight. Despite the potential for disaster you'd be justified in expecting from combining the beyond-blue torch of Yand and Krukowki with Ghost's freeform roar, it's just the opposite. The members of Ghost are sensitive ensemble players, telepathically communicating with the very stuff of Damon and Naomi's music, adding windswept brushstrokes and delicate chiming harmonics, communicating with quick sideways glances and lyrical instrumentation. Krukowski is a shy but assured frontman with a choirboy voice undiminished by years, and Yang, despite wallflower body language (sweeping hair into face repeatedly), is otherworldly grace personified, her voice a crystal bell, switching between bass and keyboard.
It's funny because it's true.
Factory 25: http://www.factorytwentyfive.com
---