Fuel
with Bullet Theory
Captain Hiram's, Sebastian, FL • May 4, 2010
Christopher Long
In the dubious tradition of John Kay and Steppenwolf, Michael Clarke and The Byrds, Mickey Thomas' Starship, and more recently, Mike Tramp's White Lion comes the latest rock revival rip-off, Fuel: Featuring Brent Scallions.
As a longtime concert goer I became suspicious when I noticed my ticket read, "Fuel: Featuring Brent Scallions." This is an old school trick that typically club owners, small-time promoters and desperate one-time rock contenders play to convince fans and patrons that a platinum-selling arena act will actually be playing the local Brew & Cue in Anytown, USA when in reality, only one original member (sometimes less) will be gracing the stage. The Guess Who was notoriously guilty of this tactic for years; promoting themselves as the "real deal" long after the departure of marquee members Burton Cummings and Randy Bachman.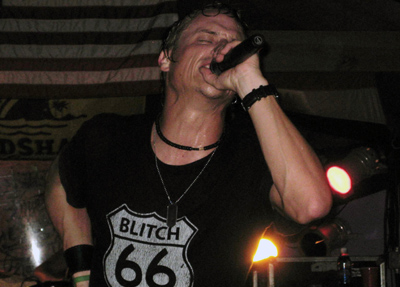 I remembered a couple of Fuel hits from ten years earlier like "Shimmer" and "Hemorrhage," but I wasn't familiar enough with the band's history to know or even really care who was on the stage – a girl I know had tickets and asked me to join her.
The initial crowd reaction was enthusiastic. The 500-plus fans cheered as the band tore through such favorites as "Bad Day," "Jesus or a Gun," and "Bitter Sweet." Then, I began paying attention to comments being made by people around me. "This doesn't really sound like them," I heard one guy say. Another added, "they don't have the same energy anymore." Then a buddy of mine approached me and confirmed my original suspicion. "That ain't Fuel," he announced.
My buddy was absolutely right. I went home and did some research and discovered that after several years of intra-band discord, what I had actually seen the night before was something the band's Wikipedia page referred to as the new "Re-Fueled" line-up – a hybrid version of Fuel featuring Scallions and former members of other such top-name acts as Buckcherry and Shinedown.
I don't begrudge anybody, especially hardworking, talented musicians for making an honest living. I'm not implying that this billing was dishonest – just a bit misleading. It seems to me that this "Re-Fueled" project would probably have been better received if it was presented as the all-star, '90s super group that it is. Heck, had I known that Yogi from Buckcherry was gonna be playing, I'd have paid for a ticket!
Fuel: http://www.myspace.com/fuel ◼
---