Black Tambourine
Barbed Wire Kisses Goodbye
Matthew Moyer
What happens when a "lost classic" gets found? The musical world becomes a better place, turns out. The once forgotten noisepop band Black Tambourine only released a single or two and a handful of compilation tracks in their lifetime, barely noticed by more than a few similarly-damaged ears, but with those several minutes worth of razor-barbed shoegazing clatter, they sowed the seeds for a whole generation of young bands: the Vivian Girls, Pains of Being Pure at Heart, Wavves, and the list goes on and on. The quartet of Pam Berry, Brian Nelson, Archie Moore, and Mike Schulman came together in 1989 through a love of Jesus and Mary Chain and the Unsane and a shared lack of instrumental acumen. Undeterred, they bashed out a set of songs that were squarely at odds with the prevailing aesthetic of the American independent music scene, a mix of Phil Spector's teenage dramas and the rough'n'ready jangle emanating from Postcard Records and the C86 movement.
Sadly, it wouldn't last. They were young, they were just having a laugh, and their heads were a swirl of other projects and new experiences; sure enough the band went to ground anyway. No fights, no musical differences, no one seems to even remember why, in fact. But a funny thing happened on the way to oblivion, their singles got passed from hand to hand like treasured artifacts and led a whole bunch of impressionable youth to discover the joys of three chords and a fog of reverb. Ink 19 corralled the members of Black Tambourine to get the whole sordid take.
• •
You must be pleased with the reception to the Black Tambourine reissue.
Mike: Yes!
Pam: It's been unexpected and great to find that so many folks like it.
Archie: Definitely. When the band was going, I remember thinking that we were doing something really cool, and that nobody was ever going to know about it.
Brian: I keep waiting for somebody to just call us on this as JAMC, Shop Assistant wannabes.
What does it feel like to have this new generation of bands (Vivian Girls, Pains of Being Pure at Heart, etc) cite Black Tambourine as a major influence on their sound? It's not often that a cult band gets to enjoy these accolades in person. Running Slumberland Records, did you kind of see this interest growing over time?
Mike: It's obviously pretty flattering to have bands cite you as an influence, especially great bands like The Pains. When I started back in on doing the label more seriously back in 2006 I was really surprised by how many bands I would come across on MySpace who claimed BT as an influence or just sounded a bit like us or other bands from the '80s that we liked. I think it comes down to having a shared set of influences: Phil Spector, the Mary Chain, C86, etc. It's not like BT was the first band to mix all that stuff together, but I guess we stand out because there weren't a lot of American bands doing it.
What made you decide to get together and record new material for this expanded reissue of Black Tambourine? Was it difficult to get everyone rounded up and together in one room? Tell me about the recording sessions. And how did these compare to recording sessions for Black Tambourine the first time around?
Archie: Mike wanted to reissue the record on 12" (Complete Recordings had been on 10" vinyl), so that gave us some more running time on each side. We started digging through old tapes to determine if we had any suitable leftovers. It turns out Brian had cassettes of pretty much every show we ever played, so we listened to those and realized that none of the live versions were appropriate for release. I think we all regretted not recording more back when we existed, and we were becoming more and more aware of our little buzz in the indie blogs and with a lot of the newer garage pop bands. So Mike put out the idea of reuniting for a live show or two for the Slumberland anniversary parties. We all agreed that it would be nice, but that there was no way we could pull it off, or even end up in the same country for a few days. So, half-jokingly, I put out the idea of Mike flying to DC to record some instrumental backing tracks with me and Brian, and then sending them to Pam for vocals. It turned out that Mike was going to be visiting the area shortly anyway, so we decided to give it a try. We didn't talk much about it beforehand. I think everyone was a bit skeptical, because we were supposed to relearn our parts on our own, and then just show up at the studio.
I'd say that the sessions were very much like the first time around: we were nervous, excited, and somewhat unprepared. It was weird recording without Pam, but that was how we had learned the songs in the first place, so we just bashed everything out until we had basic tracks that we thought would make Pam smile.
Mike: I think we were all a little worried that the new sessions wouldn't yield anything useful, so it was a great surprise and loads of fun to have everything go quite smoothly. We only had one day to record and no time set aside for rehearsals, so we basically ran through each song once or twice and rolled tape. Because we were so time-constrained we pretty much played everything like we did back then, so I think the results are very similar to what they would have been if we'd recorded them twenty years ago.
Pam: My husband is a dab hand with a portastudio, so when the guys sent me the tracks, we dusted off the Akai and I recorded vocals in the kitchen, in one or two takes for each song, pretty much true to the old way. I loved what they'd sent and outside of the obvious bummer of not being able to record with them in person, singing those songs again was a treat.
Brian: It was a little embarrassing for me trying to remember who played which instrument on which song. We switched off a lot and my memory is shot now.
Would you mind telling us a little about the new songs – sonically, lyrically, their origins…? Let's start with "Lazy Heart."
Archie: We used to call this the "Misfits Song," and we used to play it quite a bit faster live. The handclaps and glockenspiel were last-minute ideas which ended up giving the song an entirely new vibe. During mixing, I was very much under the influence of a Monks video for "Monk Chant" (www.youtube.com), and consequently emphasized the big, simple drum beat and fuzz bass.
Mike: Yup, we used to call this The Misfits song 'cause I ripped it off of "Some Kinda Hate."
"Tears of Joy."
Archie: "Tears of Joy" was one of our earliest songs, and along with "Lazy Heart", our most punk-influenced. Mike wrote it on guitar, but for reasons I can't recall, he ended up playing drums on it and I played guitar. The lyrics for the chorus go "when I saw you with that other boy / the tears I cried were tears of joy."
Mike: Arch and I probably switched on this one because I couldn't play it well enough.
Brian: I played bass on this and it was a killer on my finger during the part where it slides up and down. It was like repeatedly running a file across my finger tip. I'm so outta shape!
Buddy Holly's "Heartbeat."
Archie: We loved Buddy Holly for the same reasons we loved the Ramones, JAMC, and Galaxie 500: they each took two or three simple chords and created a sound that they owned. "Heartbeat" was one of our favorite songs to play live. Looking back, it seems like there weren't many other indie bands interested in that early rock and roll sound at the time.
Pam: I loved playing this one – a fast, chaotic clambake of a song sandwiched by some unstoppable cowbell.
Brian: This is a fun one to play drums on because of the snare rolls. Any little tricky part like that made playing the drums more interesting. I don't know that any of us minded playing the drums, but I don't think any of us thought of ourselves as drummers, but I definitely enjoyed playing drums on this one.
The choice of Suicide's "Dream Baby Dream" was such a perfect, valedictory note to end the record, it has this very hopeful and timeless feel. How did you come to that particular song?
Archie: I think one thing that's hard to explain to people about the early Slumberland bands is the degree to which we really, really could not play our instruments. Pretty much every cover we ever played was a result of somebody in the band accidentally figuring out the chords to a song, being amazed and delighted, and having to show everybody else. "Dream Baby Dream" certainly evolved that way, with me stumbling upon the first notes of the bassline, and hunkering down to figure out the rest. I think that song appealed to us because it was by a really aggressive and abrasive band, but it had such a pretty, almost calliope-like sound to it, and a great pop hook at its heart. Recently, Pam and I joked that we both think Alan Vega sounds really cool when he sings "keep those dreams burnin' baby," but that we just couldn't pull that line off.
Mike: I was super-excited when Archie sussed this one out. Suicide were total favorites of mine (especially the first album) and "Dream Baby Dream" is just such a great tune. I'm glad we got the chance to record it – I always thought it fit our style really well. And once we listened to the final result, ending the record with it was a no-brainer.
Besides new songs, what other work went into putting this package together?
Archie: I had been convinced that there were no Black Tambourine photos in existence, though I remember Kicking Giant's Tae Won Yu taking a few shots of us at a gig in NYC, ostensibly for a K Records catalog/newsletter. When we started listening to tapes, etc., Pam revealed that she had those shots and a bunch of others, and our friend Dan Searing came through with some amazing Super-8 footage from our first-ever show. So we were very excited to have all of that for album art, and we ended up having a video for "For Ex-Lovers Only" made from the Super-8.
After everything was done, another friend of ours told us he had found old VHS footage from four of our shows, as well as some videos he and Pam made for three songs. So we're going to review all of that soon, and maybe make another video from some of it.
Mike: In addition to the discovery of all the visual material, I thought it made sense to get in some new liner notes that would help place our music in a historic context, and Tim's notes do a great job of that. It was nice to have an aura of mystery surround the band for so long, but I tried to put myself in the shoes of a fan buying the record, and I think that if I was that person I'd WANT to know all of that context, and be able to see the pictures, etc. I reckon this is probably the last time we'll be able to make a physical record or CD for these songs, so I'm really glad that made it a comprehensive document.
Brian: A lot of back and forth went into the cover, and we were going to just use the same cover from Complete Recordings, but in a quick evening of rapid-fire email exchange we threw together the idea of the badge on the jacket. I snapped the photo and the cover was done, collaboratively, in an evening by four people three cities and two countries away from each other.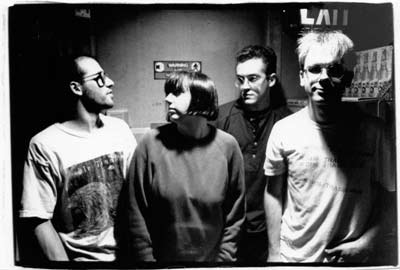 I enjoyed the liner notes and essays and photos quite a bit – they have this very exotic, insular, Style Council kinda feel to them.
Archie: The liner notes really take me back to a time when it seemed like there were just a few people in the US who were into the kind of music we liked, and [with whom] we shared some kind of secret.
And I really like the idea that, pretty much by accident, there were no known photos of us in existence for about twenty years.
Pam: Me, too. I'm not a huge fan of being photographed, but it sure was great to come across those snaps during a house move. It had probably been about a decade since I'd seen them and it took me right back to group house backyard BBQs and basement recording. I love both sets of liner notes, too, they remind me of times when you got the inside band scoop and made great friends from reading fanzines.
How did you all come to form Black Tambourine? What else were you doing musically at the time? What creative freedom did Black Tambourine give you that you weren't afforded in your other bands?
Archie: Mike and Brian were in Whorl together, and I was in Velocity Girl. The members of both bands were close friends and most lived in a couple of group houses. I used to go over to Mike's house and hang out and listen to records almost daily for the better part of a year. Brian was at college in Frostburg, MD (about two hours away from everybody else) and would come home to visit and practice with Whorl whenever he could. Pam was my college girlfriend, and was slowly becoming good friends with my friends in those group houses, though I don't think she knew Mike or Brian very well at the time. After she graduated, she decided to spend six months in the UK. Right around the same time, Mike told me he wanted to start a "pop" band with me and Brian and (much to my surprise) Pam. I think he had been impressed that I had learned some Billy Bragg songs on guitar, and I'm sure I'd been a part of a noise jam or two with the Whorl guys. He knew that Pam was a big fan of a lot of the indiepop stuff that was coming out, and I think he had seen her sitting around the house playing the Flatmates' "Shimmer" on guitar, over and over. I guess he could just sense she was cool and into the same music.
In a few recent interviews, the other members have claimed that it was my idea to bring Pam into the band, but I have very distinct memories of Mike basically telling me, "You, me, and Brian are gonna work up a bunch of pop songs, and Pam's going to sing when she comes back." He had the band name picked out and everything.
Mike: Ha ha, I sound like such a Svengali! At the time Whorl especially was more of a noise-rock thing, so as we started to figure out how to put a few chords together, the idea of being able to play some tunes cropped up and it seemed like having a side project to do that made more sense than figuring out how to integrate Shop Assistants' influences into songs that sounded like Unsane.
What were some of the big influences on your sound at first as far as music, books, or films? The Jesus and Mary Chain probably loomed large…
Archie: Well, Psychocandy for sure. The Postcard, Creation, Subway, and Flying Nun labels, lots of other C86-type jangly and fizzy indie stuff, like the Wedding Present. Lots of noisy stuff like Big Black, Head of David, Pussy Galore and the Birthday Party. Some '50s and '60s pop stuff like the Fleetwoods. Some '60s rock like the Velvet Underground, Love, and the Byrds.
I remember Twin Peaks and Blue Velvet being really big, as well as Street of Crocodiles by the Brothers Quay, and Peter Greenaway's The Cook, The Thief, His Wife, and Her Lover. Can't say if any of those had an explicit influence on Black Tambourine, but they certainly made an impression. And like a lot of our favorite bands, they featured strange collisions of beauty and violence.
Mike: Archie sums all of that up pretty well. For the noise stuff, I was especially interested in the NYC scene: Swans, Glenn Branca, Sonic Youth, Unsane, Dustdevils, Drunk Tank. While we were consciously trying to explore the more pop-influenced side of the spectrum, I think our collective interest in noise was big factor in how BT sounded. 

How quickly did you work up that first clutch of songs?
Archie: While Pam was away in London for six months, Brian, Mike and I worked out instrumental arrangements for probably two-thirds of our songs, though we had no idea what the vocals would end up sounding like. All of the songs were based on simple, repeating patterns; we would practice each one in a loop for five or six minutes, then just stop and move on to the next. We had no structures for them at all. When Pam came back, it took a couple of months to come up with and work the vocals into the songs.
Did you find common cause with like-minded DC artists?
Archie: Aside from the other bands we were in (Velocity Girl and Whorl), we didn't really know of any local bands coming from the same musical angle, with the notable exceptions of the Lilys and a Richmond band called Twitch Hazel (who became Engine No. 9 and then Fudge). After Black Tambourine, Velocity Girl befriended a lot of the local indie and punk rock bands like Tsunami, Unrest, Jawbox, and Shudder to Think.
Mike: I wasn't aware of there being many local bands on our musical wavelength, but everyone we played with and met was very encouraging. DC was a great place to start a band and label.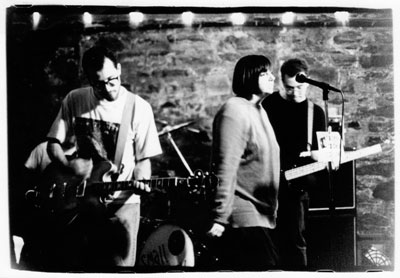 What was a Black Tambourine show like?
Archie: Black Tambourine shows were sparsely attended, though we had a few friends who were loyal fans and attended all of them. Listening to the live tapes, the applause is often polite.
Mike: I've been told we were extremely loud; perhaps that might explain the sparse attendance!
Pam: Yeah, and it might explain my tinnitus! The loudness of the shows was great, I do remember people holding their hands over their ears sometimes. I was never comfortable being on stage and it probably made my voice shake, but the vocals were buried under raging guitar squall, so who knew? There were stretches of musical chaos punctuated with the comparative silence of the fellas changing instruments. Banter with the audience was fairly non-existent.
Tell me about the recording of the "By Tomorrow" single. Were you happy with the final release? What sort of reactions did you get at the time? How about "Throw Aggi Off the Bridge"?
Mike: We recorded all of the songs for both singles in one session, but mixing was a bit more spread out, and we had to remix some of the tunes because a master DAT was nicked from someone's car. Because we didn't have much time (or money) set aside to record, we had to work quickly and have a really good idea of what we were going to do before we went in. There was still plenty of room for spontaneity, but we'd been playing the songs for a while and had a solid plan for how to track them. I remember being very pleased with the guitar sounds we were getting, which is obviously crucial for our songs. I was excited because with my previous recording experiences I never felt like the final results were QUITE as I had hoped, but the Black Tambourine session turned out very close to how I think we all heard the songs in our heads.
I'm not sure if I remember the reactions much. We did send around a few tapes to like-minded friends who seemed to dig it. When Chip Porter from Audrey's Diary wanted to put out a record for us, it was a tremendous validation; he has great taste and it was very cool getting the thumbs-up from someone outside our immediate circle.
Archie: The session that yielded the songs for our two singles happened at a basement studio called Upland, with a guy named Barrett Jones. We chose him because he had recorded some of the earliest Pussy Galore records, and Velocity Girl had recorded an early, very Black Tambourine-like single there.
For "Can't Explain," Mike surprised us all when he abandoned our standard floor tom, snare, and cymbal drum kit (which we played while standing, like Mo Tucker) to get behind Barrett's full studio kit. As far as I know, he had never sat down on a drum stool before, nor used a kick drum pedal. We couldn't believe it when he made it through the song!
We mixed the songs at DC's premiere punk rock studio, Inner Ear, with Don Zientara. At the end of our session, we made two cassette dubs of the mixes, for home and car listening. As we were leaving, the guys from Fugazi were just coming in to work on a record, and we were a bit starstruck. For some foolish reason, we offered Guy Picciotto one of our two dubs! Along with Fugazi, he had been in two bands we really dug: Rites of Spring and Happy Go Licky, this amazing, feedbacky postpunk band. He politely accepted the cassette. A few weeks later, I went to a party in DC where there happened to be a bunch of DC punk rockers; I think Jim from Velocity Girl took me. I got really loaded, and all of a sudden Guy came up to me and said "Hey man, that tape you gave me was really good!" I think he mentioned the Jesus and Mary Chain and made polite small talk for a minute. All the while, his face was zooming in and out, I had to concentrate on his words, and I was trying to act straight and normal. I have no idea if I succeeded. Or if he actually had listened to the tape. He might have just recognized me as the fool who gave away his band's dub, and felt like he had to say something nice.
Did you ever make contact with groups that were on the same wavelength as you were back then? I'm thinking of Beat Happening, the Pastels, Galaxie 500, Field Mice? Or any of the UK shoegazer bands?
Mike: I did a little bit of letter writing back in that day to bands like Loop and Shop Assistants, but it was kind of more on behalf of the label, like: "we love your music, we started our own thing here." I was always a little in awe of the bands I really liked, and it was only when I started opening for bigger bands with Whorl or just meeting them because of label or records store business that I got over that.
Pam: It wasn't 'til after Black Tambourine was finished that I got to meet people I'd admired like Calvin Johnson and, many years after that, Stephen Pastel and Annabel Wright. When I started doing Chickfactor, I ended up meeting heaps of fab people that played or wrote about music. I have a few friends in London now that years ago I would have come over all fangirl to meet. Of course in real life they're just normal, funny, great people who happen to have put out records that I love.
Archie: I sent Martin Whitehead from the Flatmates and Subway Records a tape of Velocity Girl and/or Black Tambourine. He politely turned us down.
Through a mutual friend, I briefly became penpals with Emma Anderson from Lush. I'm sure I was a total gushing fanboy, but she was very nice and gracious, and once sent me a Melody Maker article about Velocity Girl. She called for me at my parents' house once, but I was on a weekend tour with Velocity Girl. I remember being a bit upset when I found out I missed that call.
Why did Black Tambourine break up in the first place?
Mike: Whorl and Velocity Girl were getting much busier, so there was less and less time to work on Black Tambourine tunes. We only released the Slumberland single and played a few shows while we were active, so we weren't really building up momentum or anything. I think we all loved doing it, but at some point other obligations took over.
What did you all move on to after Black Tambourine broke up?
Mike: Pam and I worked on a few songs and released a single as Bright Coloured Lights. I was still in Whorl for a while, then Candleman after that. After I moved to California in 1992 I had a band called Magpies who released a few tracks, then more recently The Crabapples (mid '00s, released one single on SLR) and Manatee (2006-2008, single out soon).
Archie: Velocity Girl lasted until 1996. I also played in the Lilys, Heartworms, The Saturday People, and have recently been accumulating a bunch of songs under the name Bye!, a few of which have come out on Slumberland. I've also had the pleasure of recording or mixing a few Slumberland records by other bands, including GloWorm, Nord Express, and the Pains of Being Pure at Heart.
Pam: As well as Bright Coloured Lights, while I was living in DC I played with Glo-Worm, the Seashell Sea, Belmondo, the Shapiros, and Castaway Stones, did some guest crooning with Veronica Lake and started Chickfactor fanzine with my friend Gail. I moved to London in 1998 and started playing with my friend Joe as the Pines, we've recorded and played out here and there for several years, not so much in the last five years since I had young'uns. I've recently started singing in the Gregory Webster Trio, we're doing some new recording this month. Also I just did some long-distance singing on a Bart & Friends record that's out this week. It sounds like a lot, but that is over the last 20 years. I spend more time printing and making crafty things than playing music these days.
Brian: I was in Velocity Girl with Archie. Haven't really pursued music much since then, so this recording reunion was a real treat.
Do you have anything planned next, or do you feel that this is your definitive statement as a band? It's a great note to go out on!
Mike: No, no plans at present.
Archie: I can't imagine anything else happening. I think recording four more songs in 2009 was much more than we ever expected to do.
Slumberland: http://www.slumberlandrecords.com