Please Give
directed by Nicole Holofcener
starring Catherine Keener, Oliver Platt, Amanda Peet, Rebecca Hall, Sarah Steele, Ann Morgan Guilbert, John Srednicki and Thomas Ian Nicholas
Sony Pictures Classics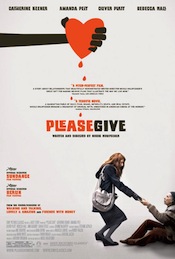 Please Give is a film about living, breathing, and dying in New York City. The plot revolves around two families and one soon-to-be-empty apartment.
Andra is 91 and in the twilight of her life. The apartment she owns in a cramped Manhattan building is coveted by her neighbors who are eager to get their hands on more space. She has raised her two granddaughters, Mary and Rebecca, who live in the building and help care for her. Caring for the mean-spirited and cantankerous Andra is not easy. Her youngest granddaughter, Rebecca, visits her and checks in on her regularly, while the more aloof Mary stays at a distance. Alex and Kate are the married couple who live next door with their daughter Abby. Kate and Alex own their own antique furniture business and acquire most of their inventory by buying furniture from the families of the recently deceased and then marking them up for resale. The couple, desperate to add space, have purchased Andra's apartment before her death. This makes things awkward when the two families get together to celebrate Andra's birthday.
Kate (played with perfect pitch by Catherine Keener) is a character struggling with the ethics of her business and the materialism of her world. She is obsessed with helping people and oftentimes gives money to random street people believing them to be homeless. Kate also suffers from a malaise in her family life – she is always at odds with Abby and the passion in her marriage is gone. Alex (played with a creepy, shrug-shouldered detachment by Oliver Platt) is so self-centered that he becomes oblivious to her problems.
Rebecca (Rebecca Hall) is a shy, single woman who goes through a regimented life without surprise. She cares for Andra and lives with Mary (Amanda Peet), who is everything she is not – Rebecca is compassionate, warm, and friendly while Mary is a tour de force of anger and resentment. Damaged from her last relationship, Mary works in a spa, which just happens to be near the shop where the new girlfriend of her ex works. She often looks in on her to see what her ex could see in his new girlfriend that is different from herself.
The drama ratchets up after Andra passes away. Her passing accelerates Kate's desire to jump start her life. She realizes she must find a way to connect with her daughter and rectify her issues about her profession while keeping her marriage intact. Andra's passing gives Rebecca the freedom to date the handsome son of a client she has interest in. Things become even more intense between Alex and Mary as both of them come to terms with how they deal with relationships.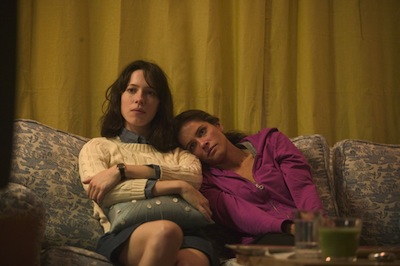 In true cinematic fashion it is death that brings rebirth. Andra's passing is the catalyst for change in each character. In time, her death brings both families together and helps each person face his or her demons. Andra's death and the subsequent sale of her apartment force each of the characters to become a better person in a city where poverty, homelessness, and sadness are always outside the doorstep.
Director Nicole Holofcener uses Andra's apartment as a metaphor for space, growth, and personal freedom. Kate and Alex covet the apartment to give literal new dimensions to their living space. While Mary sees Andra's apartment as closure for her tenuous relationship with her grandmother, Rebecca sees it as an opportunity to move on with her life.
The cast is terrific and works well together. The dynamic between Keener and Platt propels most of the tension in the film. Platt does a great job of being uncaringly sleazy, while Keener's inner brooding and yearning give Kate layers. The relationship between Mary and Rebecca is completely different. They are always battling and bickering. As actors, Rebecca Hall and Amanda Peet couldn't be more different in technique. Nonetheless, they balance each other out well onscreen. Hall is quiet and mopish in the early part of the film, awakening and become more alive in the second half. Peet portrays Mary's damage really well by making her edgy, mean, and generally unlikable until she slowly opens up as the film progresses. She gives Mary a quiet rage that festers and grows as the film progresses.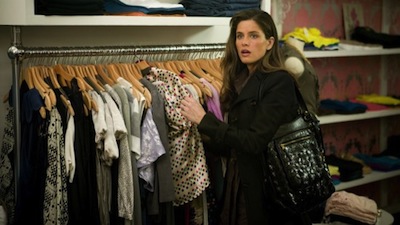 The result is a well-directed drama that unfolds very much like a theater production. The plot is rife with tense personal struggles and characters that must change to defeat personal demons. It also has the staging and pitch of a play in that the camera shots always are tightly framed within spaces. Although the screenplay is terrific, the real joy of seeing Please Give lies in watching these actors sink their teeth into these characters to make them come alive.
Please Give is a solid drama that relies on well-crafted dialogue and character development to succeed. A tight ensemble makes this happen without sacrificing the story. Despite taking a while to get to the end, watching Please Give unfold is worth the journey.
Please Give: http://www.sonyclassics.com/pleasegive
---