Six Centuries of Verse
Written by Anthony Thwaite
Presented by Sir John Gielgud
Athena Learning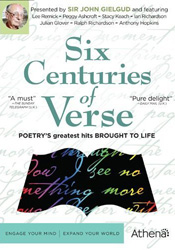 If you were to pay money to hear someone read the phone book, it would have to be Sir John Gielgud. He's reason enough to watch this Thames TV educational series on English poetry. True, it's the sort of program you'd flip into on a community college "get credits while you eat Doritos degree" channel, but the quality of the reading makes it a pretty passage through that English lit class you slept though. It also makes an excellent case that television could, conceivably in some Utopian world, educate, uplift, and expose the lumpen proletariat to the Arts, and teach them to spell it with a capital "A."
You're not going to buy this, are you? I can tell. You're making a mistake, even though Gielgud himself opens the series with the statement, "The quickest way to clear a room is to announce a poetry reading." Yes, you've been threatened with Milton, bored by Shakespeare, and mystified by T. S. Elliot, but Six Centuries of Verse takes you on the journey that was never possible in high school or undergrad. There are no essays to write, those pesky sonnets are analyzed by others, and the treacherous language of Yeats and John Donne is on screen just long enough for you to nod knowingly, but not long enough to make you nod off. The readings are set in the sort of hyper-picturesque country settings that only England can offer, and the readers have shelves full of awards and knighthoods garnered by the simple task of speaking English better than anyone else. I'll point out some highlights: Ted Hughes reading Chaucer, Julian Glover reading Beowulf in modern English and Saxon, Gielgud presenting the "Muse of Fire" speech from Shakespeare's Henry V, and that's just the first disc. Interested now? Philistine.
Fine, spend your time listening to rock and roll (poetry set to a bass line) or hip hop (poetry recited next to a boombox) or some guy flaming on talk radio (iambic pentameter without the rhyme). Yes, poetry is everywhere; you've just been trained to hate it by the educational system. That was a decade ago, and perhaps you're ready to appreciate the fine arts today. But if you're not, they'll be waiting for you as they always have, the crystallized moments of personal beauty.
I snagged that line from Disc Two.
Athena: http://www.athenalearning.com
---