Off With Their Heads
with The Fake Boys, How Dare You, Teenage Softies
Backbooth, Orlando, FL • July 1, 2010
Jen Cray
Splashing through the rain-soaked streets of downtown Orlando, the middle America (Minnesota) band Off With Their Heads dropped anchor at Backbooth for the second time in just four short months. Churning up steam for their Epitaph Records debut In Desolation, the road-tired band turned the crowded venue into a rumpus room, capping off an evening of punk rock that touched upon every color of the genre's murky rainbow.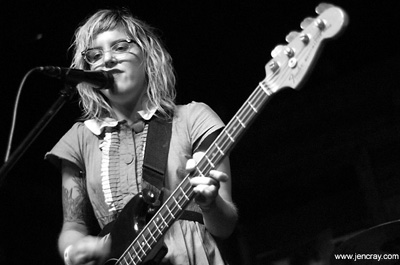 Teenage Softies, led by the baby doll dress and horn rimmed glasses wearing riot grrrl flashback Abby Dahlquist, were a lovely surprise, and their 15-minute set was over too soon. Dahlquist, who also holds down the low end on bass, has got a grrrl rock growl that isn't ear-piercing like Sleater Kinney or Bratmobile, nor is it as deep and dangerous as L7 or Hole, but embodies the same essence as all of those bands thrown into the Kathleen Hanna cubby hole. The two boy guitarists (Mark Bonner and Dylan Foeller), who both play in a few other Orlando bands, grabbed lead vocals on a couple of occasions, but with Dahlquist positioned at center stage, it was clear that it was she who straddled the spotlight.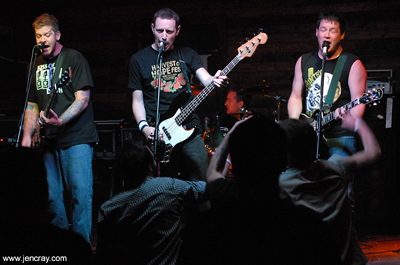 At their best, How Dare You sound a lot like Less Than Jake at their punkest (minus the ska backdrop). If all of their music was more akin to "Eat at Charlie's," the song that easily won them the most reaction from their fans and peers in the crowd, I could compare them to fellow Orlando punk acts VRGNS and Gatorface, but every song is not "Eat at Charlie's." Their gleeful gang vocals are set atop inoffensive pop punk melodies that, while sometimes appealing, too often sink into the dreaded emo whine. Musically, they lost me at times, but they have gotten their shit together as a band – finally feeling like a collective unit whose confidence onstage is palpable.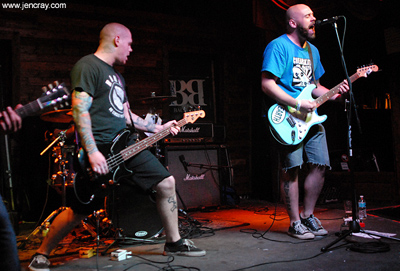 Aboard for the duration of the tour were Massachusetts's The Fake Boys, whose husky frontman's vocals shifted between Ramones-by-way-of-Teenage Bottlerocket style "oh-oh's" to full throat screams à la Jawbreaker. A long haired, bearded guitarist swinging a beat up SG brought a metal edge to the music. As a whole, they just didn't do it for me or for most of the crowd, as evidenced by the seemingly quick "wrap-it-up" pace to their set.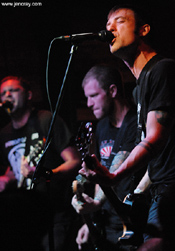 After a fairly quiet, well-behaved evening of "stand attentively and applaud at the end of the set," the immediacy of the pit's formation at Off With Their Heads' opening note was a surprise worth the bruise on my shoulder.
The audience has awoken, thank the concert Gods!
The gruff vocals and bittersweet, with a sarcastic bite, lyrics brought forth by Ryan Young are the nail that this group hangs their music on. Songs about bad breakups, stress and exhaustion, and general destitution are spewed out by Young while the remaining three (including Young's brother on drums and Zack Gontard of Dear Landlord on guitar) lay down some of the most delicious melodic street punk to grace the air in years.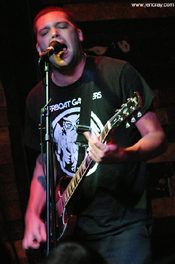 With eight years of material to pull from, they've mastered a set list that hits upon all of the choicest cuts ("For the Four," "Fuck This, I'm Out," "Until the Day…") while slipping in the goods that the fans may not have heard yet off of the just released record ("Drive," "Clear the Air"). The songs gelled well with the old, even though they bore a slightly more mature polish. The uninhibited and inebriated fans approved and demonstrated the only way they knew how: by abusing their bodies.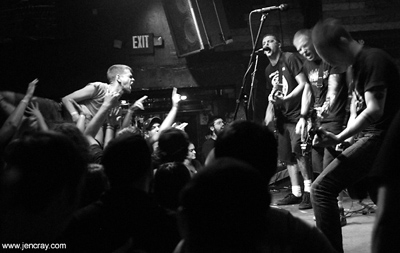 The chaotic frenzy continued throughout the set, ebbing and flowing but never ceasing, and was filled with friendly fire. Stage divers and crowd tumblers, which included members of both Teenage Softies and The Fake Boys, bounced off of one another (and the heads beneath them) with the gentle crashing of a pile of stuffed animals being tossed into a room full of four-year-olds. The playful atmosphere at the foot of the stage spurred the straight faced band to crack a smile once or twice as well as to play a two-song encore, as requested by the hungry crowd. Encores at tiny punk rock shows?! It's a rare thing.
To see more photos from this show, and others, go to [www.jencray.com](http://www.jencray.com/bands_live.htm).
Off With Their Heads: http://www.myspace.com/offwiththeirheads ◼
---