Modern Masters 24: Guy Davis
by Eric Nolan Weathington
TwoMorrows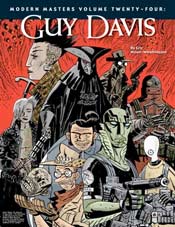 To dream of comics, and then write them – that's the goal realized by so many modern graphic novelists. TwoMorrows has set out to hunt them all down and document their hopes, their dreams, and their philosophic musings on the art of drawing hands and drudgery of inking other artists' panels. Guy Davis is pretty typical: he grew up influenced by TV, Japanese animation, and the Silver and Bronze age material, and became a compulsive sketcher and full of great ideas early on. His first notable success was "The Realm," and as his style progressed he created minor hits like Baker Street, Sandman Mystery Theatre, and Terminator. He's still active with The Marquis and B.P.R.D., and the man gives a good interview.
In his breezy style, he talks about both the creative and the business side of the trade – detailed horror stories about inking and being inked, the usual bad business deals and happy surprise hits, heartwarming fan interaction and the perennial question "Where do you get your ideas?" fill the book. The best part is the sampling of his work – pages and panels integrate with the editor's questions, and you can see Davis' style progress as the years flow by and he describes in detail the logic behind various artistic decisions. In the back of the book are two-dozen full-page panels, many in color. Some of my favorite stuff is the huge steampunk train from Vampire: The Masquerade and the greaser juggling heads from Zombies Ate the World.
Along the way we find Davis's biggest flaw – he has trouble drawing sexy women. His female leads are attractive, but not in a blouse-busting, perky nipple way. They're plain yet mysterious, and you might not look at them twice in a crowd, but after a rendezvous you might consider murder, or at least identity theft, to stay with them. Davis seems well-adjusted, he eats regularly, and has both a house and a fiancé, and if nothing else, he proves you can make it as an artist in your chosen field, have fun, and not have to sell the last scrap of your soul to the company man. If you're a fan you'll love this, and if you're not you'll become one.
Twomorrows: http://www.twomorrows.com
---