Five Hundred 45s: A Graphic History of the Seven-Inch Record
by Spencer Drate and Judith Salavetz
Collins Design/HarperCollins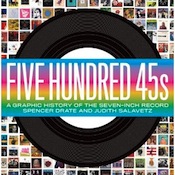 When I received 500 45s, I opened it to a random page: 278-279. And there it was: 22 completely naked women on the cover of a 45 for the Fun Lovin' Criminals' "King of New York." It is that feeling, that cover that captures your attention and makes you want to buy that record, that this book is based on.
There are covers from artists from every year and genre. There are covers from The Beatles ("Free as a Bird") and The Rolling Stones ("Before They Make Me Run," "Mother's Little Helper," "Let's Spend the Night Together," and more) to The White Stripes ("Hello Operator," "Jolene") and Moby ("That's When I Reach for My Revolver").
The authors also include crazy covers from obscure bands like The Hellacopters, Supernova, Sham 69, U-Men, Antiseen, and The Dictators to go along with Elvis, Elvas (the "Mexican Elvis"), Stevie Wonder, Elton John, Joy Division, and The Ramones.
There are a couple of short essays about how it felt to find a certain 45 and what the cover meant, but those just feel haphazardly tossed in. 500 45s is about seeing the covers and figuring out the band and/or song based on the cover. I can tell you one thing: I can guess what being the "King of New York" is all about.
Harper Collins: http://www.harpercollins.com
---