Brock Enright: Good Times Will Never Be the Same
by Jody Lee Lipes
starring Brock Enright, Kristen Deirup
Factory 25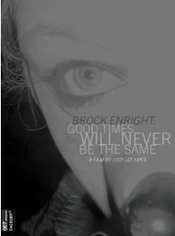 "I'd rather kinda not know what I'm doing… " opines Mr. Enright as he rolls down Interstate Zero Zero Zero on his way to artistic oblivion. No hallucinogenic bats on this highway, just the raw emotional journey of an artist creating what he sees in his heart's eye. In this film within a film, artist Brock Enright creates a series of video loops for a "Significant Installation" at a New York gallery. He and his girlfriend Kristen head to Mendocino to pull this work together. They fight, film, and generally do sad, bitchy, arty things that are filmed in exceptionally crisp video. The actions are partially funded by the gallery and partially by "Future Sales" of the video loops, whatever that might amount to. Money is the problem, as it always is when you count on the generosity of strangers, but Enright remains confident and positive while Kristen heads toward Whiney Town. The film is full of striking camera angles and odd focus pulls and even odder advice: "Don't pee where you work," Enright advises a man in a tuxedo preparing to operate a chainsaw. I struggle to like these people, and honestly the only person I connect with is Steve, another artist and carpenter that helps build a stage out in the forest.
While I try to be tolerant of modern art, it does often take paths that never occurred to me and upon reflection I can usually get to a point of "Well, at least it was interesting." There are limits, however, and defecation on stage is where I draw some nebulous line. True, it's a part of life, but it's not something I'm going to dress up and visit a gallery to see. There's a possibility that it was cutting edge at some time between Lenny Bruce's obscenity subpoena and the Rolling Stones' debacle at Altamont, but now it seems beyond pretentious, just like this film. I hope Enright sells a few of his film loops for the promised $10K a pop, but that seems a distant hope. When Enright asks his gallery for an extra $11K to make a Duchamp-inspired object (a urinal covered in goat poo) I think, "If this is art, please God, make me a Philistine."
But wait, the torture isn't over, there are "Special Features" including an Experimental Film. That description usually means the experiment was a major failure and Blackgoat lives up to that prediction. This rather long exercise overlaps the main feature in location, actors, and poorly conceived storyline. After half an hour of watching Enright chop down trees, listening to Kristen squeak in incomprehensible mousey talk, and watching random gunfire aimed at innocent redwoods, we reach the anti-climax: two guys mud wrestle and later we see a bloody, brutal male rape in the cold dark woods. If intended as a horror film, it bores, if meant as social commentary it puts one to sleep, and if meant as artistic entertainment it's an epic fail. Events are inexplicable, imagery mundane, and editing focuses on "oh, THAT shot was cool" at the expense of narrative compactness. As I suffered through this self-indulgence, someone in the next room kept asking, "WHAT are you watching?" Sadly, I had no response. And after 24 hours' reflection, the only part of this disc I can recommend is the "16-Minute Conversation with Robert Longo and Brock Enright." It's an intriguing look into the artist's mind and soul, as well as the process of pricing his works. Here he appears interesting even as his interviewer makes snide comments about the irrelevance of his film and documentary. I give Longo points for truth in the face of bad work of art, but when the negative review of a work is the highlight of the experience, I recommend you just buy a random DVD from that big bin at Wal-Mart.
Factory 25: http://www.factorytwentyfive.com • Brock Enright: http://www.brockenrightfilm.com • http://www.perryrubenstein.com/exhibitions/2007\_2\_brock-enright
---