Natalie Merchant
Ruth Eckerd Hall, Clearwater, Fl • August 24, 2010
Jen Cray
Even while battling what she declared to be "the worst case of food poisoning I've ever had in my life," thanks to a local eatery called The Columbia, Natalie Merchant still manages to bury most contemporary singers with her uniquely angelic voice that can both bring tears to your eyes and send chills down your spine.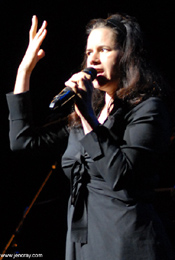 It's been seven years since she's gone out on a major tour, and all of that pent up performing energy has gotten funneled into an ambitious 120-minute show whose first half focuses on her new material (Leave Your Sleep), saving the music from her previous years (almost 30 years, if you count 10,000 Maniacs – which you should!) for the climatic closing hour.
Ruth Eckerd Hall, a beautiful theater whose sole fault is its lack of a center aisle to run through its 2,180 seats, was filled nearly to capacity for the August evening. With no opening act and on a stage sparse except for the myriad of instruments laid out for her orchestra-like band, Natalie Merchant stepped out into a roomful of eager applause and explained the concept of Leave Your Sleep for those who didn't already know.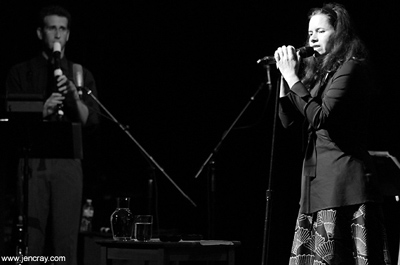 The impressive collection, dedicated to her young daughter, includes songs created by Merchant using poetry by writers both famous (E.E. Cummings) and obscure. Taking into consideration the time period during which the poems were written, as well as the biographical hints that the poets' lives reveal, each song has a unique sound and expression. There's the Cajun-styled "Adventures of Isabel," the melancholy bluegrass of "If No One Ever Marries Me," and the silly whimsical carnival ride that is "Bleezer's Ice-Cream," a song with tongue-twisting lyrics that rival R.E.M.'s "It's the End of the World As We Know It (And I Feel Fine)." When she slips up on one of the more ridiculous lines (GARLIC GUMBO GRAVY GUAVA/ LENTIL LEMON LIVER LAVA), the darling Merchant laughs and takes a breath before diving back in. "Maybe The Columbia could serve up these flavors," she joked.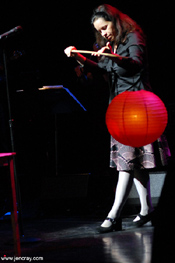 Before each song she shows a slide of the writer and gives the audience a little background info, as when she reveals that "The Janitor's Boy" was written by a nine-year old published poet about her building superintendent's son, whom she had a crush on. The subtext, in conjunction with the visual of seeing the old photographs while Merchant wove her magic with their words a half a century after they were written, made the songs suddenly click into place in a way that hearing them on record did not… at least not prior to hearing her explanations. After having seen these songs performed live, I now "get it" on record.
Throughout her set, she twirled and danced with her hands as much as with her hips. Her long, elegant, alabaster hands moved seemingly of their own accord, above her head and behind her back in a sultry way. How can dancing hands be sexy? I don't know, but she found a way.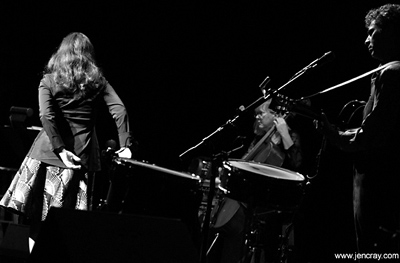 Closing the book on the first half of the night, the darling performer rewarded the patient listeners by piling on the old stuff, including a pair of 10,000 Maniacs' tunes ("Hey Jack Kerouac" and "These Are Days") that elicited all sorts of excited reactions. She played "Carnival," "Wonder," and "Break Your Heart," and every song was dripping with the sweet honeydew of her voice, but it was her heart-stopping performance of "River" that I will not soon forget.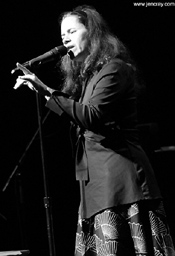 The song, off of her 1995 debut solo album Tigerlily, was written for and about River Phoenix soon after his untimely death. Even if you weren't part of the generation that can remember exactly where they were when they heard the news of the actor's death, the lyrics should still penetrate, when sung with such soul-baring nakedness.
Your vulture's candor/ Your casual slander/ Will murder his memory/ He's gone/ We know/ And it's nothing but a tragedy – from "River"
By the song's end, we all let out our collectively held breaths, wiped away the tears that had gathered, and flooded the stage with an outpouring of applause.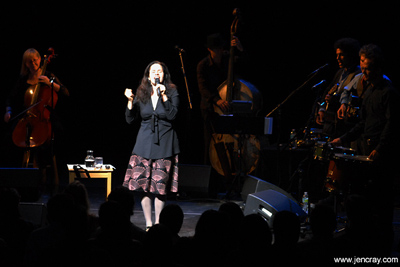 Tying the knot on an exquisite evening, during which she exhibited a much funnier side of herself than I had ever expected to see – cracking jokes and making snide remarks (mostly about The Columbia) throughout the night – the final encore found "These Are Days" and "Kind and Generous" breathing the air. At long last the audience abandoned their seats, giving the two songs the standing ovation they (and she) had earned.
To see more photos from this show, and others, go to [www.jencray.com](http://www.jencray.com/bands_live.htm).
Natalie Merchant: http://www.nataliemerchant.com ◼
---