Meat Loaf
with Pearl
Hard Rock Live, Orlando, FL • August 30, 2010
Jen Cray
After attending several minimalistic shows this summer – the kind with no set design, and often on a crammed stage in near darkness – it was time for something a little grander, a bit over the top. To satiate the craving for something theatrical, I put in an order for some Meat Loaf, alongside a couple thousand Orlando fans who had also come out to the Hard Rock Live for a sensory feast.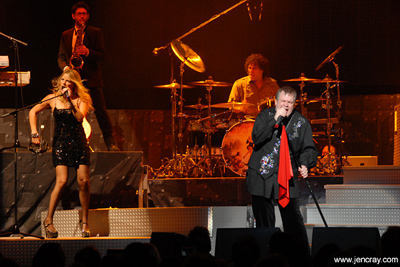 Opening band Pearl offers several things to get excited, or at least curious, about before they even play their first note. Scott Ian of Anthrax plays guitar, as does Jim Wilson of Rollins Band, and bass player Marcus Blake has also done time in Rollins Band. Andy Hurley, of Fall Out Boy, sits behind the drums, and the curly haired front woman whose namesake the band takes is none other than Meat Loaf's daughter (and Ian's wife), Pearl Aday. She's sung backup for her dad, as well as for Motley Crüe and Ace Frehley, and now she's out pushing her own album, Little Immaculate White Fox. In case there was any confusion as to who she is, or how she was raised, Pearl dives straight into "Rock Child." Over top of some serious hard rockin' guitar play (hello, Anthrax!), she tells her story as she flings her mane of blonde hair around in a way that would have made the Crüe boys envious.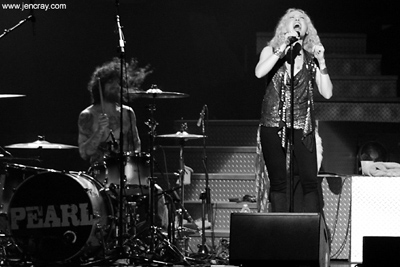 I've been a little girl/ Livin' center stage/ I've been sleeping in a guitar case/ I'm gonna pull you in and push it in your face/ I 'aint no sycophant with a black heart/ Or a silver spoon with a head start/ But I need a spotlight before I fall apart – from "Rock Child."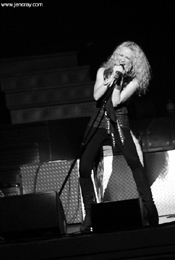 With a name borrowed from Janis Joplin, and with a '70s rocker as a parent, it should come as no surprise that Pearl has got a voice bigger than her petite figure. Brandishing a raspy, smoker's voice that could be the result of belting out her vocals night after night, she's got a Bonnie Raitt (whom she admits to idolizing) approach to rock 'n' roll, but is backed by a full on ROCK band. With a style that calls to mind Penny Lane (Kate Hudson's "band-aid" character in Almost Famous), Pearl is a commanding front woman who seems to be fulfilling her destiny by being center stage. Even Hurley, whose previous gig backing the emo pop icons, pounds away and looks entirely at home next to Scott Ian.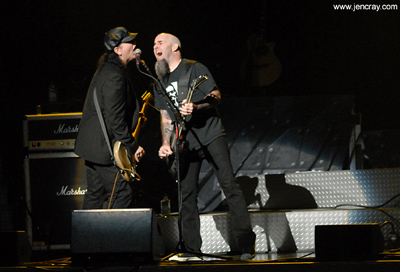 With nearly every seat filled (the usually standing-room venue brought out the folding chairs for the mostly baby boomer crowd), an elaborate two-tiered stage with skulls on pedestals at each corner was revealed. Always to be counted upon to make a memorable entrance, when Meat Loaf came down the steps at center stage to bask in the adoration of his fans, he surprised the room by breaking into "Hot Patootie," his character Eddie's big number in the classic The Rocky Horror Picture Show. Behind him, on a large movie screen, played the entire scene from the film. If anyone had any doubts about how the evening was gonna go, this fantastically indulgent opening should have laid them all to rest.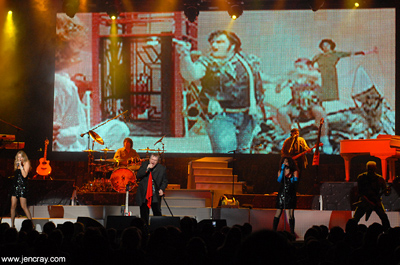 Since the Loaf's songs (can I call you Loaf, Mr. Meat?) are mostly in the double digits in length, the set consisted of only 14 songs, but clocked in at just north of two hours. The ten-minute opus "Bat Out of Hell" was played early on ("Everyone thinks I'm crazy playing that song third!") and found a massive bat inflating behind the stage. That was just one of a big handful of tracks pulled from 1977's album of the same name, much to the great joy of the audience, who jumped from their seats at the start of every hit song. Even the folks up in the balcony got their asses off of the upholstery for some of the more famous songs, "You Took the Words Right Out of My Mouth (Hot Summer Night)," especially. Of course, it was at the gentle urging of the big man onstage.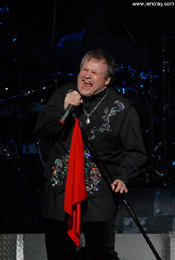 "I'm older than every motherfuckin' last one of you, and if I can stand up for two hours that you had better stand up for at least 30 seconds!"
The 62-year old, who looks to be in better shape than in previous years, has got a new album on the streets, Hang Cool Teddy Bear. I don't mean to sound surprised, but the new songs off of it are damn good. "Los Angeloser" had that instant catch-ability that you just can't plan for, and having a video of hot female cops do a very Pussycat Dolls routine on the screen playing behind the band didn't hurt any. Bringing a gorgeous and sinister tone to the night, "Song of Madness" rides on an Iron Maiden meets "Iron Man" riff that's deliciously different for Meat Loaf.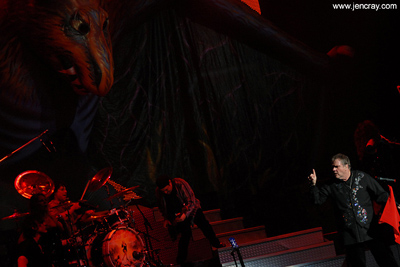 The song that everyone had to hear, that it would have been a travesty had he not played – "I'd Do Anything for Love (But I Won't Do That)" – was saved for the beginning of the encore. Slowed down a step or two, it didn't quite sound as I had remembered it, at least not until Patti Russo joined him for the ending duet, but still it was a show stopper.
To see more photos from this show, and others, go to [www.jencray.com](http://www.jencray.com/bands_live.htm).
Meat Loaf: http://www.meatloaf.net • Pearl: http://www.myspace.com/pearl ◼
---