Orlando Psycho City Derby Girls Presents: Home Beat Home
with the Sunnyland Slammers, Bellevue Bombshells, and the Serial Thrillers
Universal Skating Center, Orlando FL • Sept 12, 2010
Carl F Gauze
Expecting a half empty hall, I was shocked by the long line of people overflowing into a suspiciously soft parking lot at Universal Skating Center. Tattoos and toddlers stood patiently as they waited to file into a skating rink shabby from years of preteen rollering. A young man barely tall enough to reach the ticket counter bragged to me he had his nine dollars in cash to buy a ticket and ahead was a woman with a tee shirt announcing she was "Whiskey Christy." After waiting patiently, someone who seemed in charge showed up and collected her; it turns out she was part of this afternoon's entertainment. It was clear there would be no star-studded tantrums today.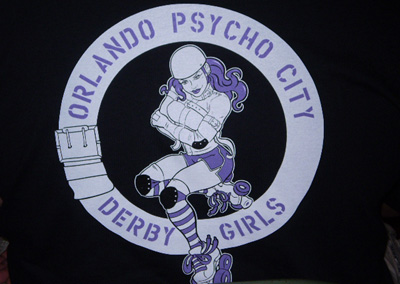 As the line crept along, another responsible adult type took all of us cash payers to a "special" door and it was clear they wanted everyone inside before warmup was over. Inside a sign appeared to state "No Guns" allowed, but on closer examination read "No GUM chewing." That relaxed message shows the digs may not be classy, but the operation sure is. Are we back in Mayberry?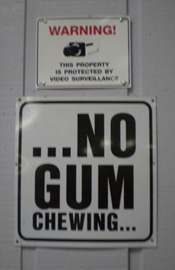 Back when I was a tyke watching Sunday afternoon UHF, Roller Derby was skated on a banked track by aggressive women intent on whupping each other's butts. That's not the Psycho City way; they only have a flat skating floor with lanes marked out by rope light from a Wal-Mart After Christmas sale. You're welcome to sit right next to the action, so long as you're 18 years old and strong enough to survive a spill by the Derby Girls. You can't get any closer to the action unless you bring your own crash helmet. As referees skated around, the two opening teams collected their members and stretched. Everyone involved here has a funky skate name – Slayor Moon, Cookie Cut Her, Berlin Wall, and Cup Quaker are some of the ones I remember, but bad puns are part of the deal. There's even a ref named Vanilla Ice Pack.

How is roller derby played? It's not terribly complex, and the program or Google will give you the fine points, but skating around and knocking down opponents is a big part of the action. A pair of kilted announcers provides play-by-play commentary and all-around cheerleading. The skaters are sincere and polite, referees do their job efficiently and fairly, we never get a gratuitous cat fight, and penalties are accepted calmly and quietly. These are serious skaters, but they all go to the same bar afterward to rehydrate. The audience is encouraged to come along for more fun.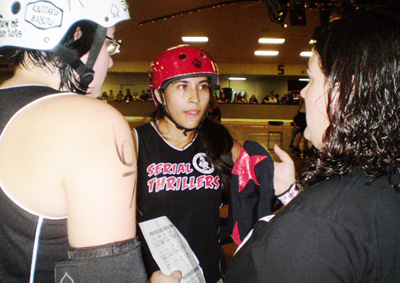 "So who won?" you ask. It's not a sport if there isn't a score, and the first match went to the Sunnyland Slammers who whupped the Bellevue Bombshells 119 to 48. Sunnyland went on to skate in the second match against the much more skilled Serial Thrillers but still triumphed 85 to 70. When not skating, the girls hung out in the crowd, posed for pictures, and sat with their boyfriends, parents, and children. Fans waved signs, and the best crowd support went to the Serial Thrillers who have an actual star. "Bonez" is the one with the skeleton leotards, skull makeup, and best audience signs. Even Lady Gaga started small.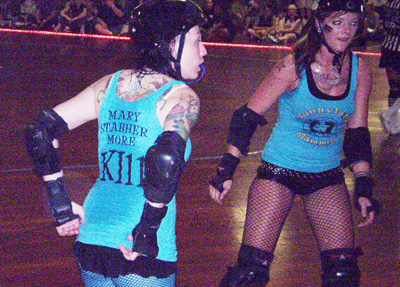 The A/C in Universal Skating isn't very strong, and after the second round I was ready to head out. A low-keyed family atmosphere rules and there's no beer. My timing was good, only two rounds are skated, and as I was leaving one of the sponsors (Atomic Tattoo) gave me some stickers and offered to sell me some ink. I think I'll put the stickers on my car, but I'm not ready for permanent body art just yet. But I'll be back to the Derby. There's another match October 10. Bring a sign, and put some glitter on it.
Orlando Psycho City Derby Girl: http://www.facebook.com/orlandoderbygirls • Universal Skating Center: http://universalskatingcenter.com ◼
---