Age of TV Heroes
by Jason Hofius and George Khoury
TwoMorrows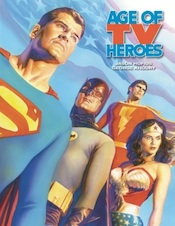 Which is better, TV or comic books? Tough question when it comes to the superheroes. Comic books cost money and Mom always throws them away, but you can read them over and over. TV has better action and explosions but when it's over, it's over – at least until you can get the DVD box set. In this extensive and colorful compendium, authors Hofius and Khoury vote "TV," and make a pretty decent case that video in a box really is better than ink on page. Let the flame wars begin!
Putting comic book superheroes on TV was an easy decision; the characters and stories were pre-sold to a generation of prime demographic baby boom kids. Production could be quick and painless, hundreds of pages of story ideas lurked in back issues, and a few special effects shots could be endlessly recycled. Superman led the pack – he's been back in a number of incarnations over the years. Other DC and Marvel franchises followed, with various levels of success. The big hits were Swamp Thing, Batman, Wonder Woman, and the Hulk, while Flash, Vampirella, and The Tick barely made a ripple in our collective consciousness.
Each show gets a detailed treatment with great behind-the-scenes pictures, interviews with writers and directors, and a decent dose of "This is how TV shows get made." It reveals the real problem with the boob tube: production demands force the writers, directors, and actors to work at breakneck speed, and producing usable video often outweighs clear or consistent story telling. The Superboy chapter explores this in particular detail. The tales of early optimism for Orlando Film Production are truly hair-raising: Real alligators often interfered with location filming.
The book is densely written, and often the text is printed over oddly colored pages. I found the pink ink and red stripes especially frustrating. Expect to spend some time digging through this loving and even obsessive story, but when you're done, you'll be an expert. Whether played straight or for laughs, whether they're fighting Nazis or global warming, the superhero strikes a chord in all our hearts – someday, a powerful and mysterious being will descend and straighten out everything wrong in our lives. Once they had glowing halos, now they have skin-tight uniforms. All praise to the great god Spandex!
Twomorrows: http://www.twomorrows.com
---