When That Rough God Goes Riding: Listening to Van Morrison
by Greil Marcus
Public Affairs Books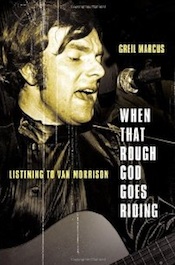 One of the most amazing scenes from The Last Waltz, for me at least, is when Van Morrison, squeezed into a purple-and-green sausage casing of an outfit "that actually gives the appearance of cleavage," kicks out his right foot repeatedly and pumps his fist into the air as he sings "Caravan," one of the best songs of all time.
Turn it up. Radio. Little Bit Louder. So you Know.
Lines punctuated by those weird Karate chops, like a homicidal leprechaun on steroids, to paraphrase the rock critic Jay Cocks. Greil Marcus tries to describe, if not explain, that fleeting magic Van Morrison possessed during his best of times, and struggled to find during his worst of times, in the book, When That Rough God Goes Riding.
The title itself is an allusion to the opening track of Van Morrision's 1997 album, The Healing Game, probably his strongest performance in words and singing in 15 years or more. And that is kind of the thesis Marcus lays out: how such an amazing lyrical talent, with a god-given poetic voice that owes as much to Yeats and Joyce as it does to Ray Charles and John Lee Hooker, could have had such a spotty and uneven career.
The book lays out, in short impressionistic chapters, some of Van's best and worst live and recorded performances, in an attempt to assess what makes the man tick – a task that Marcus admits will prove to be nearly impossible. Morrison was not an iconoclastic sex symbol, he had poor stage presence and an even more irascible public demeanor. But many people, including his first wife, put him right up there, one step below Bobby Dylan. Tough nut, that.
Marcus dutifully gives credit to the early days of Morrison's career with Them! and some of their top hits, segueing into the near destruction of his career after releasing "Brown Eyed Girl," probably his most popular song ever. An amazing solo career followed the recording of Astral Weeks in New York, followed by the polished Moondance, and then its rough-hewn flip side, His Band and the Street Choir. Those three albums alone firmly cemented his talent and legion of fans. You get the sense from the start, however, that Morrision was diffident about fame, uneasy with popularity, a troll who wanted attention but bit at the hand that petted him.
Anyone who has read Marcus knows that he has a penchant for casting the big moments of rock'n'roll with what's going on culturally (Lipstick Traces has the subtitle "A secret history of the 20th Century") . Relating Malcolm McLaren and the Sex Pistols to the Situationists of the 1950s. Well, he does the same thing here, making a big deal of the fact that Van Morrison recreated Astral Weeks live on stage in 2009 at the Greek Theater in Berkeley, the same theater where Theodore Roosevelt spoke in 1903. and Sarah Bernhart appeared in 1906 after the San Francisco earthquake, where Mario Savio kicked off the Free Speech Movement in 1964, and where Robert F. Kennedy delivered a speech days before he was assassinated in Los Angeles. "The word out of Morrison's mouth that night, if it was a word, not just a sound, something between a shout and a moan, was, you could believe, as big as anything that had ever happened on that stage."
Morrison had a stellar rise after going solo, right up through Into the Music. And then he had a 15-year fallow period, give or take, that included more modest output and outright dreck such as Poetic Champions Compose and other new-age sounding titles. One standout album during that era was Hymns to the Silence, an extended study in nostalgia, to a time "before rock 'n' roll." And that aura, that indelible yet mercurial spirit, is what Marcus is trying to capture in print, as he circles round and round the bloated, ailing, yet stubborn body of Morrison's career: that spark of magic, of redemption, of something unknown or unnamed in the haunting, unsung vespers echoing throughout Morrison's music of the last four, five decades.
Morrison's music, even when it misses the mark, is an amazing declaration of soul, love, magic, redemption, and alchemy through music and performance, Marcus seems to say of Morrison.
And anyone with a sense of wonder would know that.
Public Affairs: http://www.publicaffairsbooks.com • Van Morrison: http://www.vanmorrison.com
---