The Gaslight Anthem
with Rival Schools, Fake Problems
House of Blues, Orlando, FL • October 4, 2010
Jen Cray
When did Brian Fallon, The Gaslight Anthem's colorfully decorated working class front man, begin morphing into Mike Ness? It seems that as the band's buzz has been increasing, so has not only Fallon's muscle mass, but his ability to take the artists who are obvious influences to his band (Bruce Springsteen, Social Distortion, The Clash) and adapt them into a persona that's all his own… well, almost all his own. His transformation from quiet singer/guitarist to working-the-crowd frontman is still in the development stage, but he's well on his way to being the sort of lead singer that even mere casual fans will know by name.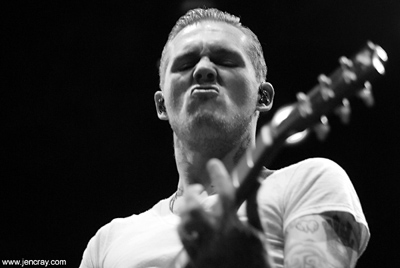 Two years ago they were the opening band on a small club tour headlined by a band that most folks have never heard of, and now they've got top billing at the capacity 2,500 House of Blues in Orlando. Fallon and his band are surely doing something right!
The venue was far from full for openers Fake Problems, which is a shame because the Naples, Florida band is quite good. Like Dr. Dog covering Against Me, the group has been gradually losing their scruffy edges (which are most obvious in the scratchy vocals of singer/guitarist Chris Farren) in favor of something a little more hippie in flavor… or maybe it was just the barefooted guitarist and the burning incense that threw me for a loop.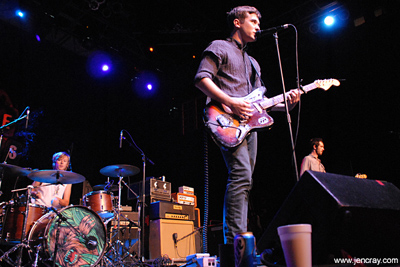 They're a hard band to pin down, dipping their naked toes in folk, punk, and country in equal measure. Because of these varied interests their performance has had a different, though always arresting vibe every time I've seen them play.
There was a wee bit o' buzz floating around down in the front rows about Rival Schools, and some inquiry revealed that this was a band comprised of former '90s hardcore guys. The family tree branches into a slew of NYC bands including Quicksand, Youth of Today, Civ and Gorilla Biscuits. "So these guys must be pretty hardcore. That's odd for a Gaslight Anthem opener," I thought to myself.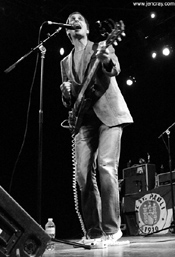 Not so weird, because Rival Schools are anything but hardcore. Mediocre in a manner that was surprising, considering the cumulative experience of the four bandmembers, Rival Schools played average alternative rock with the occasional hint of reggae. Looking very much like Dana Carvey in a tweed blazer, the 21st Century Walter Schreifels is a far cry from his Quicksand days, but at least he displayed some personality and passion, which is more than I can say for guitarist Ian Love whose desire to be onstage seemed nonexistent. From what I've been told, these guys were a good show several years back, but it appears as though their small fire has fizzled.
Choosing an old Springsteen classic as their entrance music may be been The Gaslight Anthem's way of laying their cards on the table. Yes, we love Bruce. Yes, we're from Jersey and yes, we aim to follow in the Boss's footsteps. While they should probably start distancing themselves from this constant comparison, they're fandom is still – for now – naively charming.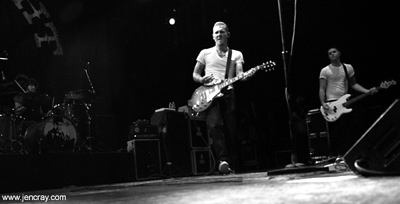 The 24-song set (short songs = long setlist!) that followed was The Gaslight Anthem continuing on their ascent to stardom. With the newfound confidence and charisma of Fallon, the band has stepped out of the dugout and is pointing its collective fingers at the fence. The new album American Slang, their third full length, has been getting them the kind of attention Kings of Leon started getting after their last album hit the airwaves, and we all know how well things have worked out for those guys! Hello, arenas and amphitheaters!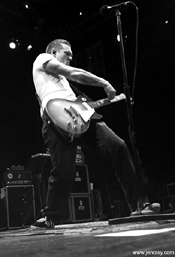 Songs from the new record took a bit of a backseat to the older tunes – which made up the bulk of the set – and that couldn't have been more perfect because those older tracks are the ones that are most golden. "We Came to Dance," Miles Davis & the Cool," "Great Expectations," "The '59 Sound" – we got 'em all. Even the new songs sounded better live than on record, most notably "American Slang," the dub reggae tinged "The Queen of Lower Chelsea," and the soulful "The Diamond Street Church Choir" – a song with some notes that Fallon can barely hit, but that he somehow managed.
A brand new trick, for fans who've watched the band grow over the past few years, involved a designated guitarist who dropped in to relieve Fallon of his duties on a few occasions. This allowed him to work the microphone in a newly non-restrictive way that involved him sitting on the stage's lip to tell stories that were part personal anecdote/part stand up comedy. Another surprise? Fallon's a funny guy!
The band rode out some moments between songs in the form of bluesy jams that, at one point, turned into a quick verse of "Stand By Me." This band is changing. They're digging through the record collections and breakin' out the blues and the soul. There was even a non-ironic reference made to guitarist Alex Rosamilia's love for Hall & Oates.
Speaking of out of context references, the tour is called the "Bringing Up Buster Tour." What does that mean, and who is Buster, you ask? Buster is the child-like Mama's boy character from Arrested Development, and my photo pass featured a photo of him. Awesome.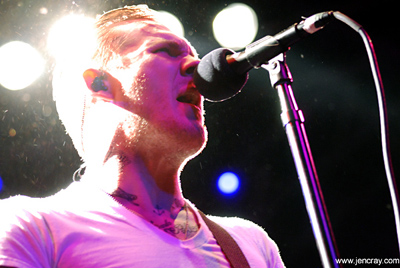 As for the audience: every face in the place wore a smile and grooved along. And though a few attempts at crowd surfing failed, the lack of flying arms and legs did not mean that the fans weren't feelin' it. Rather, it reinforced the revelation that this band is no longer that sort of band. You don't find mosh pits of crowd surfing at a Springsteen show either.
To see more photos from this show, and others, go to [www.jencray.com](http://www.jencray.com/bands_live.htm).
The Gaslight Anthem: http://gaslightanthem.com ◼
---