Jamie Lidell
with Twin Shadow
Atlanta, GA • September 22, 2010
Eric Donath
Atlanta is a big city with diverse cultures and a vibrant nightlife, and as I drove toward downtown bumper to bumper at top speed I sifted through dozens of frantic memories I'd accumulated from visiting the city over the years: Atari Teenage Riot, Crystal Method, Tool, KMFDM, and countless DJs (many who barely touched fame before slipping into life.) Atlanta and I get along well; I always show up faster than I want to leave, so I jumped at the chance to visit the city and check out Jamie Lidell, on tour for his latest release, Compass.
Having spent so much time in the dance and rock scenes, Lidell was kind of a curiosity for me. I was turned on to him when I first heard "Daddy's Car," a song with lyrics as dirty as the heavily processed beats that carried them, but his music spans genres, production techniques, and emotions. I wasn't sure what to expect from this show. I met up with local photographer John O'Brien and we headed to the EARL.
We got there just as Brooklyn's Twin Shadow took the stage. Contradicting the name, Twin Shadow is George Lewis Jr., playing with a small crew of hired musicians for his tour. Their sound was sometimes big, sometimes synth-driven, sometimes guitar-driven, and generally reminiscent of '80s electro pop. Lewis's vocals were mostly subdued and casual, but the songs still came across with a liveliness that maybe only I noticed. I frequently scoped the crowd to wonder if they were simply waiting at attention for Lidell to come onstage.
The band took a break to sing "Happy Birthday" to their merch girl and shamelessly plug their upcoming release, Forget, that was to hit stores September 28. Lewis borrowed percussionist Guillermo Brown from the main act for one song, and with some cheering (and certainly no booing) the band left the stage unceremoniously. They played well, the songs were good, and it was a stage full of people with great hair. In spite of all this, though, the most remarkable part of their set was the lack of audience engagement.
During intermission I sat down with locals Jacki and Bush and asked them about the zombie-like audience.
"Welcome to Atlanta!" Bush said.
Jacki added, "That's how you know they like you."
"By barely moving, dancing, or cheering – at all?"
"Yup!"
Welcome to Atlanta, indeed. I went back inside and as soon as Lidell took the stage, opening with "The Ring," the crowd woke up. After "Enough's Enough" there was a sing-along to "Another Day," which included plenty of lotty-das and doobie-doos in harmonic unison. The crowd's lack of enthusiasm had vanished, and I was left wondering if these smiling, singing people were really the same group of zombies I was surrounded by earlier. A few couples and some hippies danced on the outskirts of the swaying onlookers. Even a huge seven-foot tall preppy guy sporting a polo popped collar was grooving with his girl to Lidell's clear, soulful voice. He seemed a little out of place, and I can only guess what snarky hipster comment forced him to leave the show early, taking his attractive, energetic date with him.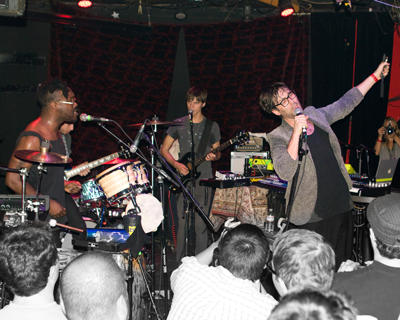 Without fancy swirling strobe robots or expensive LED arrays, the minimalist approach to stage lighting left Lidell and his band to shine without distraction. It was very intimate, more akin to a smokey jazz lounge than a concert. Lidell's exaggerated facial expressions highlighted both his engagement with the crowd and the music. Brown was up front hiding a second percussionist/guitarist who I think was Ludwig Persik. The unmistakable Mr. Jimmy rocked the synths, and rounding out the group were Jake Aron and Willie B. After the sing-along the band left Lidell alone to tinker with his sampler for a beat-box loop session. As he put it, he had to "get it out of his system." The crowd was hooked for the rest of the night as Lidell then belted out song after song, drawing fairly equally from Compass, Jim, and Multiply.
The show didn't have much of the grit found in "Daddy's Car," instead centering on Lidell's dynamic, robust singing and his quirky style, but it didn't matter. What started out as a room full of posts turned into a huge, dancing choir full of praise. The set seemed to end long before anyone was ready to go, even with a three-song encore that appropriately punctuated the night with "Feel Good." It was a slow drive home and another great memory of Atlanta.
Jamie Lidell: http://www.jamielidell.com • Twin Shadow: http://wwwtwinshadow.net ◼
---