Bad Religion
with The Aggrolites, Off With Their Heads
House of Blues, Orlando, Fl • October 30, 2010
Jen Cray
Who would have thought 30 years ago when they made their debut at a warehouse party – opening up for Social Distortion – that Bad Religion would stand the test of time and be touring the country behind their 15th album (The Dissent of Man) in front of sold-out audiences? Certainly not the band, you can bet.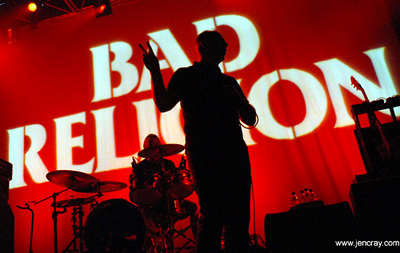 Call it fate, call it perfect timing, or call it just pure luck, but the fact stands that the little high school band from the San Fernando Valley has gone on to become one of the most influential punk bands in history. Further defying the odds, they've managed to keep the core of their band intact over the decades with Greg Graffin (vocals), Brett Gurewitz (guitar), and Jay Bentley (bass) still on board (though Gurewitz is busy running Epitaph Records and so doesn't tour with the band). Filling out the rest of the impressive lineup is guitarist Greg Hetson (member since 1984; also co-founder of Circle Jerks), guitarist Brian Baker (since 1994; also co-founder of Minor Threat), and drummer Brooks Wackerman (since 2001).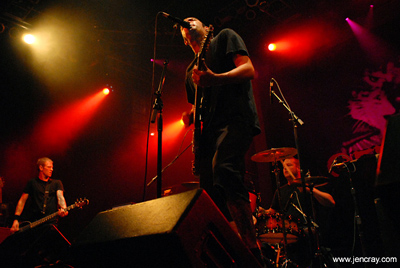 Their Halloween eve show in Orlando was a hot ticket made hotter with The Aggrolites and Off With Their Heads added on as support acts.
The forever shifting road lineup of Off With Their Heads found the Minnesota band arriving as a trio for this leg of the tour. Missing was Zack Gontard on guitar, altering the dynamic of the usual dual guitars and gang vocals, but vocalist/guitarist Ryan Young shouldered the load alongside Robbie Swartwood (bass) and Justin Francis (drums). Their set was the usual no-nonsense approach. They plowed through nearly a dozen songs, giving the not-yet-warmed-up fans an early excuse to start getting rowdy, and barely spoke in-between bursts of fury. "Drive" and "Fuck This, I'm Out" were especially volatile, and the fans were appropriately awoken from their beginning of the night sluggishness.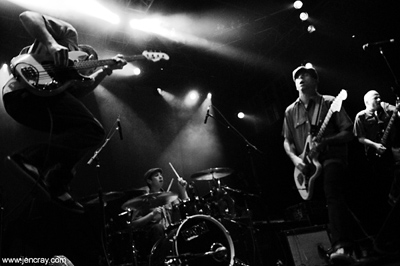 While everyone else was gearing up for The Aggrolites, Off With Their Heads were loading up their gear and hauling ass up to Gainesville for a secret late night show at The Fest. Overachievers, road hogs, or just a bunch of dudes unable to resist the draw of a city full of punk bands playing all day and night? Place your bets, gamblers.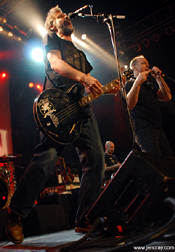 Dropping some fine vintage ska reggae sounds, or "dirty reggae," as they call it, The Aggrolites' music gave off hints of hours spent listening to Toots & the Maytals and Mr. Review. The inclusion of an organ, and the exclusion of a horn section, helped this band steer clear of the ska punk realm and keep it rocksteady in feel. Energetic to a dizzying degree and unabashedly happy to be performing in front of an audience that quickly began skankin' and singing along, this Los Angeles group was the epitome of what a warm up band should be. Though their set ran a little long at 45 minutes, the fun level made those minutes fly by with a smile.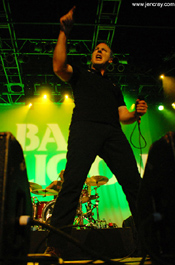 With a couple hundred songs from which to pull from, Bad Religion may as well have drawn names out of a hat when constructing their setlist, especially since the tour is a celebration of their 30 year career and not just a PR push behind their new album – an album, by the way, which expands the Bad Religion sound in a way that no album has since 1994's Stranger Than Fiction. All of the usual elements are present – the intelligent lyrics (lyricist Graffin is a college professor with a Ph.D from Cornell who just released his first science book called Anarchy Evolution), the speedy tempo grounded with melody, and Graffin's distinctive voice – but inside of it all are melodies that tap into rockabilly and pop territory. The album is that of a band that is comfortable in its own skin and has got nothing to prove, and it is GOOD.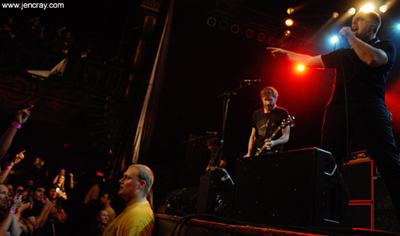 Now, back to the setlist. They covered the whole gamut, playing the super old "Fuck Armageddon… This Is Hell" (from their debut How Could Hell Be Any Worse?), the classic "Suffer" (from Suffer), the mainstream "21st Century (Digital Boy)" (from Stranger Than Fiction), the politically charged "American Jesus" (from Recipe for Hate), and the brand new "The Devil in Stitches" (from The Dissent of Man). They played it all, and they played it like they were half their ages.
For a band whose lyrics pack such weight, their light humor onstage may come as a bit of a surprise. When someone tossed a hot pink wig onstage (Halloween, remember?), Hetson put it on and made a crack about how he was now dressed up as Lady Gaga. "I Want to Conquer the World" (…or was it "The Resist Stance?" So many songs!) was then performed with the pink wig in place.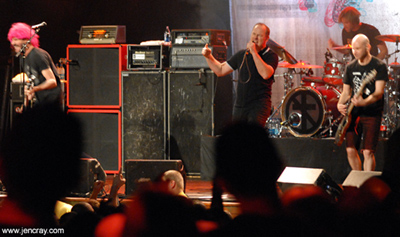 The audience was made up of seasoned fans as well as the young things eager to get their pit on. Neither time nor evolution have been able to weed Bad Religion out of the Punk Rock caste.
To see more photos from this show, and others, go to [www.jencray.com](http://www.jencray.com/bands_live.htm).
Bad Religion: http://www.badreligion.com • The Aggrolites: http://www.aggroreggae.com • Off With Their Heads: http://www.myspace.com/offwiththeirheads ◼
---