School of Seven Bells
with Active Child
The Social, Orlando, Fl • October 15, 2010
Jen Cray
One of the defining elements of School of Seven Bells, as a band, is their dreamy harmonies produced by identical twins Alejandra and Claudia Deheza. So when, two days prior to the Orlando show I'd be attending, the group announced that Claudia had "left the band for personal reasons," I was both bummed that I wouldn't get to SEE what I'd been hearing on record, and curious as to whether or not Alejandra and guitarist Benjamin Curtis could still pull off the music without altering their unique sound.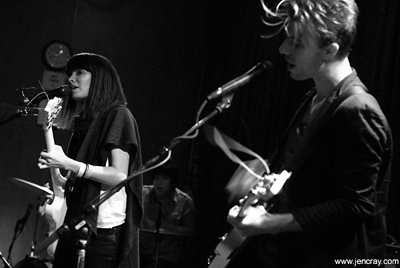 Before any determination could be made about the newly downsized SVIIB, Los Angeles' Active Child was laid bare for our consideration.
Active Child is essentially one man, Pat Grossi, who not only writes all the music and plays all of the instruments, but whose church choir trained voice is nothing short of jaw dropping. When the jock-figured Grossi sits behind a harp at center stage joined by a bassist beside him and opens the air up to his vocals that range from a beautiful midrange Ian McCulloch-style to an otherworldly falsetto, it's not immediately apparent as to whether or not the resulting music is glorious or ghastly.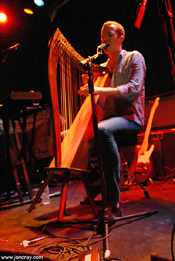 His voice is untouchable, there is no argument about that, but the combination of it with the myriad of electronic sounds he layers around it (assisted by prerecorded tracks on his computer) is new-agey to an annoying degree. Rather the fact that the majority of the music is cued up on his laptop makes the live aspect feel more like karaoke than a concert.
Why must so much of live music be prerecorded these days? Get some players, people!
Active Child just may be one of the few bands I would prefer to listen to on record than see live, because at least then it's all prerecorded.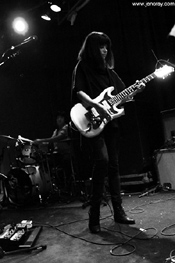 The School of Seven Bells that stood before the shoulder-to-shoulder crowd at The Social was a band in transition. Not only have they lost a band member (bad), but they've also recently added a live drummer (good) in the form of Zach Saginaw. The pulsating energy and perky persona that Saginaw brings to the band's live performance is positively critical now that the quietly passive Alejandra and the hipster cool of Curtis aren't given the exotic vocal, and visual, boost of having Claudia balance out the stage. For now he seems to be merely a touring band footnote, garnering no band credit on any of their websites, but if School of Seven Bells want to continue to expand their sound they should lock him down and fast! For his contributions to "Babelonia" and "Heart is Strange" alone he should become a full fledged member.
Curtis, who was the guitarist for Secret Machines as well as the drummer for '90s one-hit-wonder alt rock band Tripping Daisy, is mesmerizing to watch onstage – as much for his abilities on the guitar as for his wonderfully coiffed hairdo! Like the unspoken bandleader, he slides around the stage, cozying up to Alejandra and playing at the edge of the drumkit before slowly making his way back to his corner in time to slip in some backup vocals. His importance in the band is undeniable, but even it must take a backseat to the presence of guitarist and, now, lead singer Alejandra. She doesn't have to do much but play her parts and let loose that voice to hold Orlando's heart in her hands.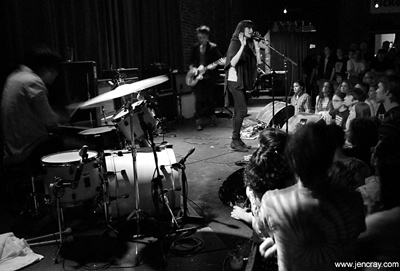 After opening up with the song that made me fall in love with this band in the first place, "Half Asleep" from 2008's Alpinisms, the remaining blink-and-you-missed-it set was off of their most recent release, Disconnect from Desire. Less than ten songs, and they called it a night. Short, sweet and potent – the short time spent with SVIIB was emphatically dreamy with the sole sister's voice packing the same sort of transportive qualities as Natasha Khan of Bat for Lashes.
Bookending the set, the band closed with another song from Alpinisms, the haunting "My Cabal."
To see more photos from this show, and others, go to [www.jencray.com](http://www.jencray.com/bands_live.htm).
School of Seven Bells: http://www.sviib.com • Active Child: http://activechildmusic.com ◼
---