Gary Numan
with Battle Circus
Firestone Live, Orlando, FL • October 17, 2010
Christopher Long
The bastard British lovechild seemingly born out of a likely (stylistic) union of David Bowie and Brian Eno, Gary Numan returned to the U.S. concert trail this fall just in time to commemorate the thirtieth anniversary of his groundbreaking record The Pleasure Principle. Any novice who would naively dismiss him simply as a one hit wonder, exploiting his 1980 chartbuster, "Cars," would have been hard pressed to convince the die-hard Orlando crowd of that assessment.
New Zealand's modern day prog rockers Battle Circus opened the show, hitting the stage at around 7:45 and delivering a rather lackluster performance. Offering non-stop, mind-numbing and (painfully) hookless five-minute ditties, the band had difficulty connecting with the audience as intermittent physical and verbal debris flew onto the stage throughout their forty-minute performance. However, their drummer was on fire throughout the entire set, proving to be the band's one entertaining element. But Battle Circus did seem to somewhat find a groove by their last tune. Although also hookless, the unannounced number at least possessed a hint of energy.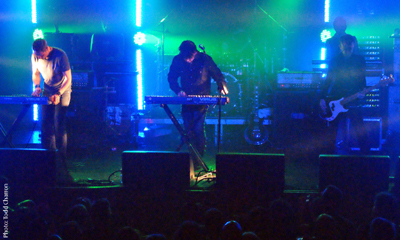 After a nearly sixty-minute layover between acts, Numan took the stage at 9:30. With fabulous-looking, multi-colored LED lights flashing brightly and FOUR keyboards positioned throughout the stage, the synth-pop pioneer finally appeared, much to the delight of his rabid, four hundred-plus devotees. Wearing a simple black button-up dress shirt and dark gray slacks with a seemingly freshly dyed black coif, the fifty-two-year-old '80s icon looked more "Mellencamp" in 2010 than his well-known Bowie-inspired appearance of the early MTV era.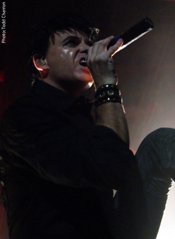 As promoted, Numan, along with his five-piece band, immediately proceeded to meticulously recreate the entire Pleasure Principle record, song-for-song, note-for-note, in order – and it was awesome, man!
Upon the completion of The Pleasure Principle, Numan's set switched gears from glory days retro to modern day industrial. Quickly, stagehands removed two of the four keyboard set ups, ushering in the guitar work that would be the foundation of a darker, heavier and more angst ridden, Reznor-like second half.
Offering little (if any) in-between-song banter, but flashing many a toothy smile along the way, Numan successfully showcased a wide array of material from various periods of his stellar career, including such crowd favorites as "Are Friends Electric" and "Down in the Park."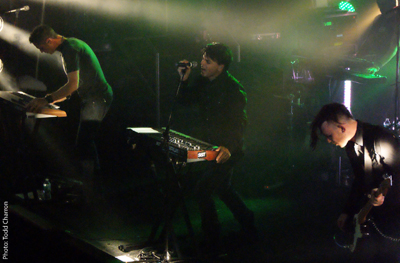 At times, Numan's vocals became rather muddy-sounding and occasionally even inaudible. At other points, his vocals didn't appear to be live at all – sounding clear as a bell despite being a good distance from his mic.
All in all, Numan delivered an impressive set, receiving a near deafening ovation at its conclusion.
Gary Numan: http://www.numan.co.uk ◼
---