Sparks: No. 1 Songs In Heaven
by Dave Thompson
Cherry Red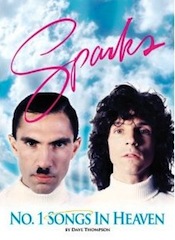 When the roll call of legendary rock critics is read, Dave Thompson will not be rubbing shoulders with Nick Kent, Lester Bangs, and Lilian Roxon. Known best for cranking out boilerplate like The Chris De Burgh Story, Go Phish, and I Hate New Music, Dave Thompson works cheap, fast, and current. Which is good if you're a publisher hankering for a completed Kurt Cobain biography THE MONTH AFTER HE KILLED HIMSELF, but bad if you're a reader hankering for insightful music writing. However, every so often, an assignment comes across Thompson's desk that is something he can really sink his teeth into, and lucky for us and Cherry Red Books, Dave Thompson is a HUGE Sparks fan.
Sparks are brothers Russell (rock star hair, pretty boy looks, impossibly high falsetto) and Ron (keyboard enthusiast, Charlie Chaplin moustache, deadpan demeanor) Mael, musical mad scientists extraordinaire. Inseparable since 1970, they've made more than twenty albums as Sparks, with no signs of slowing down – indeed their last madcap gambit was reprising 21 of their albums over 21 nights in London. Sparks are best known for Kimono My House and its mindbogglingly weird signature number "This Town Ain't Big Enough for the Two of Us," but they've also crafted albums of icy Italo disco with Giorgio Moroder, highbrow/ lowbrow collison of Lil' Beethoven. In the process, Sparks have influenced everyone from Queen to Morrissey, Cheap Trick to the Pet Shop Boys, Smashing Pumpkins to David Bowie. The characters of the Mael brothers are almost as fascinating as their music. Living in their hermetically sealed world, shut off from the overdrive meatgrinder of the celebrity-industrial complex, the Maels are that rarest of things in our popular culture – enigmas. Fuck me man, this book almost writes itself.
Disappointingly, though not surprisingly, the Mael Brothers do not participate in this project, making this a less than authoritative record (though they are well represented by reams of interviews over the years), but Thompson secures interviews and reflections from key members of every Sparks lineup, which, let's face it, is a fucking coup and fills in a lotta blanks about the Maels and their oeuvre. And I gotta tell you, despite some typos, a few embarrassing turns of phrase, and a design gaffe that renders one chapter almost physically unreadable, this book is Thompson's strongest piece of writing yet. He hits the perfect balance between journalistic reporting and impassioned fandom (some would call it new journalism), going way in depth on Sparks' long and checkered history. We end up with a story that up 'til now begged to be told, a story of the last of the pop outsiders – fucking essential music, necessary reading for any student of pop music.
Included as well is a fairly exhaustive discography, and tons of archival photos, press clippings, and memorabilia, which this book woulda been pretty fucking disappointing without.
Cherry Red: http://www.cherryred.co.uk