Ian Anderson
Hard Rock Live, Orlando, Fl • November 12, 2010
Carl F Gauze
A cold wind was blowing off Portofino Bay and the mist from the rotating Universal Globe was blowing in to the Blue Man Group's Aquos Theatre entrance. The southern parking garage at Universal was locked off due to seasonal slowness, or a sudden shift in Chinese interest rates, and City Walk seemed unusually empty for a Friday night. But there was a crowd, they filled the Hard Rock where the pit had been filled with chairs and the bars were crowded with fans seeking very pricey Bud Lights. Few of them got carded.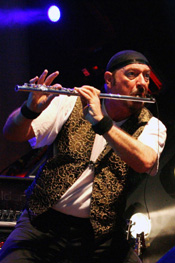 For you younger readers, Ian Anderson ran Jethro Tull, one of the main progressive rock bands of the 1970s. Progressive rock went beyond the Elvis Presley/Little Richard guitar-and-drums/verse-and-chorus sounds of earlier days, and added symphonic sounds, elaborate arrangements and self-indulgent experimentation. All that was popular, as drugs were readily available and FM radio was looking to fill time and didn't have many advertisers. Forty years later, Anderson has grown musically but still comes back to the popular early material. But don't think of this as a revival show – it's a blend of old and new that comes with a great sound that's loud, but not loud enough to require ear plugs.
With no opening act, the show splits in two parts, with a 20 minute long "Interval." The first act focused on the softer, folksier sounds. Anderson opened with "Up To Me" from his classic Aqualung. Next, Anderson's interest in agriculture (he raises salmon, among other pastimes) gave us "Set Aside," a mild protest about the British version of farm subsidies. The band was introduced, and most of the first set songs were new to me – "Nursery," "In the Grip of Stronger Stuff," and the extended "Hot Night In Budapest" rocked, and he did a few Bach compositions that your music teacher might not recognize. The rarely heard "The Hare Who Lost His Spectacles" wrapped up the act; it's a sort of hippy dippy kid's tale that defined the worst excess of prog rock, and that made it fun. Anderson's favorite band member, guitarist Florian Opahle, did some flamenco, and Anderson played his flute standing on one leg. It's not quite Pete Townshend's windmill guitar or Jerry Lee playing piano with his shoe, but it's still rock and roll.
While the Hard Rock officially forbids photography, they usually warn you "no flash" and let you iPhone away as you will. But tonight, there was an actual goon squad up in the balcony enforcing Anderson's "No Pictures" policy. A team of very intimidating bouncers wandered back and forth – any sign of an LED's glow and you were politely asked to turn off your electronics. In the second act a few flash bulbs popped in the VIP section, but even in the comfy seats this parade of security became distracting. Combine this with the incessant stream of fans in need of beer or bladder breaks, and the human parade was a compete distraction from Anderson's reprise of "Thick as a Brick," or the extended "A Charge of Horses." As the night wound down and the restrooms emptied, Anderson began an extensive blues jam on the title cut from Aqualung. Considering the gentle energy of the evening, it didn't seem like the sort of closer I expected, but it got the fans on their feet. Lights went down, the lighters stood up and the band was back for a rocking "Locomotive Breath." Charley still hasn't returned the handle, but Anderson is rolling along just fine in the pantheon of Rock Gods.
Ian Anderson: http://http://www.j-tull.com/ • Hard Rock Cafe: http://www.hardrock.com ◼
---