Cake
House of Blues, Orlando, FL • January 16, 2011
Jen Cray
My remembrance of Cake conjures up college year car rides, sing alongs to songs whose lyrics were often-times silly and/or nonsensical, and a general feeling of frivolous fun. Somewhere in the midst of those memories I saw the band play live (in 1999) and yet, though I remember enjoying myself, I have no solid recollection of the evening's events. Couldn't have been too memorable, I suppose. Still, with their brand new album Showroom of Compassion rattling around in my brain, I found myself squeezing into a sold-out House of Blues to see if Cake could make a more lasting impression on my personal concert catalog.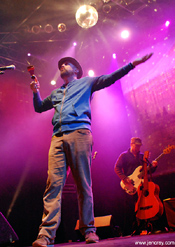 Billed as An Evening with Cake, the night was without an opening band and promised more than two hours of Cake, Cake, and nothing but more Cake.
No matter how tasty you bake it, that's a lot of Cake.
The decision to thwart an opener could be viewed as confident and, hey, they did sell out the place. The strange instructional voice that ordered everyone to turn off their cell phones could be akin to the simple directions that pop on the screen before a movie. Playing the full five-minute version of "War/Fanfare From Rocky" from the epically awesome Rocky IV after the lights dropped and before the band stepped out onto the stage could be found to be quirky and playful – the inspirational grandiosity of the instrumental song serving as contradiction to the funky alternative sung/spoken songs about sheeps, stick shifts, race car drivers, and Frank Sinatra that were soon to follow. Even the intermission that was slipped in halfway through the set could, maybe, be excused…
Except that when all of those things are tacked on to an evening that centered around front man John McCrea's chronic soapboxing, it all added up to a band that takes themselves a bit too seriously. Before songs, after songs, even during songs McCrea berated the zealous crowd about drinking instead of singing along, about texting, and about snapping photos. "You don't have to share every moment with your friends. Live in the moment, it's happening all around you…" While an important message, and one I believe in whole-heartedly, the way McCrea harped on the subject and scolded snappers left and right quickly became both pompous and tedious. Unless you make the fans check their camera phones at the door, they're gonna do what they want – it sucks, but get over it.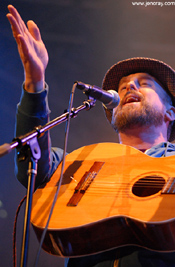 In between irritations of the personality variety, the music was – thankfully – even livelier than I remembered. After starting off with a pair of new songs, including the new Cake classic "Sick of You," the band slipped back to the Clinton years for "Sheep Go to Heaven" and "Stick Shifts and Safety Belts." The former, with its chanted chorus of Sheep go to heaven/ Goats go to hell, was delightfully as silly as ever! Even the deeper cuts off of the old albums, like "Mexico" or "Short Skirt/Long Jacket," found masses of folks singing along. Seriously, who knew Cake – the band that fell between Weezer and Soul Coughing on the Alternative Rock radar – had so many loyal followers?!
Of the new songs, "Long Time," "Federal Funding," and "Mustache Man" fell in beautifully next to the old songs with the trademark trumpet blows, bass grooves, and McCrea's unique monotone approach to his vocals, and were all received quite well. Though, naturally, the loudest responses were reserved for "The Distance" and "Never There," which the band held onto until the end of the night.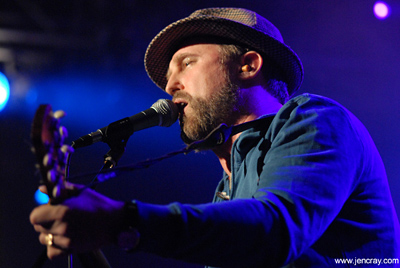 With McCrea's tendency to preach as an annoying though forgivable sidenote, the Sacremento band have not lost any of their distinctive sound nor have they suffered the passage of time in the way of their skills or energy onstage. No band sounds like Cake, and though I maintain that the an intermission for a two hour set is unnecessary (if a 76 year old Leonard Cohen can play for nearly 3 hours without a break, anyone can!), this helping of Cake is sure to leave a more lasting impression.
To see more photos of this show, and others, go to [www.jencray.com](http://www.jencray.com/bands_live.htm).
Cake: http://www.cakemusic.com ◼
---