The Sonics
with the Dirty Birds and The November Witch
Capitol Theater, Olympia, WA • Dec. 31, 2010
Steve Stav
In 1977, it was called punk. In 1991, they referred to it as "grunge." Back in 1965, however, it was simply the music the Sonics played.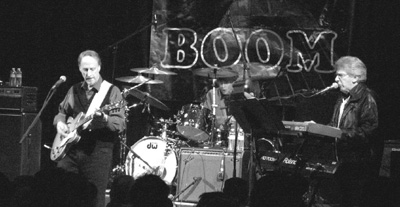 As much as the Sonics have influenced rock history, however, they didn't devise their sound out of thin air. The five young college students from Tacoma borrowed a "dirty" R&B style, a "Northwest Sound" created by their older, crosstown musical cousins, the Fabulous Wailers, and muddied it some more – making it louder, faster, and infinitely more dangerous.
Released by the Wailers' label, Etiquette Records, the Sonics' first two albums produced this explosive, veritable boom that eventually rippled across the country and over the pond to England and Europe. Before the band's ahead-of-their-time signature could be translated into lasting success, the '60s and circumstance swallowed up the Sonics and cast the band's "classic lineup" to the four winds – one even found himself flying over Vietnam. The group became the literal stuff of legend, to be spoken of by critics, record collectors and… oh, yes, musicians, all in reverential tones.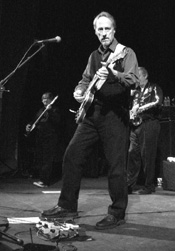 Instead of fading away, this talk of the Sonics' mystique – in interviews, on Internet chat boards, in record shops – built to a crescendo until 2007, when the band appeared, seemingly out of the blue, for NYC's Cavestomp festival. Managed by Wailers co-founder Buck Ormsby, some touring of Europe followed, but the group performed only once in the Pacific Northwest. They hadn't shown their collective faces in Olympia – a freeway-hop from Tacoma – in over 40 years, but no one braving the port-city cold to witness history on New Year's Eve seemed to hold it against them.
Perhaps influenced more by Iggy's Raw Power than Here Are the Sonics, Oly's own the November Witch were nonetheless obviously humbled by their opening slot opportunity. Frequently pausing to comment on the historic night, the competently loud quartet performed their duty quite well, scaring the bejeesus out of anyone who, confused by the passage of time, thought they were attending some sort of creaky "oldies" revival.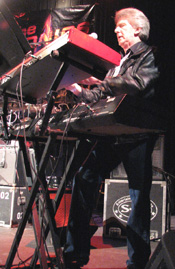 If the November Witch weren't enough, local heroes the Dirty Birds reinforced the tone of a crazy, raucous rock 'n' roll show. Hardly a Frankie Valli tribute group, the Birds' insane brew of '80s punk, '70s hard rock, and '60s Sonics reached a boiling point this night, whipping the crowd into a frenzy with selections from their 15-year career. Saxophonist/ harmonica player/ frontman Jimmi Davies, a de facto protege of the Sonics' Rob Lind, was clearly in seventh heaven as he turned the band's collective dials to "10" and beyond. In front of mini-locomotive Mike Trobman and flanked by ace guitarist Scott Swayze and Entwistle-mutation Tim Brown, Davies leaned towards the "garage" end of their repertoire during their set, which finished with an appropriately blistering cover of the Count Five's "Psychotic Reaction."
And then came the Sonics. Some grey hairs here, some wrinkles there, but the classic "front three" of the band – Jerry Roslie, Larry Parypa and Lind – proved within a few notes that, though they virtually disappeared for 40 years, they could still carry a tune. And then some. At what proved to be about half-throttle, the group toyed with the audience with a few entrees, including their signature "Cinderella" and the hardest "Money" you've ever heard.
And then all hell broke loose. Parypa's opening notes of their definitive "Have Love, Will Travel" was akin to pouring kerosene on the front rows and lighting a match. Frantic fans representing generations X and Y began pogo-ing amongst cheering baby boomers, a surreal sight.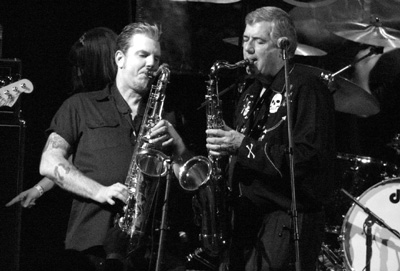 The Northwest's answer to the Beatles (the "anti-Beatles"?) fresh from a short European jaunt, continued with a no-nonsense set comprised of material from their seminal albums, Here Are The Sonics and Boom, plus selections from their new EP, 8. The latter's songs ("Vampire's Kiss," "Cheap Shades," and "Bad Attitude") fit right in with such classics as "Boss Hoss," "The Hustler," "Shot Down," and their nod to the Wailers, "Dirty Robber."
Roslie's inimitable, quavering vocals and famous scream can't quite reach the heights they once climbed, but they still sent a thrill through the crowd; the silver-maned frontman/ keyboardist commanded the stage (and especially the supremely badass "Strychnine") as everyone hoped he would. Roslie's legendary pipes were occasionally spelled by ball-of-fire (and ex-Kingsmen) bassist Freddie Dennis, who replaces co-founder Andy Parypa on the road. Dennis' "Lucille," in particular, was particularly incendiary, as was the drumming of Ricky Lynn Johnson, who has been borrowed from the Wailers for the duration. (Bob Bennett remains semi-retired.)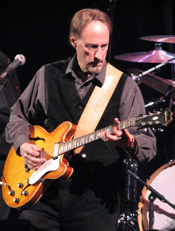 As the evening progressed… "Progressed" is an insufficient term, as the show seemed to become louder and wilder with each number… As the festivities continued, two key elements of the Sonics' ground-breaking approach re-established themselves. Guitar demigod Parypa reminded the crowd that he's picked up an axe now and then over the years. It would be almost impossible to re-create the Sonics' influential, "lowest-fi" sound of '65, but what Parypa and the band lacked in overwhelmed mics and overdriven amps, they made up for with experience. Intent on his work, almost deadpan, Parypa provided a single-night tutorial on '60s garage-rock guitar, perhaps peaking with his solo on the so-influential "Psycho."
Rob Lind proved to be key element number two. So many acts, before and since, have used the sax as punctuation – and Lind did percolate – but few used the instrument as a monster tone generator. Once again, Lind's sax was more than an exclamation, it "boomed" and growled as a glue that held their wall-of-sound together. Punk-rock saxophone? You bet.
Two encores after ringing in the New Year, a "Louie, Louie" that Richard Berry couldn't have ever imagined. One of the go-go dancers, let loose on the stage, accidentally unplugging Parypa's guitar during "Psycho" only lent authenticity to the Spanish Castle-echoing experience. The menacing sound of two semi-trucks' horns passing in the night – Lind joined by Davies for one of the meanest songs ever recorded, "The Witch" – and then the evening was over… Except for the long autograph session in the lobby.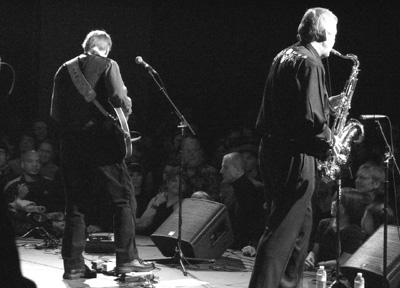 It's one thing to read about yourself for four decades; it's another to know that just about every rock star worth a damn acknowledges your legacy. It has to be yet another thing, however, to look down upon rows and rows of fans thrilled to see you again or more likely, to hear you for the first time. It wasn't about the money (two Seattle martinis, with tip, would buy a ticket) – it was about playing for people who desperately wanted to spend their New Year's Eve wearing earplugs. It was about pure, raw rock 'n' roll, and about coming home.
Pausing to consider all of these wondrous things made this most memorable of New Year's Eves even more enjoyable.
The Sonics: http://www.thesonicsboom.com ◼
---