Charlie Daniels Band
Elianne Halbersberg
"You can't let the excitement go out of your life," says music legend Charlie Daniels. "Some people shouldn't be in the music business, because they see it as a means to an end. I see it as a way of life. Longevity was always important to me. If you don't love the music business, you shouldn't get in it. If you burn out and don't love it enough to put up with the hardships and sacrifices, you're not devoting yourself, trying new things, or taking fresh approaches. That's basically how it works for me. I hate to hear kids bitch about the road. They get a hit record, a bus and, 'Oh, it's so horrible!' I have no patience for that. If you don't like it, go home and get another job. I love the road. I think it's a great place to make a living."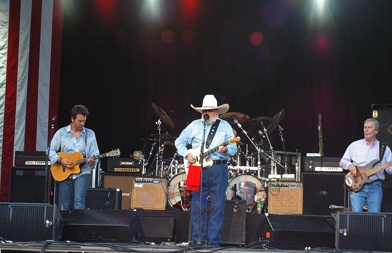 Daniels has been making his living on the road for over 50 years, beginning with a band called The Rockets and soon becoming one of the industry's most respected musicians. His versatility and skills led to session work with Bob Dylan and Marty Robbins, tours with Leonard Cohen, production work, and – at last! – induction into the Grand Ole Opry and Musicians Hall of Fame. In August 2010, the Charlie Daniels Band released a new album, Land That I Love, a patriotic compilation inspired by Daniels' repertoire, which contains quite a few tributes to America.
• •
When the Charlie Daniels Band performs, you bring a set list that includes decades of hits. To what do you attribute your longevity?
One of my main objectives when I started out in this industry was making this a living for as long as I could. I had to be able to do something people like, which is entertain. That's the bottom line. When I walk out onstage, the one thing on my mind is that the people in the audience came to be entertained, and our job is to make them happy. Our songs don't just happen to be in sequence. I carefully place them there. We put a new set together every year and we move things around to pace it. When you come to our shows, the music and dialogue are paced to get you between the eyes from the start, then ease you down, come back hard until the end, and for that hour and 15 minutes (or however long we play, depending on the venue), the whole time that people are in their seats, our job is to entertain them for however long they will be in our presence. You have to build a career on entertaining people, because one of these days you're not going to have your videos on CMT or MTV, you're not going to look good in tight jeans, and you're not going to be at the top of the charts. So what have you got left? People have a memory of enjoying your show, and they'll want to see you again. When people ask me how I sustain a career in the music business, I say, "Learn to entertain."
The fact sheet in your press kit is mind-boggling: awards, honors, nominations, books, videos; the album discography is pages long and full of gold, platinum, and multi-platinum certifications. The word "icon" comes to mind.
I don't feel that way, because I'm just an old boy that God's been very good to. He has allowed me to make a living doing what I love, with people I love. It has happened over a long, long period of years and I'm still involved. If I ever quit, take the rocking chair and look over it all, maybe. Sometimes I'm amazed by the amount of work I've done in a period of time and the amount of miles we've traveled. I love the awards I have received, and I'm very appreciative of every accolade that has passed my way. I'm deeply honored.
You've always mixed rock, country, blues, soul, and even jazz into your music. How big a part did growing up in North Carolina play in developing your musical style?
I don't mean to sound chauvinistic, but all musical styles created in the U.S. came out of the South. Jazz, blues, rock, and to a big extent R&B – every music in its pure form came from the Southeast. I don't know the reason for that, other than most American music, other than country, came to us through Black Americans. We owe so much of our cultural heritage to Black America because so much came from them. Where I grew up, that was very evident. It's kind of natural for Southern people to feel a lot of different kinds of music because we are exposed to it.
You were one of the frontrunners in taking full control of your career by launching your own label (Blue Hat Records) years ago. Now, it's almost a given that independent artists do this, and likewise, some of your major-label colleagues have followed in your footsteps.
The new flock running Nashville companies are not necessarily music people; they're Top 10 hit people. That's not a derogatory comment toward them, they just don't know any other way. I can't fit the Nashville mold anymore; I never did, really. What's out now and what record companies want you to do – I won't settle for less than my best. I want to cut things my way, not because I think I'm always right, but because I am right about what I do best. I don't want to be influenced by outside interests or getting on radio. I'm a musician, and the only way I can be one is to do things myself. I've sold millions of albums with not that many singles. Music is too precious for me to prostitute it.
What is the songwriting process like for you?
I've had spells where I don't write as much as the month before, but I have to think this is an ongoing situation, like a water tap that keeps running. Your mind has to stay fertile to ideas. I spend a lot of time playing guitar, coming up with riffs, and I'm always susceptible to ideas. You water and fertilize them until you get a song from them. Some songs take a long time and some come quickly. I live this life; I don't go home for six months and ski – I can't ski! – but I do take time off and it takes me a couple of weeks to slow down and relax. But I still keep in touch with the office, practice my instruments, and if I watch TV, I have a guitar or a fiddle in my hands. You never let the fire go out without putting more fuel on it. You've got to stay on top of it.
Some of your band members have been with you since the start. How do you continue to challenge each other?
Everything is new to us every night because our band is not restricted to playing the same thing. There is a lot of leeway for improvisation and solos. I feature my musicians. They write songs. I am not a guy who has a band behind him and I'm in the front. I have talented musicians, and they are part of the entertainment and the variety of our show. It's a different situation for our band. They're not told to learn the songs note for note and play the same solo every night. Some bands do that and that's just fine, but that's not the kind of band we have. They do the harmony parts, we stick to that, and other than that I don't care what they play, as long as they make it good and entertaining.
Land That I Love includes two new singles. "(What This World Needs Is) A Few More Rednecks 2010" is an update of the original version, and "Iraq Blues" was written during three trips that you and your band made to Iraq to entertain the troops. You're well known for your political views and patriotism, but on a smaller scale, what can the individual do to make a difference here at home, one on one?
Of course, the most important thing is to vote, and if you don't vote, don't bitch, because you had nothing to do with the process. That's looking at part of the political picture. We also need to tell the truth and hear the truth, no matter how bad it is. We need to identify our country's problems. As far as the way you run your household and your life, how we treat each other, before you say a sentence, think about how it sounds. Think about the person who is unpopular in your office or classroom because of their race, or because maybe they're a little slower than everyone else, or for whatever reason, and no one is kind to them. You be kind to that person. God made us all. We are not exclusive on this earth. If I ask someone a question, how do I want to be answered? Do I want them to scream at me? No. Speak kindly. Kindness is contagious. Lead by example. You are an example for others. You are the microcosm of what you think people should be and what they should do. Affect them with kindness. Say good morning. Ask how someone's family is doing. Care if someone is sick or has a problem. It all boils down to one thing: truly caring about people and how you treat them. Start out by being as good a person as you can be, let that grow on you, and it will grow on somebody else.
Charlie Daniels Band: http://www.charliedaniels.com ◼
---