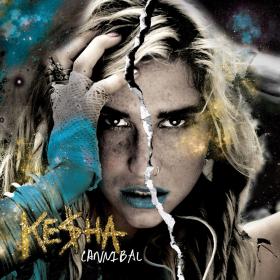 Ke$ha
Cannibal
RCA Records
To take an idiom from the art of blacksmithing: strike while the iron's hot. For the past half-century, the expression is more apt for the ephemeral "art" of pop stars. RCA Records strives to keep the momentum going for its platinum-selling act Ke$ha. The same label that inks deals with American Idol winners released the nine-song Cannibal less than a year after Ke$ha's debut album, Animal. And of course, the mini LP can be purchased separately or as a companion to Animal.
Ke$ha, via RCA Records, says her only goal for releasing the eight new tracks and one remix "is to keep them [her fans] dancing." That doesn't sound too difficult. But then again, the stylized sleaze of Cannibal is anything but difficult. All songs are about partying, guys, glitter, and partying with guys and glitter.
A propulsive echoed beat kicks off the title track of Cannibal and sets the tone for the entire album: "now that I'm famous/ you're up my anus/ now I'm gonna eat you fool!" Co-written with Ke$ha's mom (no joke), "Cannibal" tries to weave the filth of GG Allin into a modern pop tune. Not that Ke$ha would know who GG Allin was. Or does she? Allin did record a song called "Cunt Sucking Cannibal."
Like other pop stars' records, the sticky sheen of hitmakers Dr. Luke and Max Martin is all over Cannibal. Ke$ha sing-raps her bratty rhymes with Auto-Tune and vocoders over club-ready electro pop beats. And there's the text-worthy song titles (the first single "we r who we are" and the '80s workout video-sounding synthesizers of "c u next tuesday"). Six lyricists are credited with writing "Blow," which makes you wonder how many brains it takes to craft a winning chorus like, "this place about to blow ow ow ow ow ow ow." It doesn't matter. While Cannibal certainly isn't great art, it will keep Ke$ha's fans dancing.
Ke$ha: http://www.keshasparty.com
---