Stevie Ray Vaughan: Day by Day, Night by Night
by Craig Hopkins
Backbeat Books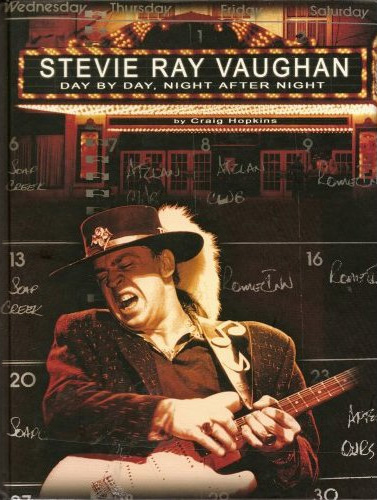 How do you get to be a rock and roll God? Picking up an instrument early and never putting it down seems a good plan, so if you're twenty and haven't met the devil at midnight yet, you might as well get that real estate license. In Steve Ray Vaughan's case, he started with an un-tunable toy missing a string or two, worked his way up to a Sears Masonite instrument, and started playing professionally before he could drive. Growing up in Dallas, he heard country tunes and Louisiana blues and like so many players of the era fused them into something bigger than the pieces. Stevie was in some sense blessed; he found a Hendrix record in a dumpster and a year later opened for him. Try that, Mr. Smarty-Pants musician!
This coffeetable book represents 17 years of research by author and obsessive fan Craig Hopkins. There are family pictures, handwritten set lists, tickets and posters going back to Stevie's school days. More importantly, Hopkins has collected every single date and club Stevie played back to the first time he got paid to play (Cockrell Hill Jubilee, 1965) Along the way he led bands like The Epileptic Marshmallow, Blackbird, Texas Storm, and, of course, Double Trouble. His alcoholism and cocaine addiction are treated with a clinical detachment, and this book (with a second volume to follow) takes us up to 1982 when a contract with Epic records was signed. At that point his career really kicked in, he eventually cleaned up, and as you may know, died in a helicopter crash at Alpine Valley, Wisconsin.
I count myself a fan, but this book is a bit overwhelming. I like the music, and a thumbnail of an artist's life is typically all I need for back-story, but this book goes far above and beyond. That's not a bad thing, it's best to gather this sort of information while an artist is still in living memory and his papers and effects are still in good shape, traceable and available. Stevie Ray Vaughan may not have been the best guitarist of the 20th century but he's in the top 10 for electric blues and shouldn't be forgotten. This isn't a bad memorial.
Backbeat: http://www.backbeatbooks.com
---