Still Bill
directed by Damani Baker and Alex Vlack
starring Bill Withers
LV&H Entertainment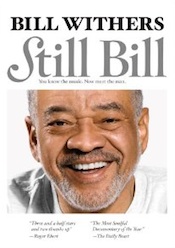 Still Bill is not a documentary on Bill Withers the musician. This is a documentary on Bill Withers the person. It is quite possibly the best documentary that I have ever seen. The first song I ever heard from Bill Withers is "Ain't No Sunshine," so it stands to reason that the opening to the doc is an archival live version of that song. There is tons of live footage that is interspersed with Withers talking about who he is and how he got to be who he is.
This disc covers everything from Bill working as a maker of toilets for 747s, to Bill getting calls from record companies, to a major label trying to make him more Motown (and Withers getting pissed about being asked to cover Elvis's "In the Ghetto"), to how he laments about how he was "no good at the fame game." You follow him to his 50th high school reunion, 70th birthday gathering with his immediate family, and to a stuttering convention where he was honored and gave a resounding speech. He then sits in with a bunch of children who stutter and while speaking to them, he begins to cry as he tells them a story about "getting stuck at my name" and how he was laughed at. It encapsulates how he lives his life – with his soul constantly bared.
There are so many memorable quotes throughout the documentary, but the two that stick with me are: "It's good to be wonderful. But to get to wonderful, you have to get through all right. Once you get to all right, take a look around because that might be where you end up" and "I need a little injection in my showing off gland." The way that the interviews, both archival and new, are perfectly spliced with new footage of Withers going to his hometown and recording a new (Spanish-language!) song and a song with his daughter makes this an incredibly intimate portrait of an artist who is not only one of my all-time favorites, but also one of the most revered artists of the past half-century. Always humble and shunning the spotlight, Still Bill is a unique insight into Bill Withers' private life, like sitting down in a living room and listening to a wise old man talk about how he became wise. Absolutely fascinating.
Still Bill: http://stillbillthemovie.com
---