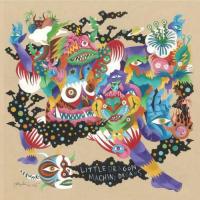 Little Dragon
with Billygoat
Electric Pickle, Miami, FL • 1/28/2011
Eric Donath
Let me start off by saying that I quite discriminatingly want this review to be a glowing, gushing bit of loveliness. Little Dragon is awesome. Their music makes my earbones tremble like a gleeful nervous teenager on a first date. They give me goosebumps. Yukimi's voice is seductive, smooth, and penetrating. Their songwriting is original and creative while being completely accessible. They do catchy, playful, and cerebral just as well as they connect on a deeply emotional level. Their music videos (YouTube FTW!) are uniquely captivating. I could talk about Little Dragon like a soccer mom talks about her only child. They give me a reason to say I have a favorite new band, and I really wanted this to be the best concert review they have ever received. Unfortunately… not so much. Using the recently approved "points-docked" review method, here is a perfect review, chipped away at gradually through no fault of Little Dragon or their opener, Billygoat.
Miami was crisp and cool – around 55°F; it was a great Friday night to be out on the town. In true 305 fashion, velvet ropes at the Electric Pickle's entrance kept the crowd at bay while Little Dragon's tour bus was luringly parked along the curb. I had been to the Pickle once before, several years ago for a party during the Winter Music Conference. It looked a lot different this time. DJs inside just kept up appearances while most of the crowd was gathered around the bars warming up before heading to the humble stage outside.
Oregon's Billygoat started the show, and the first cause for points-docked manifested itself immediately. The Pickle's downstairs bar had music blasting from outside speakers surrounding the pool table and facing the stage. The stage speakers weren't loud enough to overwhelm the opposing bar speakers, so the result was cacophonous. If it had just been for a short minute it could be dismissed as a simple mistake, but the clash persisted for several songs (-8 points).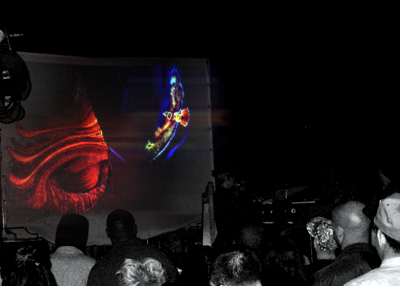 Edging closer to the stage made it tolerable, though, and Billygoat's performance was sublime. The trio sequences surreal stop-animation style videos along with a mostly instrumental, ethereal, subdued performance. Billygoat is a beautiful, multi-layered, avant garde experience, and the music complemented Little Dragon's anticipated sound perfectly. The clashing speakers didn't ruin the experience, but their distraction took away from it. I would definitely check them out again if given the chance.
The crowd swooned as Little Dragon opened with "A New," the sultry first track off of their second LP, Machine Dreams. Everyone swayed to its slow measure; I got the sense of a unanimous tension evaporating as Little Dragon's long-anticipated debut Miami performance finally arrived. They followed "A New" with "Never Never," another cut from Machine Dreams, which they would pull heavily from throughout their set.
The crowd looked collectively content, but more problems with the sound quickly surfaced and lingered. At the start, lead singer Yukimi Nagano's vocals were somewhat washed out, although her singing was clear and on target (so clear that I heard a couple wondering if she was actually singing or if it was prerecorded.) Then the vocals were overwhelmed by bass. My friends complained about not being able to understand the lyrics. It wasn't a problem with how Yukimi was singing; rather, it seemed like whoever was running the speakers and soundboard wasn't actually at the show listening to them (-22 points.)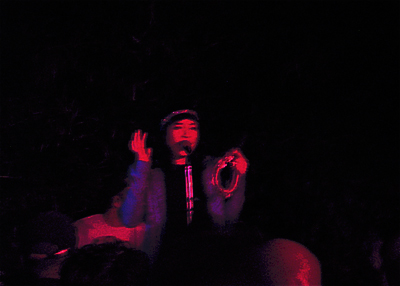 Little Dragon offered a glimpse into their forthcoming album, Ritual Union, with "Little Man," a reggae-esque song with Yukimi's dynamic vocals wandering atop an otherwise steady composition. She also malleted what looked like a set of hanging glass plates to add to drummer Erik Bodin's percussion and bassist Fredrick Källgren's even delivery. The new song stirred up the crowd's cheering section, and Little Dragon continued with several more songs from Machine Dreams: "Blinking Pigs," "My Step," and "Looking Glass." "Blinking Pigs" really stood out as the band went on an extended groove with a thunderous kick, Yukimi dancing around and adding extra hits to the drum set's cymbals, finally simmering and fading out. This was a crowd favorite and one of mine as well.
In spite of it being chilly by South Florida standards, it was Little Dragon's first outdoor show in ages. They seemed relieved to be under clear skies without a flake of snow in sight. They continued with another new song, "Summer Tearz," and Yukimi invited the crowd to sing along to the simple lyrics, mostly a lot of "oooos" and "aaaahs." The lengthy jam was centered on a tribal tom line and not nearly enough cowbell. It sounded like keyboardist Håkan Wirenstrand had some fun with this one, too. The crowd shifted groovy, there was a lot of making out, and Yukimi glowingly thanked everyone for "jamming out" with them.
They went on to play "After the Rain" from their self-titled debut LP before quickly returning to Machine Dreams. They played "Feather," one of my personal favorites with provocative lines like, "Rather be a bandit than a lover," and "Rather be a whisper in heaven/than a daughter in your prison." As their set progressed, the mix got gradually quieter. The bass didn't overpower the vocals quite so badly, but the overall sound level was so low that polite conversation some 20 feet from the stage didn't involve yelling (-6 points). (I overheard that this was due to noise ordinances, which begs the question: why start an outdoor concert AFTER these ordinances go into effect!?!?)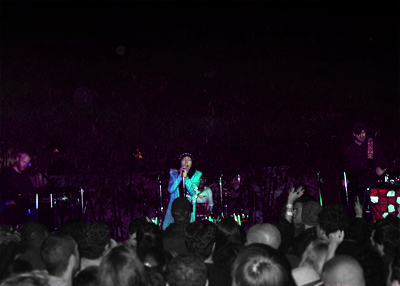 Still, the audience was attentive and affectionate. With the possible exception of Little Dragon itself, those who noticed the poor sound engineering seemed completely willing to forgive it for such great music. Yukimi expressed some frustration about the sound herself, ultimately exclaiming, "Blow these speakers up!" before the last song of the set. A low flying passenger jet flew just overhead as they played the bouncy and fun "Runabout." Yukimi gave a friendly thanks to say goodnight for a minute, but the happy, eager crowd quickly brought them back for an encore. Little Dragon obliged with "Constant Surprises" before hopping off the stage for good.
My friends and I debated whether to stick around. There were DJs slated to play until 5am, but the lights were already on. When I went inside to explore, I was quickly thwarted by the police. Following a waitress upstairs, I had to navigate through another posse of cops. I couldn't make it back to the patio outside where my friends were waiting and Little Dragon was hanging out chatting with fans. The police made our decision for us by shutting down the club several hours early (-2 points), so we went to Gigi, a nearby restaurant, to round out the night. (The homestead avocado salad was delicious!)
All in all, it was a night of fantastic music from two great bands. I hate that this review couldn't be perfect for them; Little Dragon deserve this to be a fantastic review, and for that matter so do Billygoat. They each did their part. Shame on the venue, the sound engineers, and the police for costing them and the audience 38 points from perfect.
Little Dragon: http://www.little-dragon.se • Billygoat: http://billygoatplanet.com ◼
---